2019 Kia Forte Quick Spin: Value, Not Fun, Is Forte's Strong Suit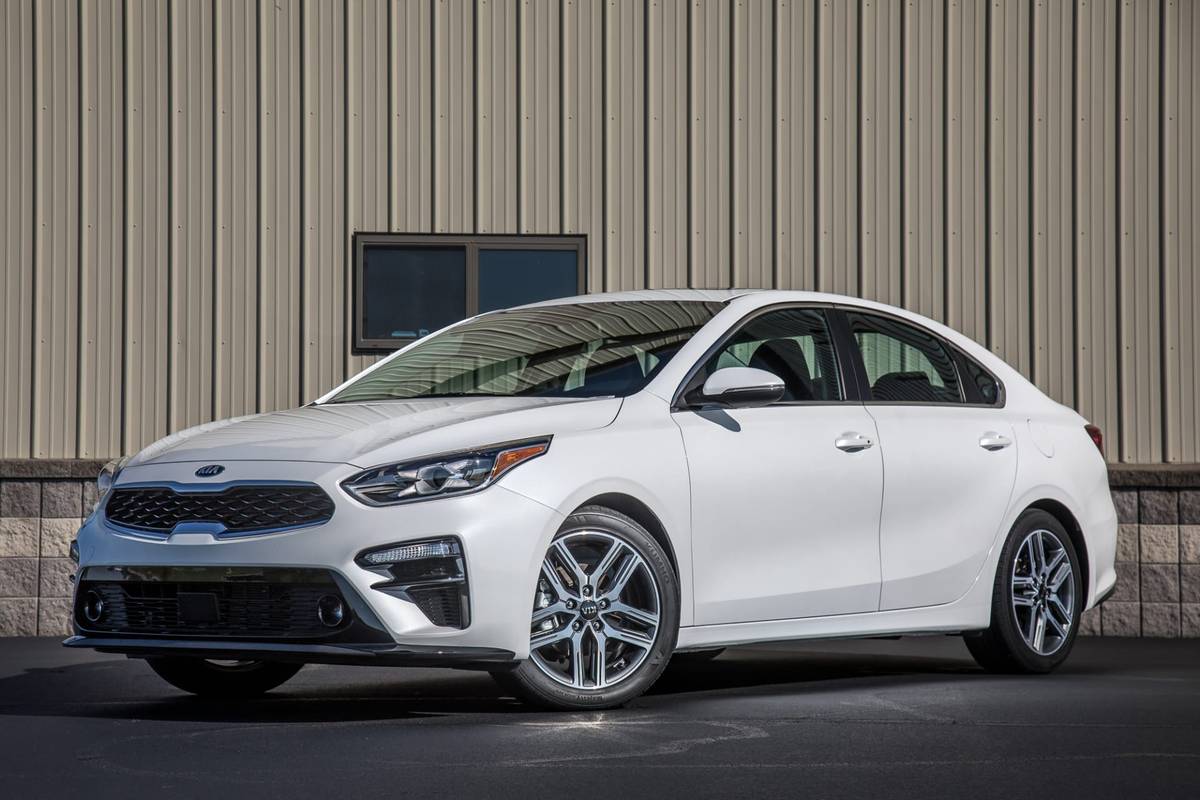 If you're bucking the SUV tide and buying a non-luxury compact sedan, I'd wager that value ranks high on your list of needs. Drivability, safety or quality might factor in, but for any choice to make sense, it must save cents.
Related: 2019 Kia Forte Gets More Stylish, More Efficient
In that light, the third-generation Kia Forte sedan makes boatloads of sense. Lavished with advanced safety and convenience features even in its sub-$20,000 variants, Kia's redesigned sedan packs heavy appeal for value-oriented shoppers. But a few loops behind the wheel suggest the Forte's drivability won't draw too many others.
At the Midwest Automotive Media Association's 2018 Fall Rally in suburban Chicago, I drove a well-equipped Forte EX, the highest of four trim levels for the sedan. (As of this writing, the Forte5 hatchback remains in prior-generation form.) Read on for our early take, and stay tuned for a full review after we get a Forte for longer evaluations at Cars.com HQ.
About That Automatic
A continuously variable automatic transmission replaces last year's six-speed automatic as the Forte's two-pedal option. Kia spilled plenty of virtual ink over its purported distinctions from other CVTs, but the results don't live up to the talk. Tasked with doling out power from the sole available engine — a 2.0-liter four-cylinder with 147 horsepower and 132 pounds-feet of torque — the transmission exhibits all the telltale droning and rubber-band nonlinearity of other CVTs, and not the best examples.
Toe the gas for more power and the gearbox alters ratios to simulate the upshifts and downshifts of a conventional stepped automatic — but it takes a lot of pedal to get there, and the engine's modest power lends little exhilaration along the way. It doesn't have to be this way: The Honda Civic's CVT feels more serviceable when paired with the car's optional turbo 1.5-liter four-cylinder, while the Toyota Corolla Hatchback's excellent CVT beats the pants off both.
Kia's effort is efficient, at least. EPA combined mileage in the Forte is an impressive 34 mpg for most versions, up 2 mpg versus last year's automatic-equipped, base-engine Forte. (A direct-injected four-cylinder with more power but less efficiency was optional last year; it isn't available now.) The base trim, dubbed FE, offers a 35-mpg automatic version, as well as a six-speed manual rated at 31 mpg combined; we drove neither one.
Ride and Handling
We'll need more seat time to weigh in with certainty, but my quick take on ride and handling is mixed. A slow steering ratio and numb feedback sell the Forte's reflexes up front as soupier than a bowl of minestrone, but the feedback improves on evasive maneuvers and sustained curves. Understeer comes as the EX's Kumho Solus P225/45R17 tires reach their limits, though selective braking from our test car's stability system intervened in unexpected but effective spurts to help rotate the axis a few degrees.
The steering exhibits acceptable weightiness at higher speeds, but it needs more assist at lower speeds — a takeaway reinforced when I jumped in a Mazda3 for a back-to-back drive. It's no surprise that the Forte is less viscerally exciting than Mazda's fun-first compact. It's less acceptable that Kia also penalizes you with more steering effort around parking lots, driveways and other such commuter-car environs.
Ride quality, like handling, will require longer loops and rougher roads to evaluate. My brief drive suggests competent, if unexceptional, underpinnings. They're certainly an improvement on the firm-riding Forte S at Cars.com's 2017 Compact Sedan Challenge, but that car had the Forte's then-optional sport suspension, so it's not quite an apples-to-apples comparison.
Room, Quality and Value
A low center console ensures plenty of knee clearance up front, where both seats now enjoy standard height adjustments. The backseat remains roomy, and adult passengers will appreciate a little more seating height this time around (the prior Forte's low bench left your knees uncomfortably elevated), but the remedy comes at some expense to headroom.
The dashboard emphasizes width, with an 8-inch touchscreen perched above the center controls. It's an attractive layout, if ubiquitous among recent redesigns across the industry. Materials quality doesn't advance much beyond the outgoing Forte, but it's competitive with the class.
A few top options from the prior car are now gone — a memory driver's seat, power-folding mirrors, leather seats — but our EX test car's vinyl upholstery felt lush enough, and I suspect few shoppers will miss the extravagances in light of the Forte's many more standard features. Among them are dual-zone automatic climate control and the touchscreen with Apple CarPlay and Android Auto, plus a host of safety tech: forward collision warning with automatic emergency braking, lane departure warning and lane-centering steering at higher speeds.
The fact that you can get all of that with the automatic transmission on two sub-$20,000 trim levels — with Kia's excellent warranty included — should draw plenty of budget-conscious shoppers even amid the market's current SUV tilt. My time behind the wheel suggests underwhelming drivability, but given the class, Kia's overwhelming value should compensate just fine.
Cars.com's Editorial department is your source for automotive news and reviews. In line with Cars.com's long-standing ethics policy, editors and reviewers don't accept gifts or free trips from automakers. The Editorial department is independent of Cars.com's advertising, sales and sponsored content departments.