2019 Subaru Forester: All-New and Better, Just Not Shouting It
The question for Subaru in creating an all-new Forester was how not to fumble a model that has famously loyal buyers (some on their second or third). The current generation has doubled its predecessor's sales and now accounts for more than 1 in 4 Subarus sold in the U.S., second only to the Outback, though not by much.
Related: Subaru Ascent Vs. Volkswagen Atlas: The Family (SUV) Feud Begins
The answer is a fifth-generation Forester five-seat compact SUV that's literally new throughout but does not trumpet it. If you liked the fourth generation, you'll like this one better, but you might have trouble spotting it in the parking lot. It's not that it doesn't have a fresh look, with sharper side sculpting and a pinched waist, bigger grille and stronger face. But it's still small and tall, retaining the signature low beltline and tall windows. The still city-friendly footprint is just slightly longer and wider.
I tested the new Forester at a Subaru event on rural highways, gravel forest roads and a short off-road course near the mountain town of Asheville, N.C. (Per our ethics policy, Cars.com pays for its airfare and lodging at such automaker-hosted events.) I devoted most of my time to the new Sport model. The 2019 Foresters will be at dealers nationwide on Oct. 1.
How It Drives
The updated 2.5-liter Subaru boxer engine now has direct injection and a higher 12:1 compression ratio, which help gas mileage, and it puts out 12 more horsepower at 182 hp and a couple of more pounds-feet of torque at 176. Also helping to improve throttle response around town is a 10 percent wider ratio spread for the standard continuously variable automatic transmission (the stick shift is discontinued). The improved low-speed response is noticeable, and any help is welcome because also gone is the 250-hp, turbo 2.0-liter engine — the fun option.
While the standard (and now only) engine won't break any records on the on-ramp, it is peppy enough for most Forester buyers, few of whom opted for the turbo anyway, according to Subaru. The rating is competitive with other top-selling compact SUVs. Real-world performance from a stop or in passing is competitive, too, though the Honda CR-V's turbo 1.5-liter's low-end torque feels stronger from a stop. Compare competitor specifications here.
The Forester masks the continuously variable nature of its CVT with seven artificial steps that mimic a conventional transmission under harder acceleration. It helps cut CVT-induced noise, though the non-turbo four-cylinder needs to be wound up to reach its torque and horsepower peaks. You also can take over the CVT steps with a manual-shifting mode (including steering-wheel paddle shifters on the Sport trim level). This aspect offered welcome control and engine braking on mountain roads and twisty unpaved tracks.
Foresters also offer Intelligent (i.e., Normal) and Sport drive modes, the latter of which sharpens throttle response. The Sport trim substitutes a Sport Sharp mode that was a little more fun but not aggressive.
The 2019 Forester powertrain also offers slightly better fuel economy, with EPA ratings of 26/33/29 mpg city/highway/combined, up 1 mpg each for combined and highway estimates. That matches or beats all-wheel-drive versions of current mileage leaders such as the Honda CR-V, Nissan Rogue and Mazda CX-5. Compare them here. The redesigned 2019 Toyota RAV4 has not yet been rated.
Both handling and ride benefit from the significantly stiffer new Subaru Global Platform that now underpins the latest Impreza sedan and the Crosstrek and new Ascent SUVs. Body roll on twisting highways was minimal. The past generation showed similar cornering, but with a penalty in ride quality; not so with the 2019, which now also can compete in ride smoothness. Body motion on uneven pavement or even washboard gravel roads was controlled, and steering is stable on center. It initially felt a little light coming off center, but the electric variable assist firms up nicely and predictably, delivering better response as you turn. It's no sports coupe, but the Forester was comfortable as well as impressively stable and confident, from freeway cruising to evasive maneuvers and rutted gravel roads that probably should have been taken slower — and would have been in many Forester rivals.
A fuel-saving automatic engine stop-start system now is standard. You can turn it off, but you have to do so each time you restart the car. The system is relatively unobtrusive, however, and also is set up to where the engine restarts with a tug of the steering wheel, so you're not left without steering until you lift off the brake.
Not Afraid to Get Dirty
While the Forester can't rival some versions of the Jeep Cherokee for serious rock crawling, I'd grab its keys before other compact SUVs for snowy roads, as well as for driving off the pavement in sand or mud.
For starters, there are Subaru's 8.7 inches of ground clearance and its short overhangs. And every Forester also has AWD that's a genuinely competent torque-vectoring system, not a light AWD setup. All but the base trim level also have Subaru's X-Mode technology that can be engaged to automatically adjust for AWD performance in snow or dirt, as well as to activate Hill Descent Control. The Sport and above models get a new-for-2019 version of X-Mode with a second Deep Snow/Mud setting that turns off the traction control to allow some necessary wheelspin when digging out of, say, a snow bank.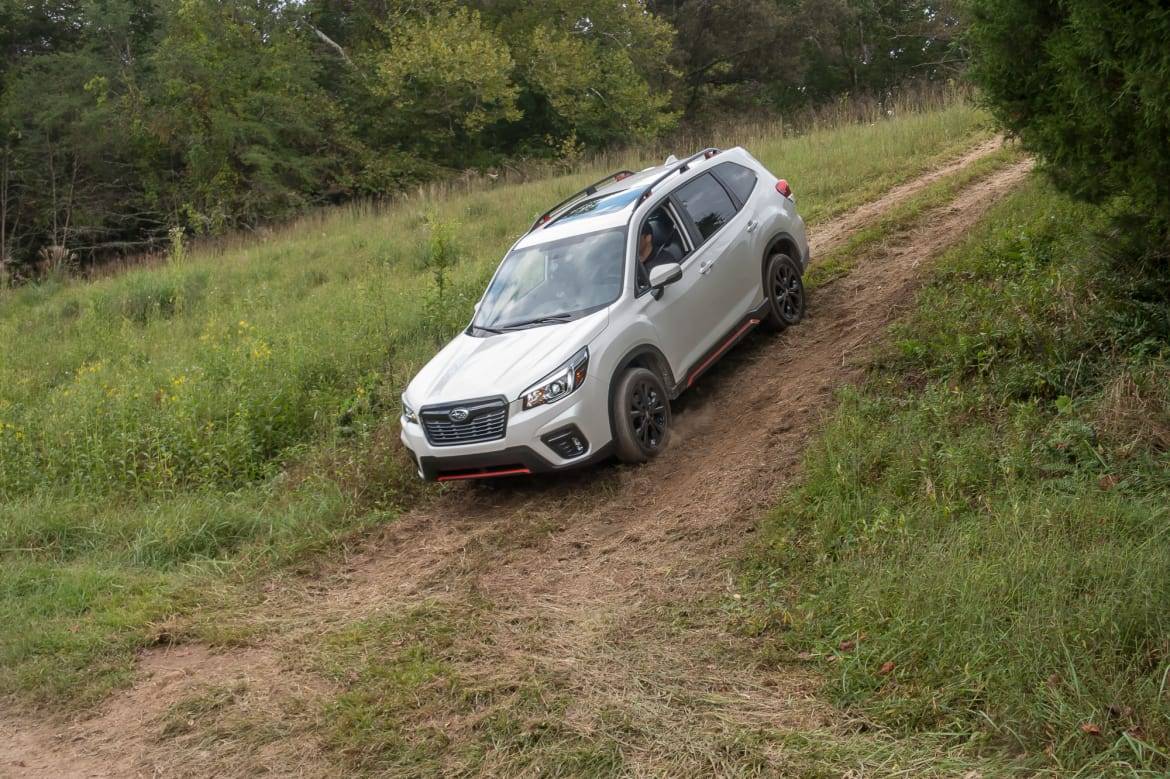 I was able briefly to check out the X-Mode and Hill Descent Control on an off-road course in a muddy field. Both performed without a hiccup, with the Hill Descent Control handling dirt grades to negative 27 degrees, enough to trigger the collision alert at the bottom of the hill.
Interior More Comfortable and a Classy Leap Forward
I have equated the previous Forester's interior design to sensible shoes: bland but practical and long-wearing. The 2019 Forester has a lot less to apologize for.
The updated dashboard still is logically arranged but now looks more upscale and less busy. The trim all around is higher in quality, and the surfaces are mostly soft-touch down to elbow level all around the car even in the mid-range Sport and Premium trims. Even surfaces that were soft before now are plusher with materials that have a better look and feel. The vinyl-trimmed cloth interior of the Sport model also adds some sportier flair with its attractive orange brushed-metallic finish on the climate vents and console, and orange contrast stitching.
It's still a Subaru, so the design remains eclectic and, to my eye, a little busy. On the Sport's front doors alone, I counted six different textures, patterns and shades of gray not counting the orange stitching, controls or speakers. Yet it somehow worked and seemed more upscale than a mid-level 2018. And the leather seats and fancier dashboard and other trim in the Limited and Touring, while similarly busy, now have a luxury look and feel and additional features, such as the Touring's new heated rear seats, that can hold their own with competitors' top trims. Even so, all the interiors still gave the impression that they could handle wear and tear and be easy to maintain like sensible shoes.
Subaru officials provided some fancy heat-map images to show how the redesigned front seats better cradle your back and bottom. A long day of driving in the Sport's cloth-upholstered seats, including on some rough roads, proved the images weren't Photoshopped. The seats still are somewhat flat, however; I wanted more bolstering to hold me in place on the twisting and off-road portions of the test drive. I also sampled the leather seats in the higher trim levels and they were cushier, but similarly supportive and a bit flat for my taste.
Adding to the overall classier feel inside is that wind, tire, engine and road noise suppression makes a similar leap forward as in other Subarus that have moved to the new platform. Only back-to-back testing would rank them, but the 2019 Forester moves solidly into the mainstream for noise with other compact SUVs and can challenge the leaders, such as the CR-V, for easy conversation with passengers in the backseat.
All Foresters except the base model also include a large power moonroof that opens over the front seats and extends into the rear-seat area. Subaru calls it "panoramic," which might be a stretch — there is no additional fixed panel over the rear — but it is big and square, not just a little rectangle over your head. And it has a pull, not power, shade that I think is a plus for eliminating a potential reliability problem.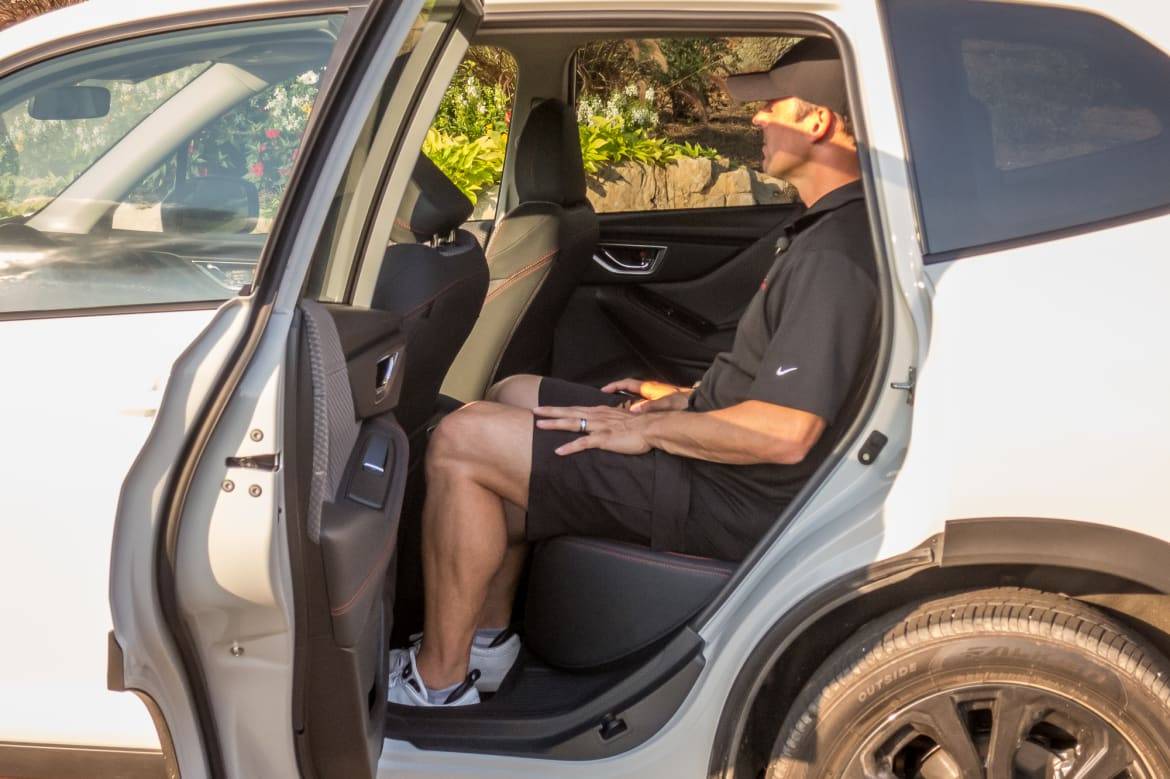 The roomy and tall backseat of previous models, already a high point versus the competition, got roomier for 2019 thanks to the new platform's 1.2-inch-longer wheelbase that contributes 1.4 inches more in rear legroom. I give points to Subaru for minimizing the drop-off in materials quality in the rear, even in lower trim levels. The only really obvious difference in the Sport was a harder surface on the rear window sills versus the soft touch in the front. All levels but the base also have center console climate vents and a pair of USB ports for the backseat.
Rear access is improved with large doors that open to near 90 degrees and very vertical door pillars, no ducking to get in. There is plenty of space at the floor to get your feet in and out with some measure of grace. People who regularly carry adults in the back or wrestle with child safety seats will appreciate the backseat details.
There's competitive cabin storage for a compact SUV, with a bigger-for-2019 front console device bin and extra cubby, all using space freed up by the new electronic parking brake. There are eight bottle or cupholders, door pockets and a nice added detail is front seatback pockets that are divided help organize storage.
All Foresters have automatic climate control (single- or dual-zone), and it can be set to prioritize maximum output, minimal noise or higher gas mileage.
Practicality Over All
The Forester's defining characteristic remains its practicality. Subaru spent its makeover money in important but less flashy ways, making the 2019 Forester more comfortable, quieter and smoother. It improved the quality of cabin materials. It made EyeSight driver assistance tech and automatic braking standard on all models. And it came from behind with multimedia technology that's very competitive even on the base model. We'll delve further into these areas, cargo space and more in a coming full review.
Cars.com's Editorial department is your source for automotive news and reviews. In line with Cars.com's long-standing ethics policy, editors and reviewers don't accept gifts or free trips from automakers. The Editorial department is independent of Cars.com's advertising, sales and sponsored content departments.