2019 Volkswagen Arteon Preview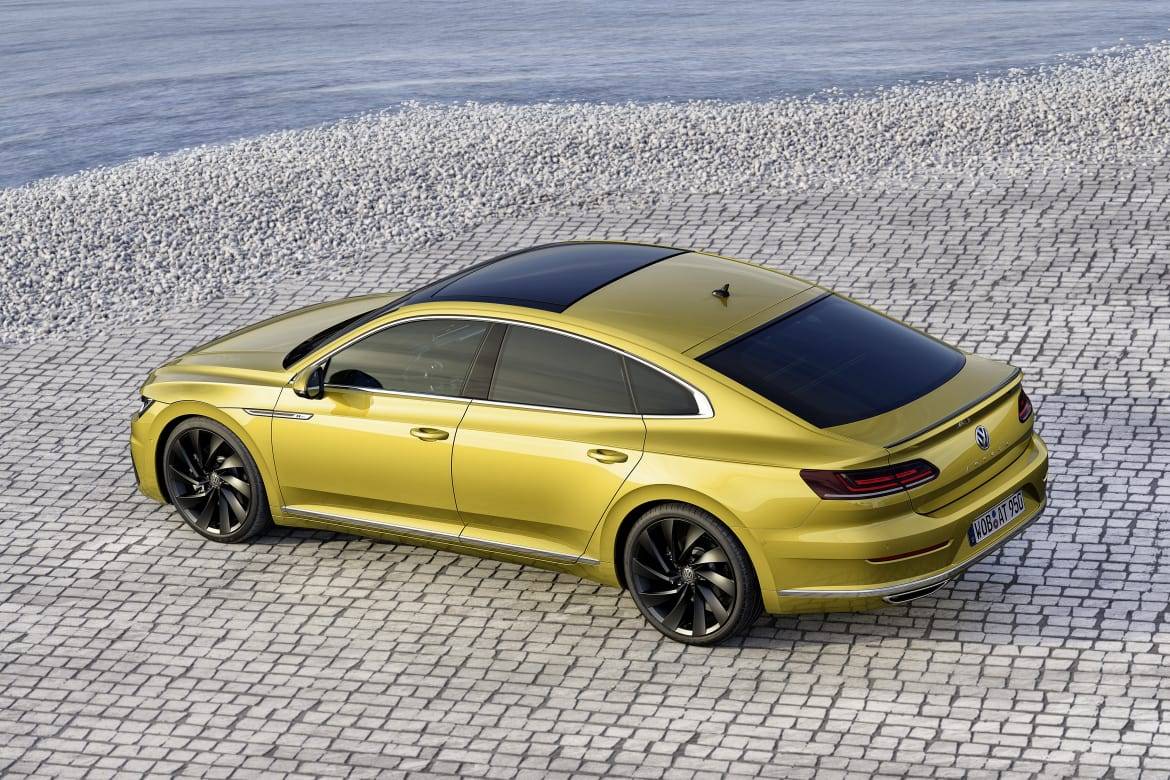 Competes with: Acura TLX, Nissan Maxima, Buick Regal
Looks like: The Volkswagen Sport Coupe Concept GTE; alternately, the harbinger of the CC sedan's doom
Drivetrain: Six available four-cylinder engines (three gas, three diesel) ranging from a 148-horsepower 1.5-liter mated to a standard six-speed automatic transmission or optional seven-speed to a 276-hp 2.0-liter with a standard seven-speed. It's unclear which powertrains will make it to the U.S. model.
Hits dealers: TBA
CARS.COM — It looks like "See-see ya later" for the CC as Volkswagen prepares to roll out its all-new mid-size sedan, the 2019 Arteon. After teasing a U.S. arrival for the sporty, coupelike fastback sedan in February, the automaker today released full info on the Arteon ahead of its world debut at the 2017 Geneva International Motor Show this week.
More 2017 Geneva Auto Show Coverage
The Arteon's arrival spells impending doom for the CC, a slow seller for which the new sedan has been positioned as a replacement. It's fitting that this all-new addition to the VW lineup should bow in Geneva, where two years ago the Sport Coupe Concept GTE portended with great clarity the nearly identical Arteon. The Arteon goes on sale in VW's home country of Germany in June but no word just yet on a specific U.S. launch date.
Exterior
The Arteon definitely passes for a cousin of the CC — but a prettier, better dressed and more successful cousin your mother always compares you unfavorably to. Emphasizing the "art" in Arteon, Volkswagen fancies the sedan's exterior styling as "avant-garde," making note of its long wheelbase, stretched roofline, coupelike fastback shape and large rear hatch (as opposed to the CC's restrictive trunk opening).
The expansive hood extends over both fenders and the grille spans the car's entire girth, while standard LED headlights and daytime running lights merge with the chrome-plated crossbars of the front end. The overall package is intended to convey power, evidenced by muscular fenders and flared wheel arches.
Standard exterior features include chrome strips on the side windows, LED headlights and taillights, and aluminum-alloy wheels. The Elegance, the luxury-minded of the Arteon's two above-base trim levels, adds chrome side-mirror caps, LED taillights with a dynamic indicator light function, 18-inch aluminum-alloy wheels and a continuous chrome strip on the lower body. The sport-themed R-Line trim, meanwhile, adds high-gloss black finish to the C-shaped front air intakes, model-specific 18-inch aluminum-alloy wheels, unique bumpers and chrome exhaust tips.
Interior
Volkswagen boasts "excellent" rear passenger legroom and "generous" luggage space, with the latter ranging from 19.9 to 55.0 cubic feet with the rear seats folded. Base cabin amenities include stainless steel door kickplates, a leather multifunction steering wheel, six-way power adjustable front seats and an infotainment system with eight speakers.
The Elegance trim adds contrast stitching on the seat covers and floor mats, aluminum-look pedal covers and heated Alcantara leather seats. The R-Line trim also offers a black headliner, R-Line badging on the kickplates and seats, and a model-specific steering wheel. Other optional features include the Volkswagen Digital Cockpit, a head-up display and the new Discover Pro infotainment system with a 9.2-inch screen and gesture control.
Under the Hood
The Arteon offers six — count 'em six — powertrain options, including three gas engines and three diesels, all four-cylinders. The gas options include a 148-hp 1.5-liter mated to either a standard six-speed automatic transmission or optional seven-speed and front-wheel drive; a 188-hp 2.0-liter with a standard seven-speed and front drive; and a range-topping 276-hp 2.0-liter with a standard seven-speed and standard all-wheel drive.
Diesel models include a 148-hp 2.0-liter with a standard six or optional seven and front drive; a 188-hp 2.0-liter also offering either transmission along with optional all-wheel-drive; and a 236-hp 2.0-liter with the seven-speed and all-wheel drive, both standard. It's unclear which powertrains will make it to the U.S. model.
Safety
Advanced safety and convenience systems include adaptive cruise control, adaptive headlights and high beams, a driver-attention monitoring system and progressive steering. VW's second-generation Emergency Assist slows the car and steers it into the nearside lane, rear traffic permitting, if the driver becomes incapacitated.