2020 Honda Civic Si Review: A Little Less Fun, a Lot Less Expensive Than a Type R
The idea of owning a raucous Honda Civic Type R excites you, but maybe you're a little cold on the idea of living with a car that looks like an angry Pokémon. With its crazy-huge wing, big plastic mouth and boy-racer aero kit, it doesn't exactly scream "I'm a mature professional" when you pull up to an office for a business meeting. It'll also set you back at least 37 kilodollars, which isn't a whole lot for a new car in today's largely unaffordable atmosphere, but it's certainly more than most people are willing to pay for their first new car. So how about something a little less frenetic, a little less expensive, a little less fast — but almost as good?
Related: 2020 Honda Civic Goes on Sale: 3 Things Shoppers Should Know
Enter the mildly updated 2020 Honda Civic Si, on sale now at dealers around the country, which is meant to split the difference between the turbocharged hatchback Sport and the top-end Type R hatchback. It comes in either coupe or sedan format, features a turbocharged 1.5-liter engine making 205 horsepower and is available only with a six-speed manual transmission. On either the coupe or the sedan, there's only one option you can tick — summer tires. Stick with the standard all-seasons and your out-the-door price is just $25,930 including a $930 destination charge. Add $200 for the optional summer tires. The coupe's price is exactly the same. But at that surprisingly low price, is it any good? We got behind the wheel in Las Vegas to find out (per our ethics policy, Cars.com pays for its own lodging and transportation at such automaker-sponsored events).
Fun at Speed
Yes, it is definitely good. The Civic platform is exceptionally well done, with outstanding body control and possessing a solid, substantial feel. The extra power that comes with the Si (the regular model spans 158 — 180 hp) is noticeable, but you do need to keep the revs up in order to use it. Yet you won't mind doing that as the engine revs so happily and sounds so wonderfully growly (yes, the music is partially augmented using the audio system) that you'll find yourself winding it out just to enjoy the experience. The clutch action is typical Honda — superlight with the pick-up point not far from the top of the pedal's travel. The stick is quick and precise, but the shifter felt a bit long and the knob a tad small in my hand. Both are conditions easily adjusted via a plethora of aftermarket-parts suppliers. Still, if you're looking for an easygoing, very forgiving performance car in which to learn how to drive a manual transmission, you'll be hard-pressed to do better than this Civic Si. After driving an endless stream of dual-clutch automatics, continuously variable transmissions and regular eight-, nine-, and 10-speed autos, zipping down a desert road in an excellent row-your-own six-speed is truly a soul-renewing experience. The only thing Honda changed mechanically for 2020 from the previous Civic Si is the final drive gear ratio — it's now a bit shorter (numerically higher) for quicker launches and also enabling highway passing under certain conditions without requiring a downshift. The only downside to that is that the Si now zings along at 3,000 rpm at 75 mph, which is fairly high, and imparts a muffled drone into the cabin. It's not intrusive or unpleasant, but it is noticeable.
Research the 2020 Honda Civic.
The Civic Si's fantastic handling will make you forget about any unpleasant noises, however. The steering is direct and communicative, and the Honda engineers have done a marvelous job at balancing ride and handling. Admittedly, the pavement on my test drive in the hilly desert around Las Vegas wasn't a terribly accurate representation of much of the frost-heaved country, but what bumps the Civic Si did encounter it handled with ease. This despite being shod with some meaty tires on 18-inch matte-black alloy wheels. The 235/40R18 tires aren't the quietest in the world, with a fair amount of road noise getting into the cabin at highway speeds, but in terms of performance versus comfort, the suspension and steering are fantastic.
Find a 2020 Honda Civic near you.
New Looks, Just Barely
What else has Honda changed for 2020? Well, there's new bumper styling front and rear on the sedan (but only up front on the coupe), while LED headlights and foglights are now standard. The aforementioned matte-black wheels are new, but that's about it on the exterior visual front.
Inside, the Si has been blinged up a bit with new red trim accents on the dash and sport seats; it's not as loud or garish as those in the Type R but definitely a step up from more basic versions of the Civic. They look good and impart a sportier feel to an interior that's already top-notch in terms of packaging and space. The Civic Si is very comfortable in front or in back, with lots of legroom for front or backseat passengers, the only issue being a slight lack of headroom due to the standard moonroof. My long torso and short legs found it acceptable, but taller drivers may find their noggins brushing up against the headliner unless they recline the seat to an unpleasant angle.
The Display Audio system was revised in the Civic line last year, with better Apple CarPlay and Android Auto connectivity, and praise be, there's also an increase in hard buttons and a genuine volume knob! That system now arrives in the Si. The whole thing still needs something of a "next-generationing" overhaul in order to be as good as competitor systems like Ford Sync in terms of usability and human-machine interface, but it's definitely a step in the right direction. The gauges, on the other hand, really do need that update sooner rather than later — the digital screen washes out in direct sunlight, and the cheap-looking LED meters for fuel and coolant temperature need to go already. The Honda Sensing suite of electronic safety minders, which includes forward collision warning with low-speed automatic emergency braking, adaptive cruise control, lane keep assist and lane departure warning, is now standard on the Si.
More From Cars.com:
No Denying the Bottom Line
But a lot can be forgiven, once you see the sticker price: $25,930 for coupe or sedan, including destination fee. For a vehicle this well-equipped, comfortable, versatile, reliable, capable and genuinely fun to drive, that's an extraordinarily reasonable sum. One can overlook some of the Civic's rather few shortcomings, knowing that the only thing you really can't get on the car is a factory navigation system, and who cares? You've got a perfectly good one (or two, or maybe even three) on your smartphone, and the ability to mirror them on the dashboard display.
The competition in this segment is pretty fierce, with the Volkswagen Jetta GLI coming up as the main competitor here — outgunning the Honda by 23 hp (though weighing at least 311 pounds more) — as well as the outstanding Hyundai Elantra GT N-Line, which gives up just 4 hp to the Honda (and weighs at least 108 pounds more). Both of these alternatives offer optional automatic transmissions, which gives the Hyundai a starting price slightly less than what Honda is charging for a manual. The Subaru WRX should also be included here, because for a couple grand (and a few hundred pounds) more, you get 63 more hp, standard all-wheel drive and a six-speed manual transmission in a formidable package loaded with safety features. See all these models compared side-by-side.
Still, the latest sporty Civic acquits itself beautifully, staying smack in the heart of the competition with a compelling package. If you're set on a Honda, and the Type R is just too much and you just can't even, the Si is an excellent compromise.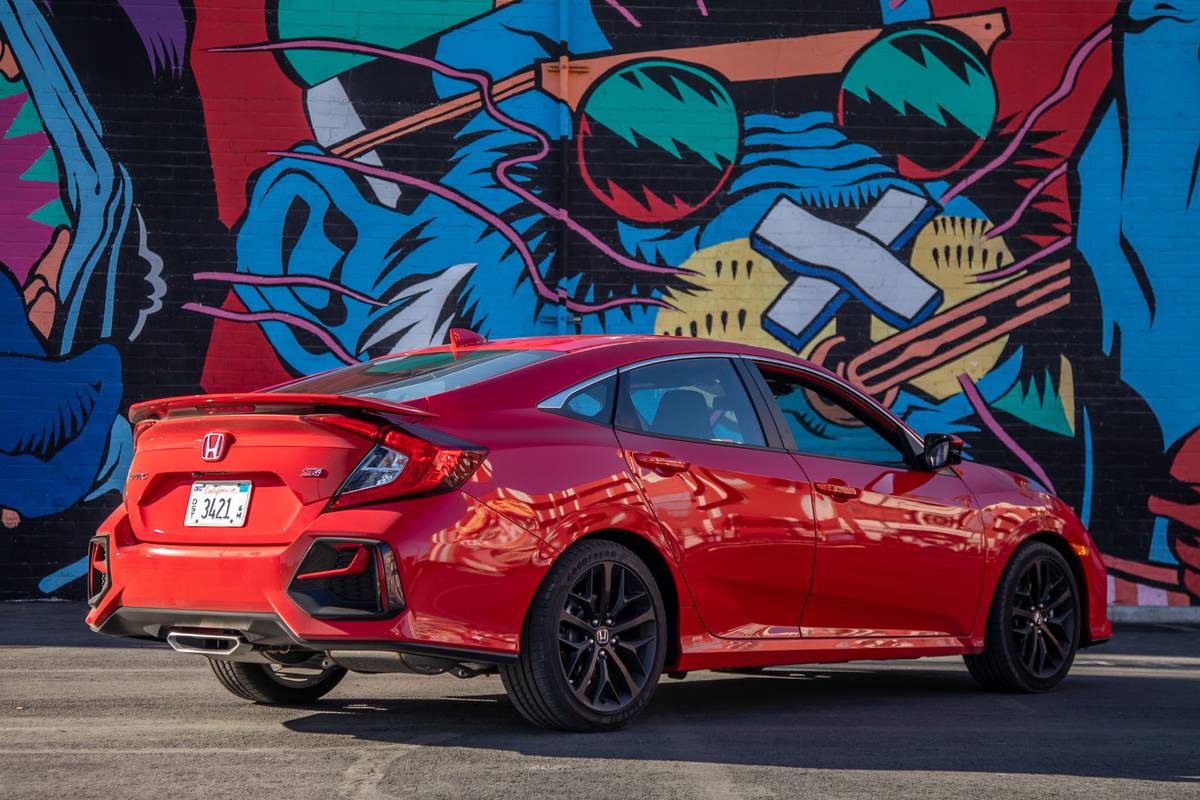 Editor's note: This story was updated Nov. 14, 2019, to correct the Civic Type R's body style.
Cars.com's Editorial department is your source for automotive news and reviews. In line with Cars.com's long-standing ethics policy, editors and reviewers don't accept gifts or free trips from automakers. The Editorial department is independent of Cars.com's advertising, sales and sponsored content departments.