EXPERT REVIEW
2020 Hyundai Venue Review: A Pleasant Place to Be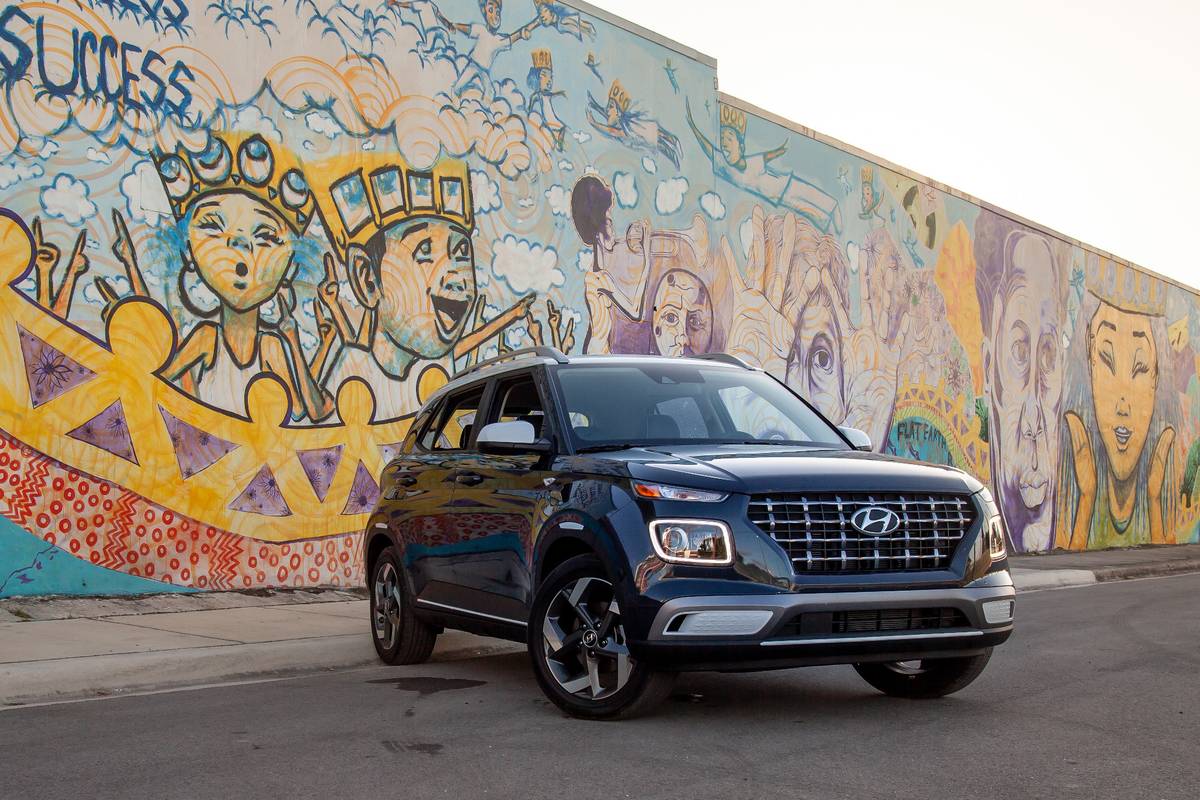 Notable highlights
${price_badge()}
${battery_badge()}${ev_report_link()}
${hot_car_badge()}
${award_badge()}
${cpo_badge()}
${href_to_vdp()}
${price_badge_description}
EV Battery Rating
| ${battery_badge_score}
The EV Battery Rating is based on this vehicle's current expected range relative to the vehicles expected range when new. ${battery_badge_text}
Certified cars are manufacturer warrantied and typically go through a rigorous multi-point inspection.
This car is likely to sell soon based on the price, features, and condition.
See more details about this car
Shop the 2020 Hyundai Venue near you


The Venue is designed to capitalize on the current popularity of SUVs and target younger millennials with a low starting price and generous standard technology and safety features. Hyundai believes a new car with Apple CarPlay and Android Auto, a standard 8-inch multimedia display and things like forward collision avoidance with pedestrian detection will appeal to the first-time car buyer who might otherwise choose a three- or four-year-old used car that lacks such features.
Whether that demographic analysis plays out or not, what Hyundai has built is a capable city car that ably replaces the Accent hatchback (the sedan remains) as a nimble way to get from point A to point B in the city, and that can even handle shorter highway trips. It joins the ranks of high-riding front-drive hatchbacks like the Nissan Kicks and Toyota C-HR, and it offers both solid competition for first-time car buyers and those looking for a small, affordable and moderately utilitarian new car.
It Drives Well Enough
The Venue has one engine, an updated 1.6-liter four-cylinder that can also be found in the Accent sedan. Two transmissions are offered with the Venue: a six-speed manual available only in base SE trim levels and a continuously variable automatic available on the SE and standard on SEL and Denim trims. (Hyundai had only SEL and Denim examples on hand, so I have no opinion on the manual.)
The engine produces 121 horsepower and 113 pounds-feet of torque. If that doesn't sound like a lot to you, you won't be surprised to learn that it doesn't feel like a lot. Accelerating from a stop is a gradual process; accelerator response isn't outstanding and power doesn't really come on until roughly 3,500 rpm. Sport mode improves response and was my preferred driving mode for the city. For general highway cruising, I tended to keep the Venue in Normal except for passing maneuvers when I would switch to Sport, which is certain to diminish the rated fuel economy.
The EPA-estimated gas mileage for the automatic Venue is 30/34/32 mpg city/highway/combined (27/35/30 mpg for the manual), and on our highway-heavy drive, the Venue's computer routinely displayed a fuel economy rating of more than 35 mpg. The 2020 Nissan Kicks is rated slightly higher by the EPA at 31/36/33 mpg, while the 2020 Toyota C-HR lags behind both at 27/31/29 mpg.
What surprised me most about the Venue was how composed and balanced it felt even at highway speeds. While you'll still feel bumps and potholes and uneven pavement, especially because of the Venue's short, 99.2-inch wheelbase, it does a good job of isolating occupants and keeping the ride feeling smooth. Steering feel is also good for the class, but you'll never confuse the Venue for a sports car.
Comfortable Inside
The Venue's cabin feels spacious for its size, at least up front. I never felt cramped in the front seats despite my 6-foot, 1-inch height, though I wouldn't have minded a slightly wider footwell for the front passenger seat. Headroom was also impressive, though it helped that the Denim model I spent most of my time in isn't available with a sunroof. The lower roof in the sunroof-equipped SEL models didn't leave me ducking while behind the wheel, however.
Still, if you're a taller driver looking at a Venue, I'd suggest sitting in one with and without a sunroof before making your choice. Note that the sunroof is part of the Convenience Package on SEL models, and while losing out on a sliding armrest storage box and leather-wrapped steering wheel may be sacrifices you're willing to make, blind spot warning with rear cross-traffic alert is also part of that package.
The front seats are comfortably wide, though I found the lumbar support a bit too much. As an entry-level vehicle, neither the driver's seat nor front passenger seat have power adjustments. The driver's seat adjusts six ways while the passenger seat can be adjusted in four ways (there's no height adjustment). In the backseat, I still had more than adequate headroom but found my knees angled upward while sitting. With the front seat in my preferred position, I also didn't have enough legroom in back. Adjusting either front seat to give myself enough legroom left me uncomfortable up front. This isn't the interior for longer trips — particularly without device charging ports or adjustable climate vents in the back.
The cabin materials are as nice as to be expected in a car that costs less than $24,000 fully loaded — which is to say, not very. Hard plastics abound and there's not much padding on most touchpoints, but the interior design itself is pleasant. Cloth seats are standard on the SE and SEL, and if you opt for the Denim, the seating surfaces are trimmed with faux leather and have fabric inserts that mimic, well, denim.
Cargo space is adequate at best, with enough space for a few smaller bags or some groceries. Hyundai says the Venue has 18.7 cubic feet behind the backseat. With the 60/40-split, folding rear seat lowered, that increases to a claimed 31.9 cubic feet. That puts it behind its competition, with Toyota measuring the C-HR at 19.1 cubic feet with the backseat up and 37.0 cubic feet with the seats down. The Kicks beats both, however, with 25.3 and 53.1 cubic feet, respectively.
'Young Millennials' = Tech and Safety
What really makes the Venue's interior a nice place to be is its standard tech features. The horizontally oriented 8-inch touchscreen is standard and larger than those of competitors. While it's not running the latest software we've seen on some Hyundais, it responds quickly enough and the company's infotainment system remains among the most intuitive and user-friendly on the market. Apple CarPlay and Android Auto are both standard, as well. Built-in navigation with real-time traffic updates is available on SEL models and standard on Denim ones.
Besides the collision detection and forward automatic emergency braking with pedestrian detection, the Venue also comes equipped with lane departure warning, lane keep assist and a driver attention warning system. Its standard backup camera also has moving guidelines. Blind spot monitoring with rear cross-traffic alert is standard on Denim trims and optional on the SEL, and the same distinction applies to LED headlights and daytime running lights. All trim levels come with cruise control, but adaptive cruise control is not available, which is a shame given the frequent stop-and-go traffic the Venue is likely to encounter in the city environments for which it's designed.
One highlight of the safety features' forward sensors are audio and visual notifications when the car ahead of you in stopped traffic has pulled away — perfect for the growing number of drivers who use every stoplight as an excuse to look at their phone.
The Value Proposition
There are only two option packages for the Venue, and both are available only on the SEL. The first, the Convenience Package, adds a sunroof, armrest storage, a leather-wrapped steering wheel and shift knob, and blind spot warning with rear cross-traffic alert. The other is the Premium Package, which adds LED headlights and daytime running lights, heated front seats and mirrors, 17-inch wheels in place of the standard 15s, keyless entry with push-button start, navigation and Hyundai's Blue Link connected car services. The Denim version of the Venue includes all of those features as standard except for the sunroof. An SEL with both option packages will cost $23,270 including the $1,120 destination fee, while a Venue Denim comes in at $23,170.
Those prices are a bit higher than the most expensive Nissan Kicks but nearly as low as the base price for a Toyota C-HR. The Kicks offers blind spot warning as a standard feature, unlike the Venue, and a lot more cargo space, but it also offers a less refined driving experience and a more basic interior. The C-HR, meanwhile, has relatively comparable cargo specs to the Venue but more power and even more standard safety features, including adaptive cruise control that works to a complete stop.
What will set the Venue apart is its combination of technology, style and value, and that should be a winning combination for many new car shoppers — and, Hyundai hopes, those who might believe they'll have to resort to a used car.
Cars.com's Editorial department is your source for automotive news and reviews. In line with Cars.com's long-standing ethics policy, editors and reviewers don't accept gifts or free trips from automakers. The Editorial department is independent of Cars.com's advertising, sales and sponsored content departments.