NEWS
2020 Mercedes-Benz GLS450 Vs. GLS580: Do You Need a V-8?
By Aaron Bragman
January 16, 2020
You can do a lot with $30,000. It'll buy you a very nice mid-level compact SUV, a cruise around the world or a ticket for your own Etihad Airways airborne suite. It's also the as-tested price difference between two of Mercedes-Benz's top three-row luxury SUV trims that I recently drove: the 2020 GLS450 ($96,835 as tested; all prices include destination) and the 2020 GLS580 ($126,255). Both came adorned with options, but their base prices start a bit closer, the 450 at $76,195 and the 580 clocking in at $98,795.
As I sat in the pricier GLS580 a couple of weeks ago, I couldn't help but wonder: Is it really worth tens of thousands of dollars more than the lesser-engined 450? It doesn't look all that different and doesn't feel all that different. What, besides two extra cylinders, does this money buy you? And is it worth spending that kind of cash on it?
Related:  2020 Mercedes-Benz GLE-Class First Drive: Resetting the Luxury Bar
You Can't See the Biggest Differences
The GLS-Class is Mercedes-Benz's largest SUV, a three-row behemoth that shares its platform with the smaller GLE-Class. Mercedes intends it to be the SUV equivalent of the brand's vaunted S-Class sedan. Spacious, smooth and bristling with the latest multimedia, powertrain and suspension technology, it truly is a luxurious — if somewhat complicated to operate — prestige SUV. Two additional variants, the high-performance Mercedes-AMG GLS63 and posh Mercedes-Maybach GLS600, will hit dealerships later in 2020, but for now the GLS has two U.S. versions: The lesser model is the GLS450, powered by a mild-hybrid turbocharged 3.0-liter inline-six-cylinder engine that makes 362 horsepower and 369 pounds-feet of torque. The higher model is the GLS580, powered by a mild-hybrid twin-turbo 4.0-liter V-8 pumping out 483 hp and 516 pounds-feet of torque. Both engines employ a nine-speed automatic transmission and standard all-wheel drive.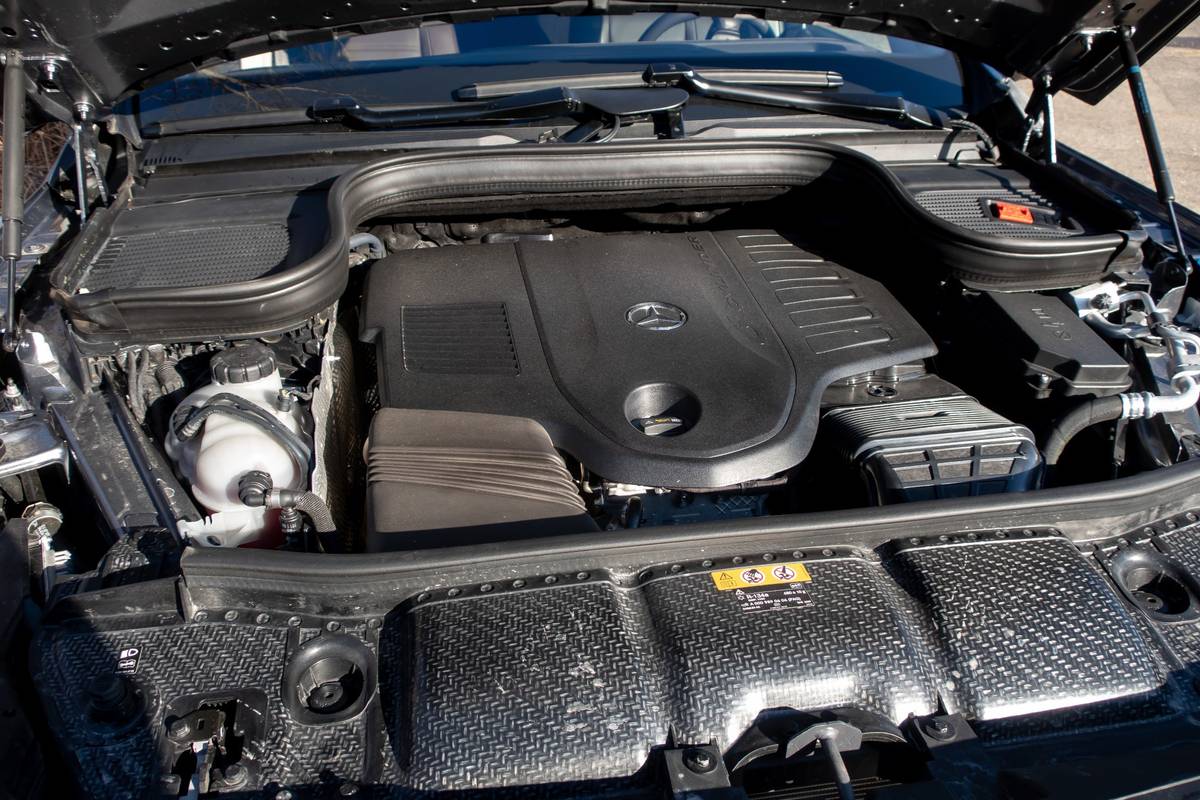 This really is the biggest difference between the two models: two cylinders, 121 hp and 147 pounds-feet of torque. Both are equipped with Mercedes' EQ Boost 48-volt mild-hybrid system, but, honestly, if it's doing anything at all while the vehicle is in motion, I have yet to figure out what. EQ Boost either operates so seamlessly that it's undetectable, or it's more marketing than substance; either way, it's a nonissue. The difference in power and torque is something slightly more tangible, but it, too, is of negligible difference overall.
The GLS450's turbocharged inline-six is perfectly torquey, smooth and responsive. It engages any demands with flawless action. I had no complaints of its performance during my week with the GLS450, which included several hundred miles running around the Detroit metro area with multiple passengers and cargo over the holidays. The GLS450 has just the right amount of exhaust noise to suggest something powerful under the hood, but it's quiet and unobtrusive at highway speeds. Acceleration is perfectly adequate in the driver-selectable Comfort mode; it's brisk and entertaining in Sport mode, and it never lets you down when called upon for more. In every condition I found myself, I never ran out of oomph with the six-cylinder powertrain in the GLS450.
That made me curious about the bigger, more powerful twin-turbo V-8 in the GLS580, which I tested the week after I had the 450. The V-8 has larger displacement (though it's still modest, relative to some competitors' engines) and makes itself known when you firmly plant your foot on the gas, launching the GLS580 with growling authority. But it's tasked with hauling about 5% more curb weight, and it doesn't really feel any quicker than the GLS450. Even Mercedes' official 0-60-mph times don't show a big difference in acceleration: 5.9 seconds for the 450, 5.2 seconds for the 580. For the vast majority of your everyday driving, you won't dig into the deep torque reserves, and neck-snapping acceleration with a truckload of passengers is generally uncalled for.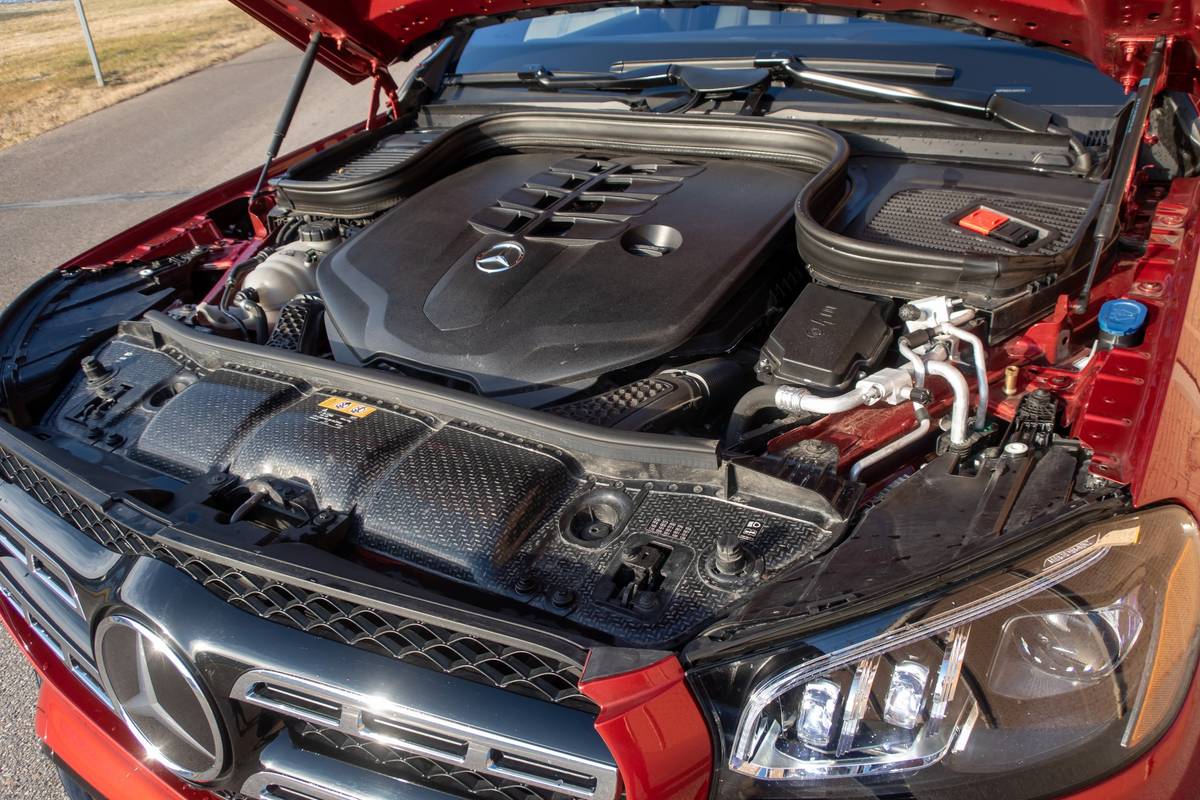 You also pay for the V-8 privilege with poorer fuel economy. The EPA rates the GLS450 at 19/23/21 mpg (city/highway/combined); my week saw an average of 19.5 mpg on the trip computer. The GLS580, meanwhile, gets an EPA-rated 16/21/18 mpg, and it delivered 15.7 mpg according to the computer. I chalked up the subpar fuel economy to the snow tires on both SUVs, which likely sap some mileage. So while you're not doing any favors at the pump by going to the big engine, neither SUV is super-efficient.
Content Differences?
Aside from the engine, what else differs between these two models to justify an additional 22-plus kilodollars in base price? Honestly, not much. You get some additional standard equipment on the GLS580 — such as heating, ventilation and massaging in the front seats — which is part of an options package on the GLS450. Five-zone automatic climate control comes with the 580 (the 450 gets three- or four-zone), as do illuminated running boards and soft-close doors. Visually, the two differ by way of standard wheels — the 450 has 19-inchers, while the 580 has 21-inchers — as well as a sportier, three-portal bumper design and more body-color cladding on the 580. The 580 has some exclusive options, as well, such as the Night Package (blacked-out trim) and AMG Line Package, both of which affect appearance with different trim, bumpers, grilles, etc. You can go up to 22-inch wheels on the 450, but the 580 lets you specify some massive 23-inch wheels as options, as well.
The basic GLS450 comes so well equipped that aside from the beefier engine and a little extra standard equipment, there isn't much to justify the additional cost to upgrade to a GLS580. It seems that the main reason for the pricier GLS580 is simply the prestige of a bigger number on the liftgate. Until the GLS63 and Mercedes-Maybach GLS arrive, the 580 will occupy that top spot. But unless you absolutely must have that number on the tailgate, save a pile of cash and go for the just-as-good GLS450 — then option it up with a lot of the stuff that you'd have to pay for on the 580 anyway, like the Executive Rear Seat Package, E-Active Body Control suspension (an absolute must, in my opinion) and Driver Assistance Package. Then go take that cruise around the world.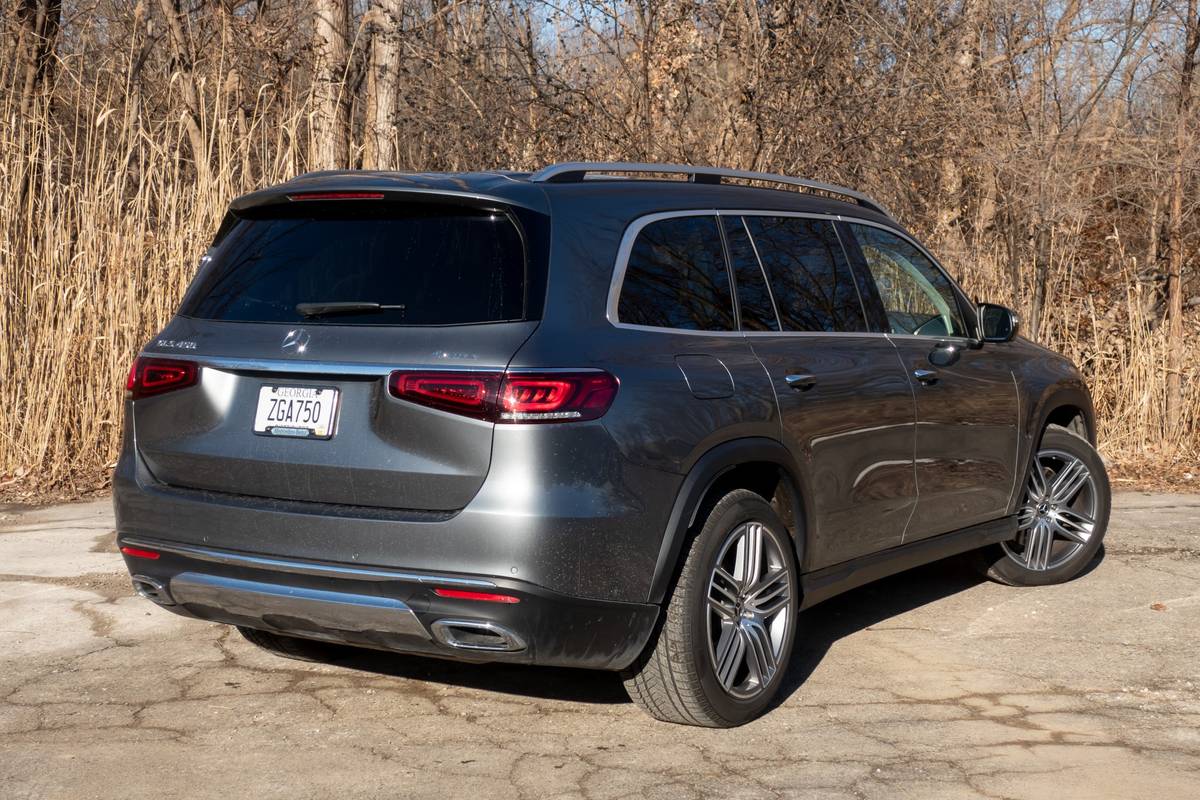 Cars.com's Editorial department is your source for automotive news and reviews. In line with Cars.com's long-standing ethics policy, editors and reviewers don't accept gifts or free trips from automakers. The Editorial department is independent of Cars.com's advertising, sales and sponsored content departments.