2020 Nissan Sentra Review: From Bad to Good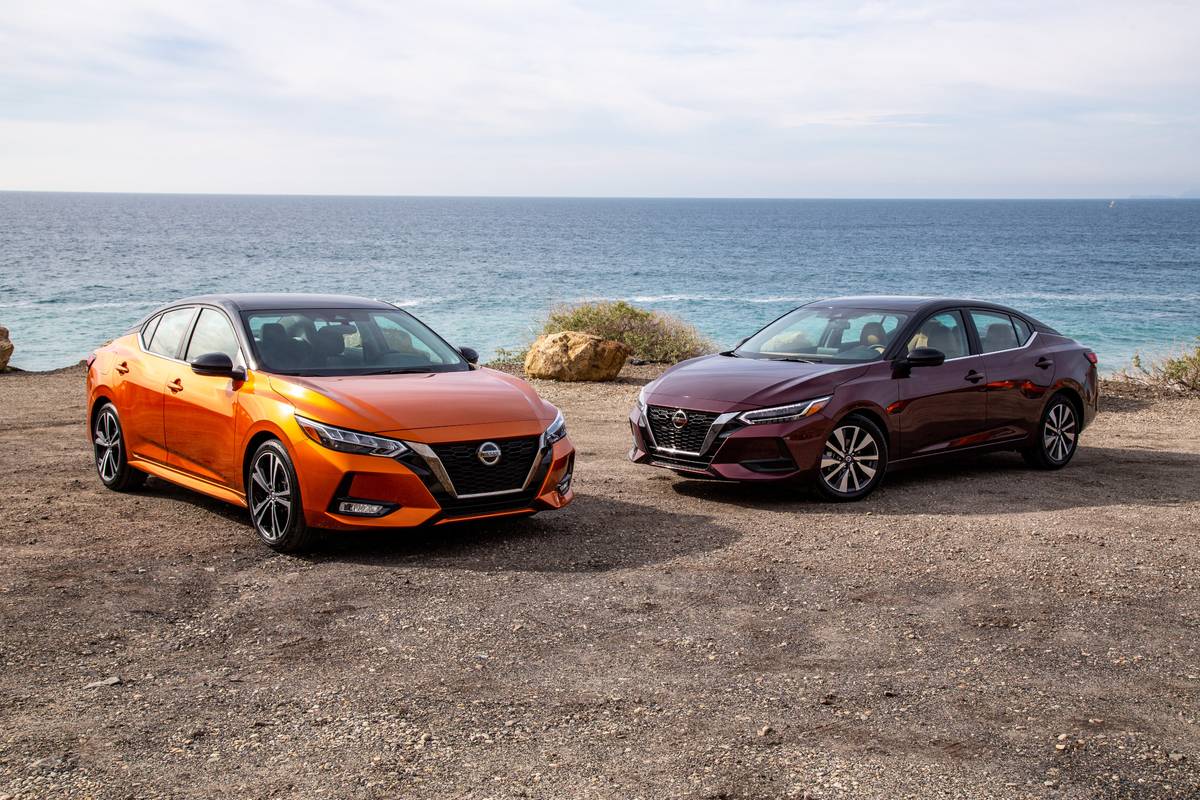 One of the traps that's easy to fall into when reviewing cars is to flatter the redesigned car in comparison with the older model. Sometimes something is improved and competitive again, but little more. I was aware of this potential trap when stepping into the redesigned 2020 Nissan Sentra because the outgoing Sentra generation was … not good.
Related: 2020 Nissan Sentra Brings Altima Looks to Compact Class
Not to speak too ill of the dead, but there wasn't much of a case to be made for the Sentra; a subpar driving experience, awkward styling and a lack of safety features on lower trim levels will do that. The new Sentra seems not only to have fixed those problems, it also swings the needle back in the other direction — the 2020 edition is not just improved, it's good.
How It Drives
The Sentra rides on a new platform with a new engine under the hood, and we'll start with what works well: the platform. The first thing I noticed when the Sentra got moving was sterling ride quality. Seriously, it glides along the road and even hitting every bump I could find on Malibu, Calif.'s well-paved roads failed to upset it. And it doesn't just ride comfortably, it also feels sharp in curves. A multilink independent rear suspension, replacing the old semi-independent torsion beam, is very much a change for the better.
The canyon roads near the Pacific Coast Highway provide a challenging environment for any vehicle, but the Sentra held up well. Body roll is controlled and even when pushed, the nose turns in quickly and the rest of the car marches in sync. Helping this along is a good dose of steering feedback: The wheel has proper weight and does an excellent job of communicating what the front wheels are doing. It's a shocking turn of events for a car that used to be sloppy and unpleasant in this regard.
Less successful is the powertrain, though I don't think it's the fault of the new engine, a 149-horsepower, 2.0-liter four-cylinder. This isn't a ton of power, but neither is the Sentra a large vehicle, and it has enough hustle to get by. The problem is getting to the power, with the standard continuously variable automatic transmission in the way.
Because this is a naturally aspirated engine rather than what we've come to expect from a direct-injection turbocharged one, it doesn't really get going until you hit around 3,500 rpm. And not only does the transmission take its sweet time getting you there, it also doesn't want to stay at those higher revs. The Sentra also lacks any sort of more aggressive drive mode that could alter the throttle mapping and transmission behavior to help out (there's an eco mode, but that isn't helping anyone). There were multiple instances on the road where I got a little frustrated, as I know that the rest of the car was ready to really power through a corner and the powertrain fell right on its face.
Nissan would not say if the Sentra would be offered with a more robust turbocharged engine, or if a performance-oriented NISMO version is on the way. I actually hope to see both this time on the Sentra, because the car's great balance and steering are ready for it.
Improved Interior
I tested the highest two Sentra trim levels, SV and SR, which were also equipped with their respective Premium packages. That meant tan, quilted leather seats in the SV and imitation leather with orange accents in the SR. There didn't feel to be much of a quality gap between the top trim levels when equipped with the Premium Package, and they seemed nice enough upon first inspection to be class-competitive. Without that package, there are some notable omissions — heated front seats don't come standard on any of the Sentra models, nor does a powered driver's seat (a powered front passenger seat isn't available, period).
A 7-inch touchscreen is standard, but both the SV and SR get the 8-inch touchscreen that adds Android Auto and Apple CarPlay connectivity. These are crucial additions because the Nissan multimedia system is pretty simple, yet at the same time unintuitive — it's a car I'd plug my phone into each time I drove it. There is also now a USB-C port up front for futureproofing, though once again in SV and SR only.
The new Sentra is 2.2 inches wider than the outgoing vehicle, but it's also 2.0 inches lower, which does cut a bit into backseat headroom. There was plenty of legroom for my 5-foot-11 frame to fit behind my driving position, but it's on the edge of what would be called acceptable headroom. If I were any taller or sat up straight, my head would brush against the ceiling.
Safety Features Come Standard
The Sentra also adds value by stretching its safety technology downward in its lineup. All Sentras come with what Nissan calls Safety Shield 360, and it includes both forward and reverse automatic braking, blind spot warning, lane departure warning and automatic high beams. The reverse automatic braking is notable, as no competitors offer that feature standard.
The SV and SR trims add adaptive cruise control, which works down to a stop. But once the car comes to a complete stop, it releases the brake, so it's not a true low-speed or traffic-friendly system. Also note that the Sentra doesn't come with any sort of lane keep assist, just warnings, so you'll have to handle all the steering on your own.
The SR also adds a 360-degree camera system as part of its Premium Package.
Competitive Pricing
The 2020 Sentra keeps things pretty simple with three trim levels (S, SV and SR) and two option packages. That's it. The Sentra S starts at $20,015 followed by the SV at $21,195 and the SR at $22,355 (all prices include destination charges). Tacking on the Premium Package bumps the SV up to $23,655 and the SR to $24,525.
This places the Sentra within the normal range for this class, close to competitors like the Honda Civic and Toyota Corolla. But both of those cars get much more expensive at their top trim levels than the Sentra SR, which is a bit of a bargain with the Premium Package. On the other hand, those competitors offer more engine and transmission options than the Sentra does — at least currently — and are more engaging to drive as a result.
Otherwise, a return to form in a big way for the Sentra gives Nissan quite a one-two sedan punch along with the super-affordable Versa, which was also redesigned for the 2020 model year. Much has been made of the demise of the sedan, but Nissan is testing that theory. Perhaps the way to buck the trend is to build better sedans, and Nissan has done it twice now.
The 2020 Sentra goes on sale Jan. 28, 2020.
Cars.com's Editorial department is your source for automotive news and reviews. In line with Cars.com's long-standing ethics policy, editors and reviewers don't accept gifts or free trips from automakers. The Editorial department is independent of Cars.com's advertising, sales and sponsored content departments.