2020 Volvo V60 Cross Country Review: You Raise Me Up
The verdict: The 2020 V60 Cross Country's added ride height not only expands its off-road capability, it improves its on-road manners to make the wagon feel more luxurious.
Versus the competition: Outside the Audi A4 Allroad, there aren't any direct competitors. Of the two, I prefer the Volvo's in-cabin experience, materials and responsive powertrain.
Related: Has the 2020 Volvo V60 T8 Polestar Fixed What Plagued Other Polestars?
For those who don't want an SUV but would still like some off-road capability and cargo room, options are limited to the handful of raised wagons in the U.S. market. But the good news is that the latest of them, the redesigned 2020 Volvo V60 Cross Country, is quite good and an improvement upon the regular V60 wagon on which it's based.
The V60 Cross Country's intended purpose is to imbue the V60 with more off-road capability. That's why if you see the Cross Country in an advertisement, it'll probably be out in the woods or snow, cavorting in nature. That's also why our first drive of the V60 Cross Country didn't include any on-road driving: I drove it up a mountain instead.
My experience driving the V60 Cross Country in that environment left me anxious to find out how it performs in a more conventional setting. One of our chief complaints about the V60 (and S60 sedan) has been ride quality; in his review of the V60, editor Kelsey Mays wrote, "The chassis feels busy over all but the smoothest roads, with noticeable reverberation." I had a feeling the V60 Cross Country might have solved those problems — in a roundabout way.
Smoothed Out
The Cross Country's big differentiators from the standard V60 are added ground clearance and a softer suspension. It sits 2.5 inches higher, bumping ground clearance up to 8.3 inches — plenty for a gravel road. Don't confuse this raised wagon with a true off-road vehicle; it won't do much rock crawling or conquer harder trails, but for gravel or other light off-roading, it's quite competent. (And a more aggressive set of tires than the standard all-seasons would do wonders in that department.)
What you'll notice more on the road and in day-to-day use is the Cross Country's softer suspension. This echoes the effect we've seen in other off-road-oriented vehicles, like the Toyota 4Runner TRD Pro and Ford F-150 Raptor. Those vehicles have more robust suspension setups than the V60 Cross Country, but the end result is similar: The byproduct of a softened, stable off-road setup is a composed ride on the street.
That's how the Cross Country treatment transforms the wagon's on-road character. Instead of jostling you around, the suspension smooths out the imperfections you'll meet on the pavement, resulting in a comfortably riding vehicle that's more suitable for day-to-day driving. Honestly, it's what the regular V60 ride should have been like in the first place, as that car's tautness doesn't really pay off dynamically. The Cross Country's steering feel is a bit light and the car doesn't turn in quickly enough to be much fun on curvy roads, but it is competent.
The V60 Cross Country has only one powertrain, with standard all-wheel drive and Volvo's T5 engine (a 250-horsepower, turbocharged 2.0-liter four-cylinder that makes 258 pounds-feet of torque) mated to an eight-speed automatic transmission. The regular V60 is offered with more powerful T6 and T8 powertrains, but after testing the V60 Cross Country, I didn't feel that more power was needed, either on-road or off (see, once more, the part where I drove it up a mountain). The engine and transmission are responsive and well-suited to the size of the car, with plenty of acceleration for day-to-day driving, and they're controllable enough to offer some dexterity off-road.
Fuel economy does drop off a bit compared with the standard V60, which comes with the same powertrain but is front-wheel drive, making it a bit more efficient. (Only the V60 T8 Polestar Engineered plug-in hybrid offers all-wheel drive and a different powertrain.) The V60 Cross Country is rated 22/31/25 mpg city/highway/combined — 2 mpg less than the V60's combined mpg figure.
Creature Comforts
The interior will be familiar to anyone who's been in a redesigned Volvo over the past few years, but in this case, familiarity doesn't breed the slightest bit of contempt. The minimalist design and superb materials still look modern and luxurious — and for the life of me, I can't figure out how those front seats are so thin yet feel so substantial when you sit in them.
The standard 9-inch touchscreen display is oriented vertically, and after Volvo updated the processing power for the system for 2019 models, it's much snappier and boots up faster when the car is turned on. Android Auto and Apple CarPlay both come standard, though both utilize only about half the screen when in use (a common problem with these vertical screens). It feels a little small when you're using it and I'd prefer it take up the top half of the screen instead of the bottom, as that would make it easier to use while driving. When the system debuted, it felt futuristic; now it feels similar to what you get in other luxury makes. Volvo's new Android-based multimedia system won't arrive for a little while longer. A 12.3-inch instrument panel display is newly standard for 2020 (as it now is on all 2020 Volvos), but for a digital display, it lacks the customization options of many other automakers (Audi's Virtual Cockpit being the prime example). 
Cargo volume behind the rear seats is 23.2 cubic feet, expanding to 50.9 cubic feet with the seats folded. The squared-off shape of the V60 Cross Country's rear makes the cargo area more of a rectangle, which makes the space more useful than vehicles with sloped rear windows. Volvo also does a great job of incorporating small features to make the cargo space more useful: A divider can fold up from the floor, and there are various hooks and straps around the sides that are excellent for keeping grocery bags from sliding around and falling over.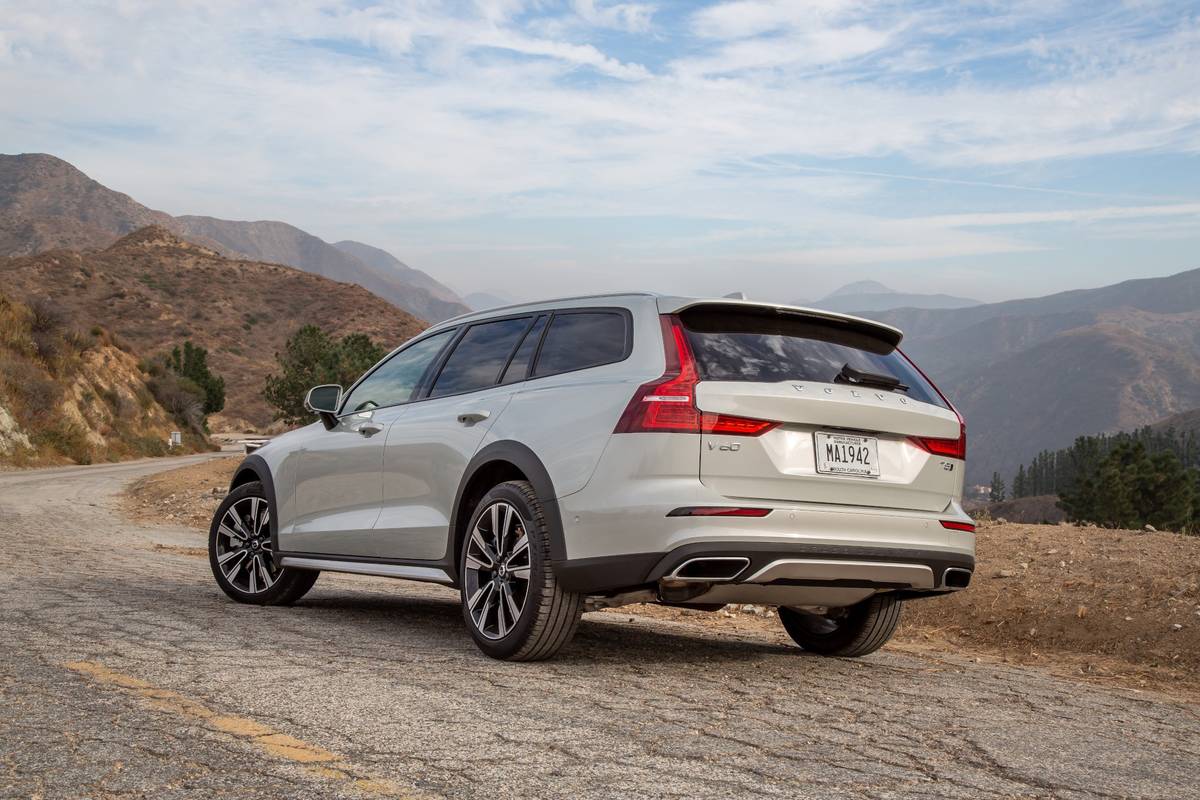 Value and Conclusion
The V60 Cross Country starts at $46,095 (including a $995 destination charge), a markup of $5,450 over a V60 with the same engine. That feels like a big difference at first glance, but as I dug in, my feelings started to shift. The Cross Country has more equipment than the V60's base Momentum trim, including blind spot monitors, front and rear park assist, and a hill descent control system. Don't forget about the all-wheel drive and added ride height, either.
It's hard to speak on the value proposition of a luxury vehicle in a vacuum, but the Cross Country very much holds its own against the standard V60. My test vehicle came with a good amount of options, pushing the price tag up to $56,990. A similarly equipped V60 Momentum comes to $51,980. The Cross Country I tested came with a $4,000 stereo that isn't available on the Momentum, accounting for much of the difference. 
The 2020 V60 Cross Country made me swoon — hard. The changes made in the name of off-road ability also fixed the V60's biggest problem. It's a smartly designed, stylish and capable wagon that fits both cargo and passengers without being too big to drive around in a city. You can keep your SUVs — I don't need them anymore.
Cars.com's Editorial department is your source for automotive news and reviews. In line with Cars.com's long-standing ethics policy, editors and reviewers don't accept gifts or free trips from automakers. The Editorial department is independent of Cars.com's advertising, sales and sponsored content departments.