2020 Volvo XC90 Review: An Aging Icon Learns New Tricks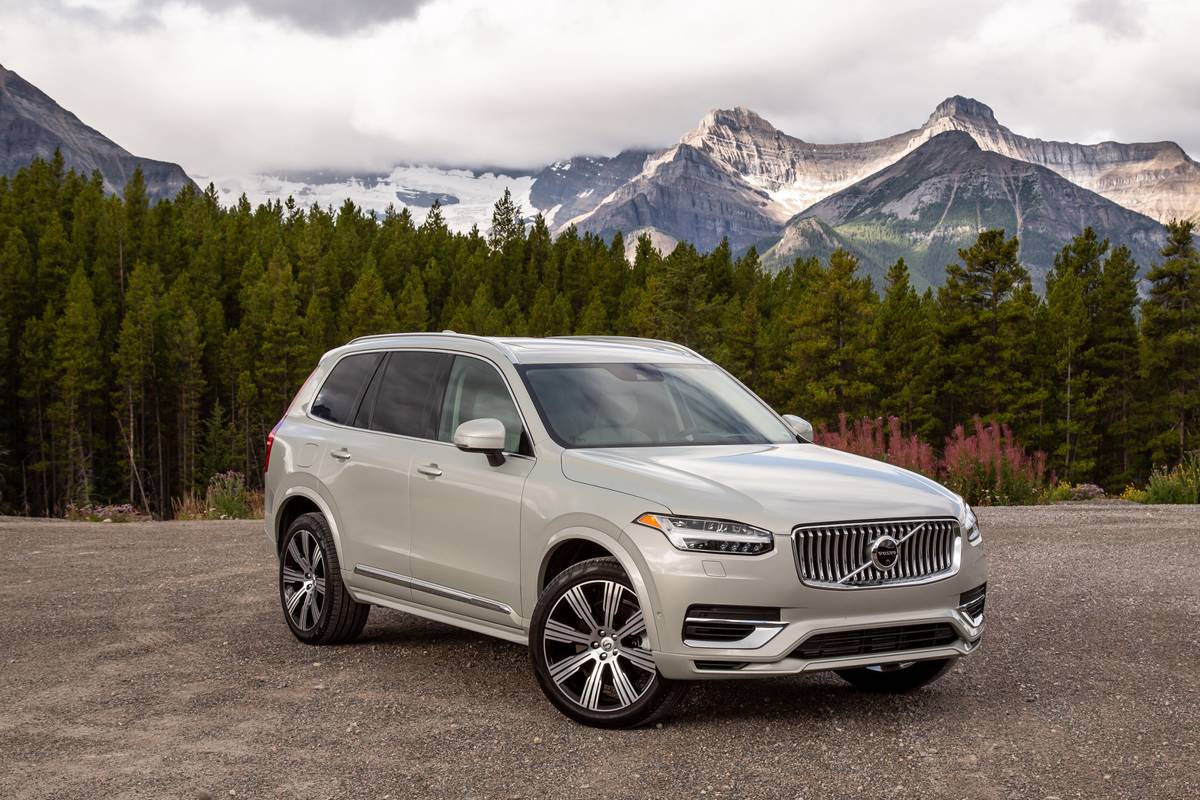 I have fond memories of the Volvo XC90. It was one of the first vehicles I ever got to test for Cars.com, and it went on to earn our Best of 2016 award. Then, we bought one and proceeded to put 22,000 miles on it over the course of a year — more than we've put on any other winning vehicle we've bought, an indication of how much we loved it.
Related: Volvo Amps Up 2020 XC90 With Mild-Hybrid Version
But that was back in 2016, and the world seems to spin faster these days. Though it was just a few years ago, the XC90's class has seen an influx of new products, and Volvo's three-row SUV was starting to feel a little dated. For 2020, the XC90 gets what Volvo is calling a refresh, which includes a few usability and styling updates. I took a trip to the town of Banff, in Alberta, Canada, for a first drive of the updated XC90 to see if the love is still there. (Per our ethics policy, Cars.com pays for its own airfare and lodging at such automaker-sponsored events.)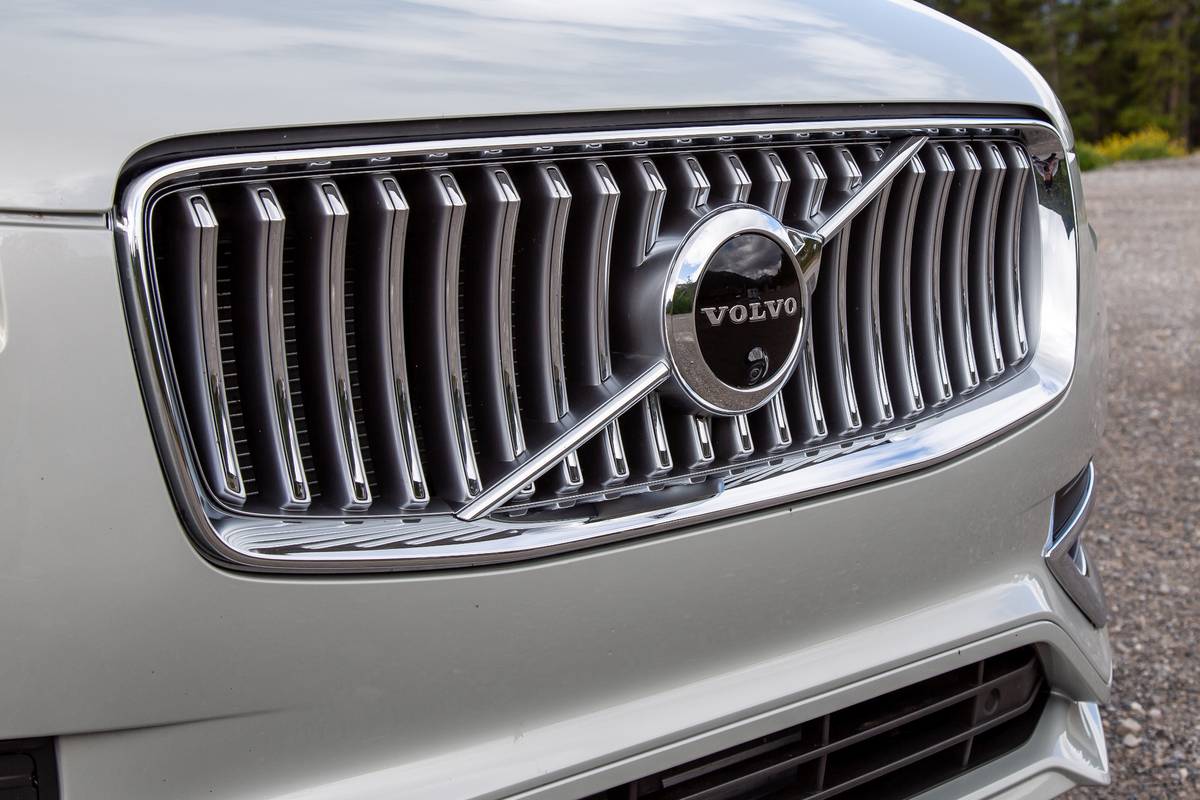 What's New for 2020
There are some exterior styling changes, including a new concave grille, restyled front and rear bumpers, new wheel designs and some new color options. Roof rails, 19-inch wheels and integrated tail pipes are also standard now. R-Design models add gloss-black accents for the side mirrors, window trim and the roof rails. Aside from the grille, the changes will be hard to pick out — the XC90 was quite handsome before and still is, unrelated to these tweaks.
Inside, the changes are more substantial. A 12.3-inch display is now standard as the driver's instrument panel, and the XC90 is now offered in a six-seat configuration with captain's chairs for the second row. This no-brainer addition was always a curious omission for the XC90, which launched a four-seat edition of the SUV before this. The blind spot warning systems adds automatic braking as well.
I tested two XC90s: a plug-in hybrid T8 Inscription model and a T6 R-Design, the sportier of the two with more aggressive styling and a gas powertrain. I was glad I got to drive both of them, because each model revealed something different about the updated XC90.
T8 Inscription
The T8 Inscription is the creme de la creme of the XC90 lineup, its most luxurious trim level and its most powerful (and expensive) powertrain. The T8 combines a modified version of Volvo's supercharged and turbocharged 2.0-liter four-cylinder engine with an electric motor that's mounted to the rear axle. Total system output tops out at 400 horsepower and 472 pounds-feet of torque, which gives the XC90 plenty of scoot. For 2020, the battery's capacity has also been enlarged to 11.6 kilowatt-hours (over the 2019's 10.4 kwh) without making it any bigger. Volvo attributes the larger capacity to a "change in chemistry," which makes me wish I could change the chemistry on my bank account.
On the road, the T8 accelerates confidently and shifts rather seamlessly between gas and electric power. Most of my driving was done in the standard Hybrid drive mode and I didn't notice any weird transitions while accelerating. This was true of previous versions of the T8, as well. It's not a very exciting powertrain, even with those power numbers; acceleration pours on rather than snaps forward, but it's more than able to get the XC90 around with ease.
Where the previous T8 ran into a lot of trouble was in slowing down rather than going. Accelerating might have been seamless, but braking was anything but; weird transitions between the regenerative braking system and the mechanical brakes made stopping the XC90 T8 smoothly a difficult proposition. The braking system has been reworked for 2020 and is still a brake-by-wire system, but Volvo has added a hydraulic pump back into the system. This is a weird blend of new- and old-school technology, but the bottom line is that it works wonderfully. The brake pedal feels smooth underfoot and the XC90 stops predictably and consistently — it was immediately comfortable to use, which is one of the best things you can say about a braking system.
T6 R-Design
There were fewer changes to be found in the T6 versions of the XC90, which has a carryover powertrain: a 316-hp, super- and turbocharged 2.0-liter four-cylinder that makes 295 pounds-feet of torque and comes mated to an eight-speed automatic transmission. Much like the T8, this engine easily moves the XC90 around, though without a lot of excitement. Volvo previously announced that a mild-hybrid kinetic energy recovery braking system would be added to T5 and T6 versions of the XC90 for 2020, but this system was not found on the T6 model I tested, so we'll have to wait a bit longer to see how this addition pans out.
The T6 R-Design and the T8 Inscription I tested both came with the optional adaptive air suspension, which Volvo confirmed has comparable tuning in both models even though the R-Design is the sportier of the trims. There was a noticeable difference in ride quality between the two models, however: The R-Design has larger wheels (22 inches versus 21 inches on the Inscription), and it's almost 450 pounds lighter than the hybrid T8, which made the T6 feel choppier, especially on imperfect roads. A bit more road noise and chatter from the suspension could be felt in the cabin, so if you live in an area where the roads need repair, this is something to watch out for.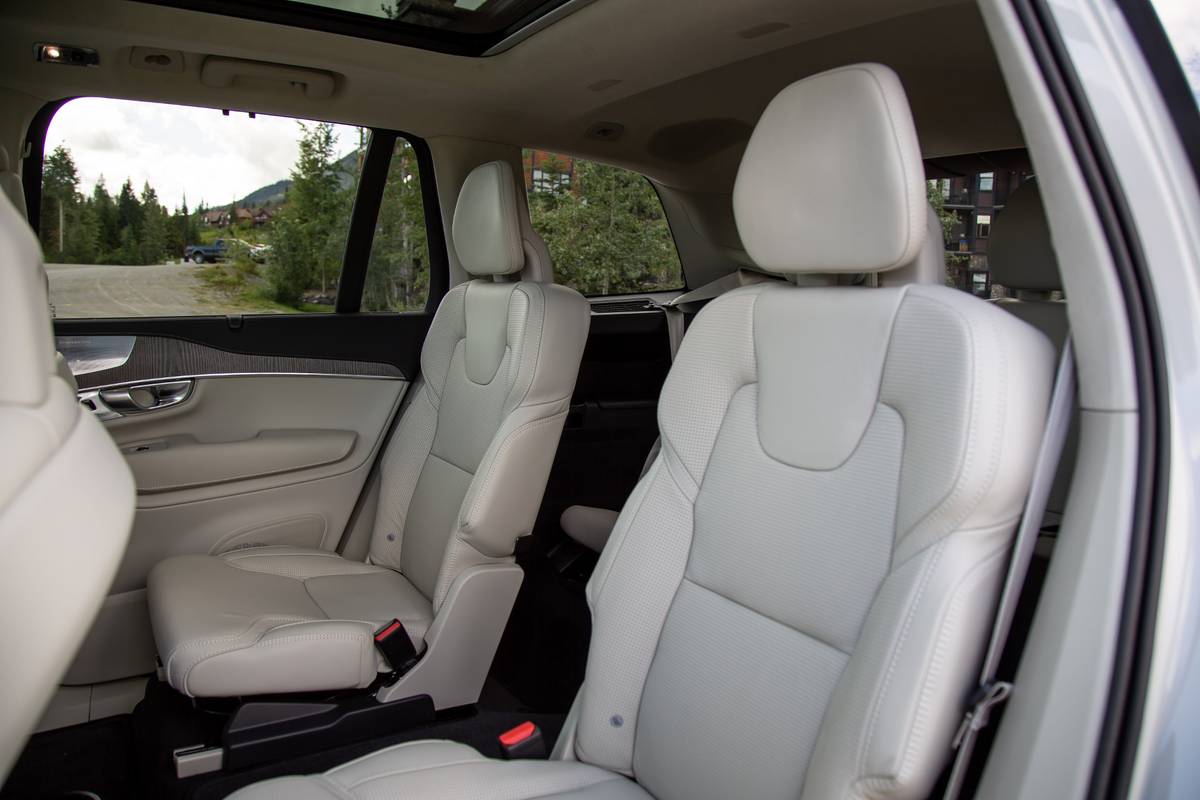 Room for Improvement
The six-seat configuration makes it much easier to climb into the third row due to a large gap between the captain's chairs, but it doesn't solve one of the XC90's shortcomings: a snug third row. Headroom is good, but legroom is tough to come by. The XC90 fails the "three Brians" test, where I set the driver's seat where I would drive and the second row to a comfortable but forward spot, then see if I can fit in the third row. I couldn't sneak my knees behind the sliding second-row seat, so it would require compromise from the passenger to make the third row adult-sized.
Volvo's Sensus touchscreen system is also starting to feel a bit dated. The addition of processor power and a bump in RAM in 2019 was a godsend that at least helped the system boot up in a reasonable amount of time after you turn the XC90 on. The system was notable at first for having a vertically oriented touchscreen, but the screen isn't notably larger than the other systems out there now, and having climate and heated-seat controls buried in a submenu remains a puzzling choice.
Also dated: a lack of device-charging options. There are only two USB ports to be found in the entire vehicle, both up front, which means that the second and third rows are left without a place to plug in. An SUV that is designed today would feature more ports, and this is probably something that Volvo will address in an XC90 redesign rather than the refresh we get now.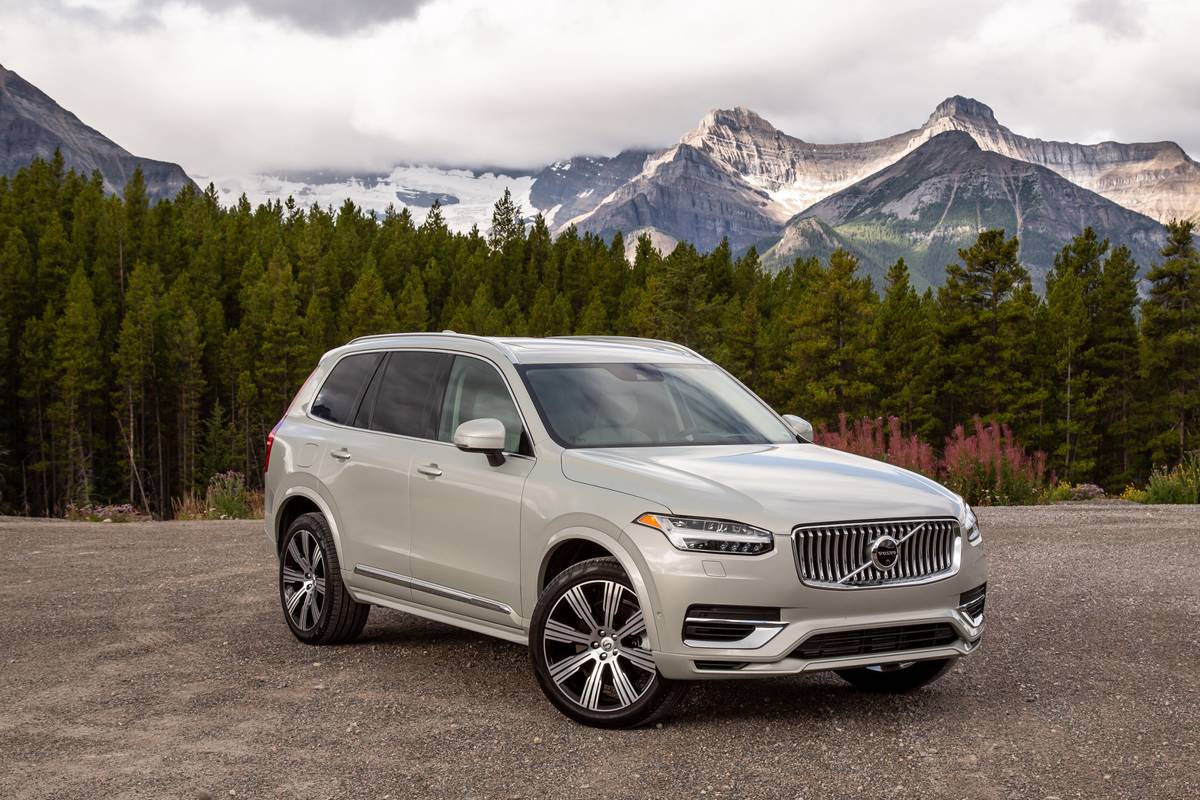 Conclusion
Taken comprehensively, the XC90 still impresses. Its interior materials and styling still very much hold up, the wood trim all has matching grain and the attention to detail is grin-inducing. It's not a perfect vehicle; if you will be using the third row consistently and need more cargo room, then other models would serve better. The same is true if you want the latest and greatest in technology.
This is exacerbated a bit by the XC90's pricing, which is a bit expensive. The T8 Inscription I drove stickered at $86,990 (including $995 in destination charges) and the T6 R-Design came in at $74,735, so it's not cheap to get an XC90 with the bells and whistles.
After driving the XC90 again, it reminded me of why I fell in love with it initially. The style, the easy-going driving experience and the well implemented safety features still make it a standout in this class — the sum is somehow greater than the parts.
The 2020 XC90 is on sale now.
Cars.com's Editorial department is your source for automotive news and reviews. In line with Cars.com's long-standing ethics policy, editors and reviewers don't accept gifts or free trips from automakers. The Editorial department is independent of Cars.com's advertising, sales and sponsored content departments.