EXPERT REVIEW
2021 Porsche Panamera 4S E-Hybrid Review: An Efficient, High-Performance Cruiser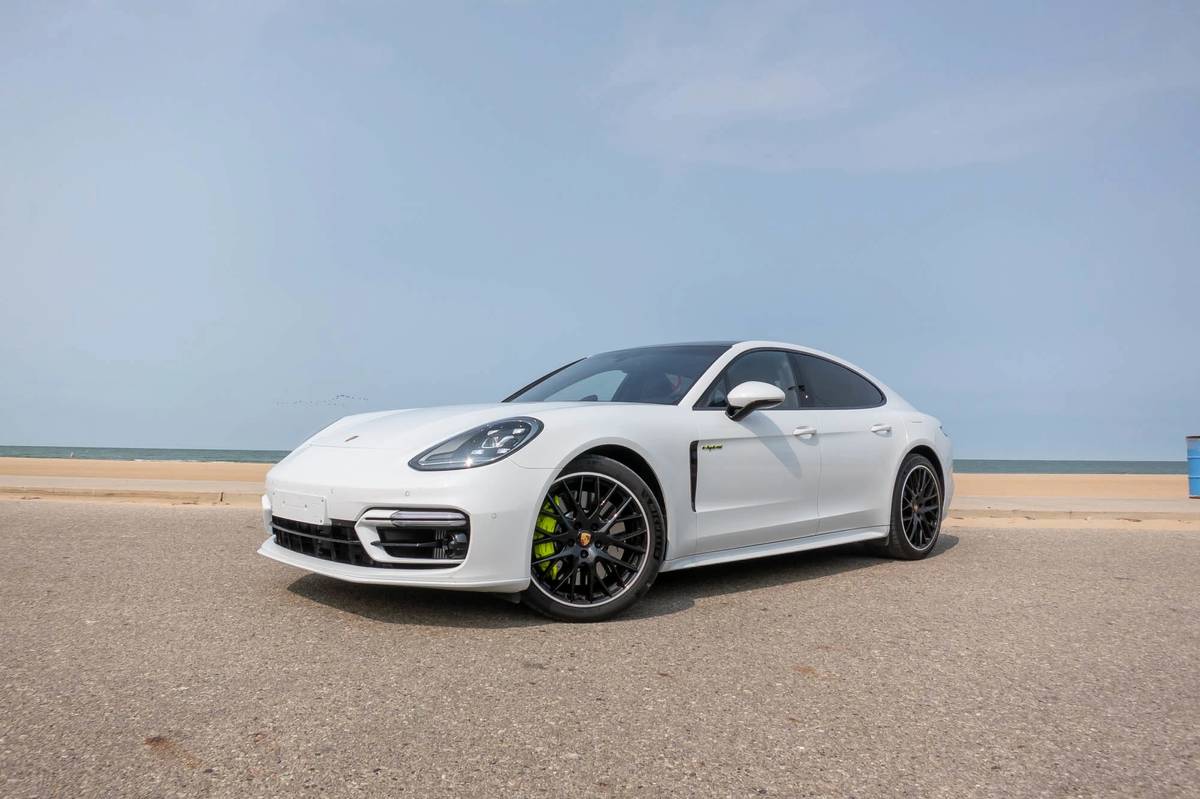 Grand touring cars are a special breed of machine, meant to be both luxurious and entertaining to drive — but getting the balance right is a delicate maneuver. They're generally larger and softer models, meant to be European "executive express" cars that shuffle their occupants between major cities via that continent's network of smooth, well-maintained high-speed motorways. When sports car maker Porsche said it was going to develop a four-door GT model, many purists were apoplectic — but then, they were just as upset when Porsche planned an SUV, and both models have proven quite successful.
The car you see here is a mild update of the second generation of Porsche's grand tourer, the 2021 Panamera. It has received not only some mild styling updates inside and out, but a new model in the lineup, as well: this one, the Panamera 4S E-Hybrid plug-in, meant to slot in between the existing Panamera 4 E-Hybrid and Panamera Turbo E-Hybrid models. It features an updated battery pack, improved range and the other improvements that Porsche has made to the Panamera lineup for 2021. I recently took one on a brief day trip to see how well these modifications work on Porsche's swoopy four-door.
Related: 2021 Porsche 911 Targa 4: 7 Pros and 3 Cons
Love It or Leave It Exterior Styling
The Panamera has cut a controversial shape since the first one was unveiled, with people either loving or hating a look that resembles a stretched version of the iconic 911 roofline to accommodate two additional doors. It's more than that, of course, being larger in every dimension than the 911, but the design is certainly inspired by that long familiar 911 silhouette.
The redesign for 2017 improved its overall proportions and quieted a number of critics, and definitely made the overall shape feel less ungainly and rump-heavy. For 2021, the previous Sport Design Package is adopted as standard equipment for the 4S E-Hybrid, bringing a new front lower bumper and rear bumper (a new Sport Design Package will be offered). A slight change to the taillights mean they now stretch from one end to the other in an unbroken light strip. I liked the 2017 update a lot more than the original 2010 debut, and the latest version only improves on those looks. I've always thought that the Panamera looks only as it could — meaning that if Porsche had made a four-door hatchback that didn't look as if it was inspired by the 911, folks would complain about that, too. It's certainly distinctive and turns heads in ways that other expensive luxury sedans don't; you don't see many people stop and stare when an Audi S8 rolls by, but the oversized Porsche does generate such responses, especially when you're piloting a bright white one with Day-Glo-trimmed hybrid badges and brake calipers through Michigan's rural Thumb region.
A Mix of Sports Car and Eco Cruiser
Powering this specific Panamera is an updated version of Porsche's plug-in hybrid system. It starts with a twin-turbocharged 2.9-liter V-6 under the hood paired up with an electric motor and all-wheel drive. The big improvement for 2021 is in the lithium-ion battery pack that sees its energy density grow by 27%, from 14.1 kilowatt-hours to 17.9 kwh. System output has also increased to 552 horsepower and 553 pounds-feet of torque, enough to blow the Panamera 4S E-Hybrid from 0-60 mph in just 3.5 seconds when you employ launch control — down from 4.4 seconds in the previous version and just 0.1 second slower than the 2020 Panamera Turbo could manage it, Porsche officials said, so you're not losing any real speed by choosing the E-Hybrid over a conventional model. But you do gain an interesting ability: motoring in near complete silence when you want to, as the E-Hybrid comes with a couple of driving modes that conventional Panameras do not.
Those would be Hybrid Auto, E-Power and a couple of charging modes. Hybrid Auto mode is the default setting, and it allows the car to decide when and how to mix electricity into the powertrain's overall output. E-Power mode keeps things electric-only unless you get a little too heavy with your right foot, at which point it will supplement the output with the gas engine — but it does work to keep you in electric-only propulsion even at higher speeds. The Panamera can accelerate briskly in electric-only mode, calling on the gasoline engine only if absolutely necessary. And in most around-town driving, provided you're not doing stoplight drag racing, it's not difficult to keep it in that EV condition. 
Pop the Panamera E-Hybrid into Sport or Sport Plus modes, and the car predictably tightens up responses, keeps the gas engine running and employed for acceleration, and generally feels more immediate and sporty. But it also turns the V-6 into a generator, serving to recharge the onboard hybrid battery as you drive, up to 80% of its available charge. Above 80% and efficiency drops off in charging just like on your cellphone or laptop, so Porsche would prefer you plug the car into a land line at that point. You can also specify a charging mode without switching into Sport, Sport Plus or a hold function that will keep the battery at a specific state of charge as you drive.
A car like this is primarily intended to be used for Europe, where the portion of plug-in hybrid Porsches is a far higher percentage of overall sales than it is in the U.S. due largely to taxation, local regulatory requirements for zero-emissions cars and congestion charges in major European cities. The idea is to use the gas engine to get you to the city from your home in the suburbs under hybrid power, use the charge hold function to preserve your battery power, then switch to electric-only mode when you've entered the more restrictive environment of a major city. 
The beauty of the Panamera E-Hybrid is that the system doesn't intrude on the Panamera's fantastic behavior as a top-notch GT car. It's fantastically smooth, quiet and comfortable, with acceleration that's sedate, furious or anything in between, but always accompanied by a powertrain refinement that many other companies have yet to achieve with their hybrids. The transition between electric and gasoline power is seamless, and improvements to the electronically controlled brake booster mean that pedal feel for the braking system is improved, as well. There's no phoniness to the brakes until you get to the very last few mph of coming to a full stop, at which point it does tend to be slightly grabby.
I'd still rate it as highly successful, however, and would not hesitate to recommend the E-Hybrid system to someone seeking a performance-oriented Panamera. The Turbo might have the glamor and cachet (and the monstrous power and performance), but the E-Hybrid is by no means a slouch, and the added benefit of whisper-quiet operation just feels proper in a luxury-oriented touring car. Porsche has not stated what the new fuel efficiency ratings for the 2021 Panamera 4S E-Hybrid are, but an all-electric range of 27-30 miles doesn't seem unreasonable given what the power meter and range gauges were telling me on my drive.
An Expensive, Expansive Interior
Inside, not much is truly new for 2021 aside from a new steering wheel that's shared with the latest-generation 911. It's still a truly premium environment in this cabin, with beautiful designs, extensive use of leather and premium materials, and decent visibility over the low hood.
The seating position is low, as befits a vehicle from a brand that still bills itself primarily as a sports car manufacturer, but the beltline is high, giving you a cocooned feeling of sitting down in a tub. The seats are comfortable front and back, and despite the swoopy roofline, there's adequate room for full-sized adults in the two rear seats — adequate being the operative word, not excessive; legroom can be a little tight if you're a taller individual, but for shorter trips, it's perfectly fine. If you're looking for a more limousine-like experience, the Panamera 4S E-Hybrid can be had in an Executive variant, which stretches the wheelbase by 5.9 inches, all of it going toward backseat legroom. It does reintroduce some wonkiness to the Panamera's styling, but it also reinforces the Panamera's position as a sportier variant of an executive express, meant more as a chauffeur-driven status symbol in some buyers' eyes instead of something they drive themselves for their own enjoyment. 
The Panamera does keep with other German luxury brands in that it isn't exactly the easiest vehicle to operate on the go. I'd rate Porsche's multimedia system to be about mid-pack in terms of user-friendliness given that it has a lot of screens, a lot of controls and a lot of options. The screen is large and mounted fairly high on the dash, however, so distraction of operating it isn't a huge issue.
My bigger pet peeve is with the Panamera's climate control system. It uses touch-sensitive panels with haptic feedback mounted nearly horizontally on the center console, making the temperature controls difficult to read and resulting in some controls being obscured by the transmission shift lever. It's not the best design and not really in keeping with how well the rest of the Panamera's interior works, but it's par for the course in terms of German brands' increasing (and dismaying) adoption of touch panels instead of proper dedicated buttons.
An Interesting Alternative Executive Sedan
Pricing for the new 2021 Panamera 4S E-Hybrid has not yet been announced and won't be until ordering availability goes live in early 2021, with deliveries slated to start in the spring. But the 2020 Panamera 4 E-Hybrid starts at $105,150 (includes destination) and only goes north from there — rapidly. For a fully loaded version like the model I drove, I would not be surprised to see a sticker price approaching $130,000. While this sounds extraordinary, it's not for this set of competitors: The BMW 840 Gran Coupe is a similar four-door coupe, as is the Mercedes-AMG GT53, and they start at prices similar to the conventional Panamera — but neither offers a plug-in hybrid variant like the E-Hybrid, making the Porsche unique (so far). 
As executive grand touring sedans go, it's a solid update to an already highly desirable car. And while not everyone will need a plug-in hybrid version of a high-performance sedan like this, given where the planet is headed in terms of climate change and the automakers' response to it, it's good to see you won't have to trade off fun for frugality and responsibility in a new Porsche.
Cars.com's Editorial department is your source for automotive news and reviews. In line with Cars.com's long-standing ethics policy, editors and reviewers don't accept gifts or free trips from automakers. The Editorial department is independent of Cars.com's advertising, sales and sponsored content departments.