EXPERT REVIEW
2022 Mercedes-EQ EQS Review: Ze Germans Embrace ze Future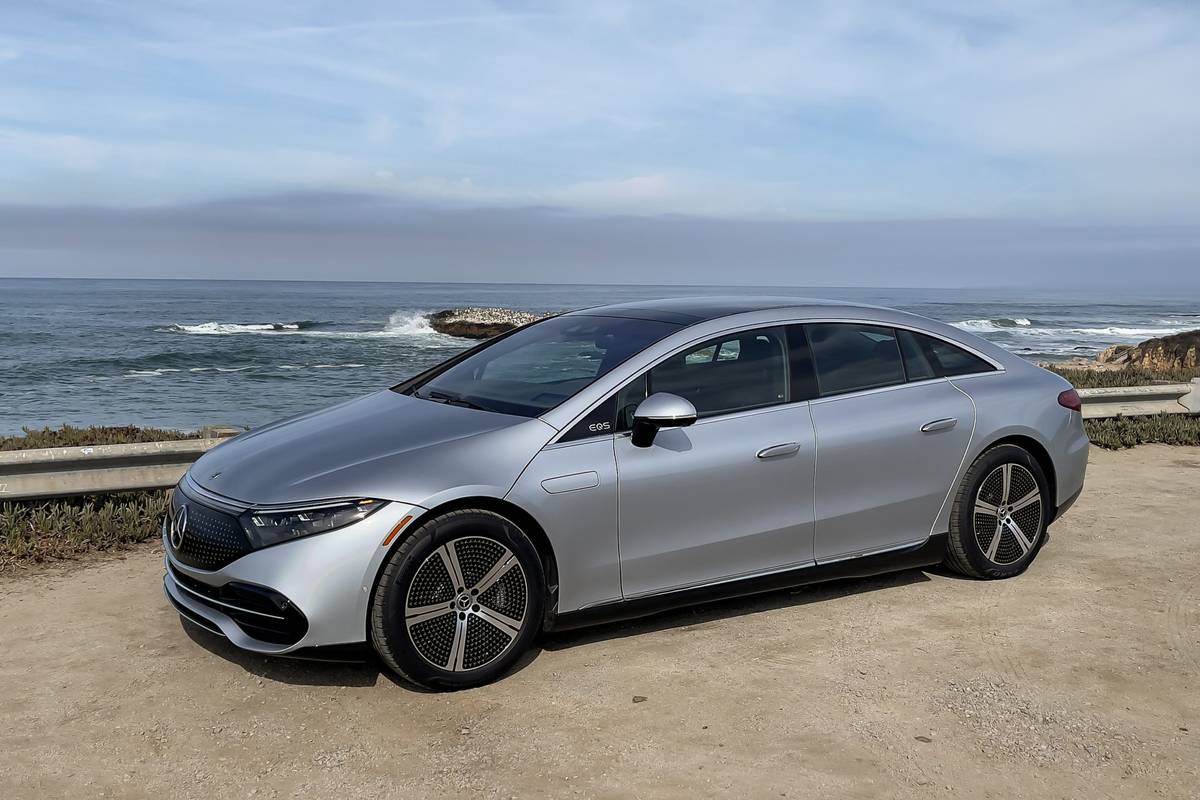 The verdict: Mercedes-Benz's first dedicated electric vehicle flagship, the 2022 EQS, is meant to set the tone for all future electric Mercedes — and it mostly succeeds.
Versus the competition: Against a Tesla Model S, the EQS feels like the next generation of EV luxury — but against Mercedes-Benz's traditional S-Class flagship, it feels like buyers will need to accept some compromises.
If it seems to you that there's a sudden flood of electric cars coming from established automakers, that's understandable — you're not wrong. Mercedes-Benz in particular seems to have gone from zero to hero overnight with regard to electric vehicles. Nothing notable to talk about, then suddenly we see models like the 2022 Mercedes-EQ EQS, an S-Class-style flagship electric sedan meant to go toe-to-toe with the Tesla Model S. Mercedes Chairman Ola Kallenius explains this as an "S-curve" effect — it seems as if nothing is being done, then suddenly a new technology is everywhere and everyone has it. Work on the EQS started five years ago, according to Kallenius, along with half a dozen other EVs that Mercedes-Benz will put on sale in 2022 and the year after. Credit Tesla for sparking the change and proving that yes, there is a rather sizable market for premium EVs — it's convinced the world to start building their own, and the world is about to become a much more interesting place because of it.
Related: All-Electric 2022 Mercedes-EQ EQS Sedan Starts at $103,360
This new Mercedes flagship sedan represents the future of the storied luxury brand. It's a clean-sheet design on a new platform called Electric Vehicle Architecture that the automaker will use to create a whole lineup of vehicles, including the AMG EQS sedan, the EQS SUV and the EQE mid-size sedan and SUV coming soon. But first out the gate is a pair of high-zoot luxury sedans, the EQS450 Plus and EQS580 4Matic, that Mercedes is billing as electric alternatives to the traditional S-Class sedan, which itself was redesigned for the 2021 model year. But the mission of the EQS is different from that of the S-Class — the EQS embodies the automaker's new "progressive luxury" aesthetic, as opposed to the S-Class' more traditional "sophisticated luxury" idea. That means a lot more tech, more adventurous design and a new attitude toward how a Mercedes-Benz should look, feel and work. I drove the new models through Northern California to get an idea of what it's billed as its future and came away impressed … mostly.
Pick Your Powertrain
The biggest difference between two the EQS models available at launch is in the powertrain: The EQS450 Plus is a rear-wheel-drive single-motor model making 329 horsepower and 419 pounds-feet of torque. The EQS580 4Matic is an all-wheel-drive dual-motor model generating a whopping 516 hp and 631 pounds-feet of torque. They use the same battery: a 112-kilowatt-hour lithium-ion unit that rests in the vehicle's floor. Mercedes-Benz says it can be recharged in about 11 hours on a 240-volt Level 2 charger (rated at 32 amps), or it can go from 10% to 80% charge on a 200-kilowatt DC fast charger in about 31 minutes. Like almost all EVs, each EQS is torque-y and quick — Mercedes reports that the 450 Plus will do 0-60 mph in 5.9 seconds, while the more powerful 580 will do it in 4.1 seconds. These are exceptional numbers for such a heavy vehicle (about 5,600 pounds for the 450 Plus and just under 5,900 pounds for the 580).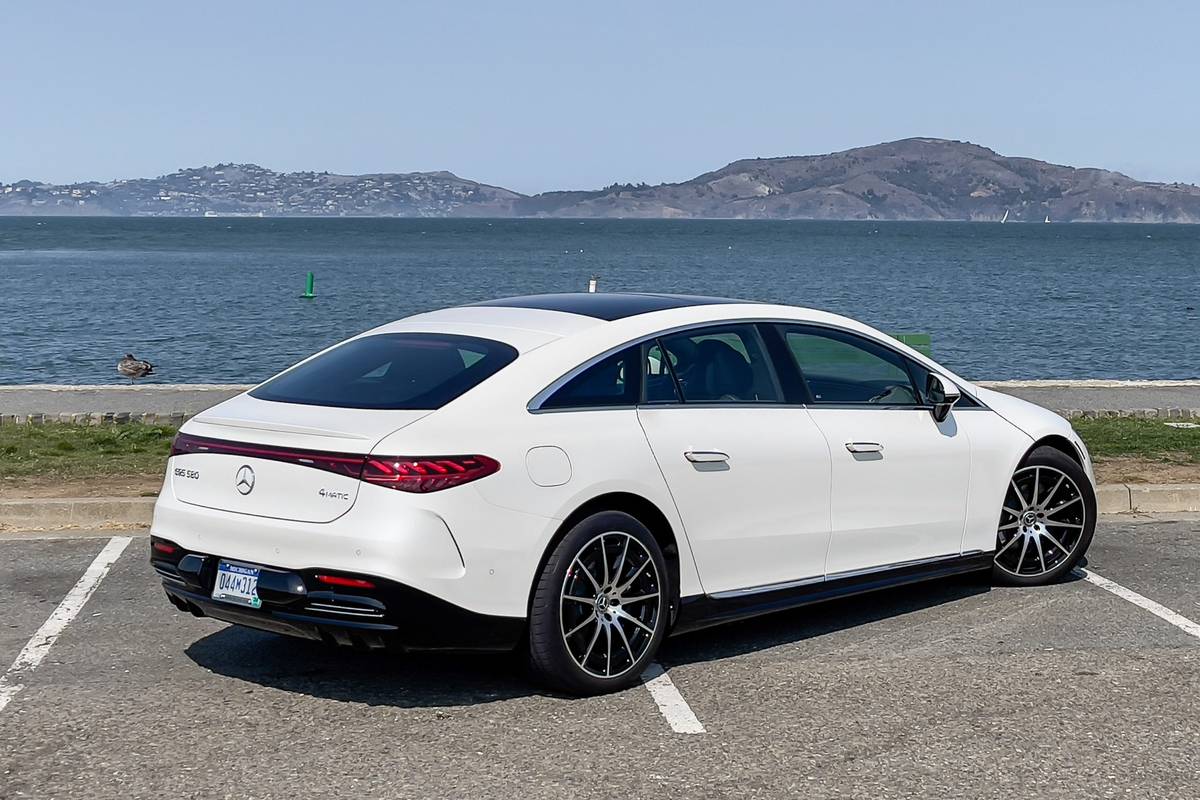 Out on the street, both models feel like excellent heirs of the Mercedes-Benz S-Class ideal — they're incredibly smooth, whisper quiet and deliver acceleration in an instant rush that comes at the stab of the accelerator without any fury, drama or visceral cues. While maybe not as tightly wound as a top Tesla Model S, that's likely to matter only at a drag strip. The mission of an EQS is to be an electric S-Class, which is more about confident wafting between home and office than carving corners in your favorite canyon (and if that's really what you want to do, maybe wait for the high-performance AMG EQS that's coming a few months after the lesser EQS models). The EQS' steering is only moderately communicative, but then, so is that of an S-Class. The real trick with the steering is the effect the rear-axle steering function has on the car's agility — it's astonishing. The rear wheels can turn up to 10 degrees, assisting the front wheels in shortening the car's turning circle in urban settings, or improving its agility on tight and twisty roads. It works beautifully, making the big EQS feel like a much smaller car to drive in any environment.
The ride is butter smooth thanks to a standard air suspension, and even when turned to Sport mode, it's only a tick firmer. This is not a sports car — it's a grand touring sedan, and nothing from the outside should disturb your zen. Acceleration from the single-motor 450 Plus is brisk, but stomp the pedal in the 580 4Matic and it's downright neck-snapping. The duality of their personalities makes me smile — it's a mild-mannered, floaty luxury sedan until you floor the accelerator, then the best quality of EVs becomes clear: immediate torque at zero rpm. That means confidence in getting onto that highway ramp ahead of that truck, or making it through that next traffic light before it turns yellow. Either EQS goes, turns and rides beautifully … but it doesn't stop so well.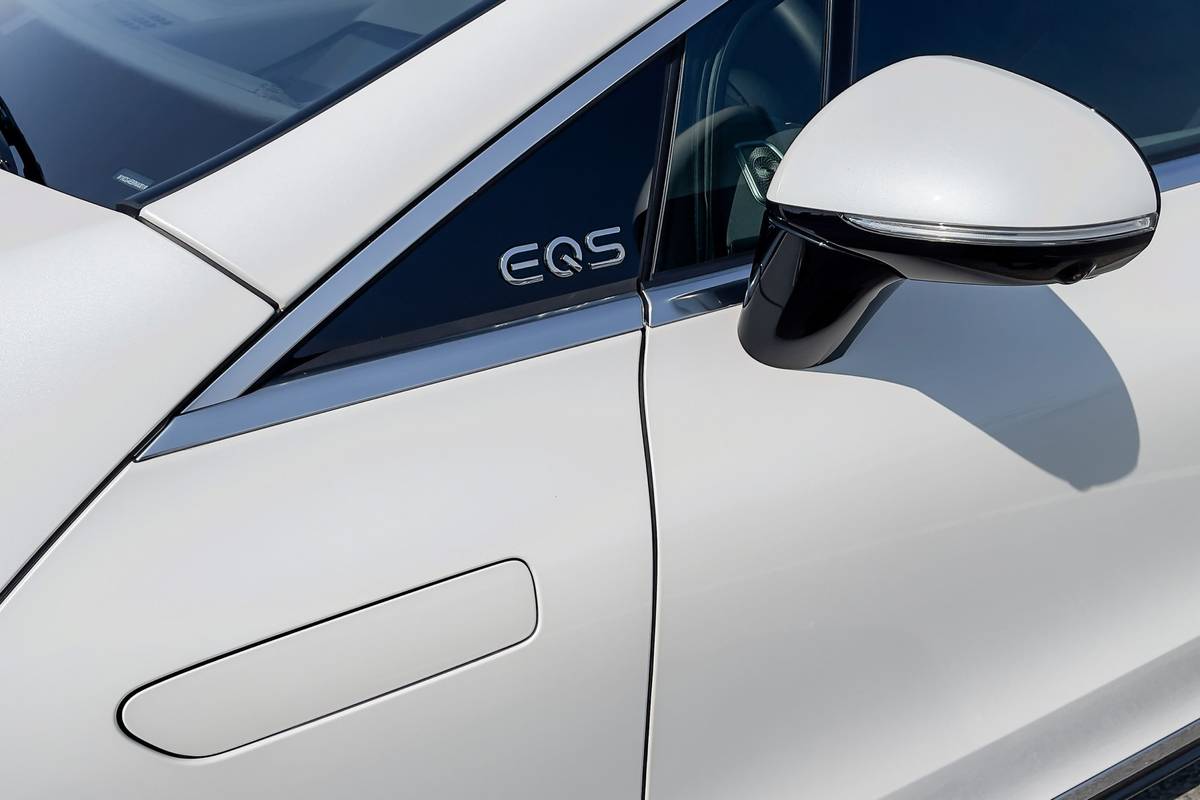 The problem with how the EQS works is the brakes — they're simply terrible. They're a combination of electric regenerative braking and traditional hydraulic friction operation, and the mixing is poorly tuned. There are four levels of "recuperation," as Mercedes-Benz calls it: None, which lets the car coast freely; Normal, which employs a modicum of motor braking to recapture some energy; Automatic, which determines on its own how much to apply based on a number of factors; and Maximum recuperation, which is the one-pedal-driving option that many EV owners love to use. In any condition, the brake pedal has a super-long travel and spongy feel, inspiring no confidence whatsoever in the car's braking feel. In Maximum recuperation mode, it even moves the brake pedal on its own when coming to a stop, so when you go to push the pedal, it's not actually located where you thought it was; that causes you to push faster and harder than you'd planned to, creating a more abrupt panic stop. The braking feel and performance is extremely un-Mercedes-like, and it's the only true blemish on an otherwise sublime driving experience. It's not enough to be a deal breaker for the EQS, but it did prevent me from switching the car into one-pedal driving mode most of the time.
That Screen, Good Lord …
Plop yourself into the posh front seats and there's only one thing that will rivet your attention: the accurately named Hyperscreen, a stunning, single 56-inch piece of curved glass behind which rests three different digital displays. The 12.3-inch gauge cluster is located behind the steering wheel, while a 17.7-inch organic light-emitting diode display graces the center console, while another 12.3-inch OLED display sits in the passenger-side dash, allowing the co-pilot to operate various functions. It's a jaw-dropping combination of gorgeous technological wizardry and a bizarrely designed expanse of super-reflective glass that will glare the outside sunshine into your eyes regardless of which angle the car is facing. It's also confusingly tall, meaning you need to adjust the steering wheel to an unnaturally high position in order to see the gauge cluster, resulting in an "arms-up" driving position that is not comfortable. You're likely to end up holding the steering wheel at the 4 and 8 o'clock positions instead of the 10 and 2 positions to give your arms a break now and then.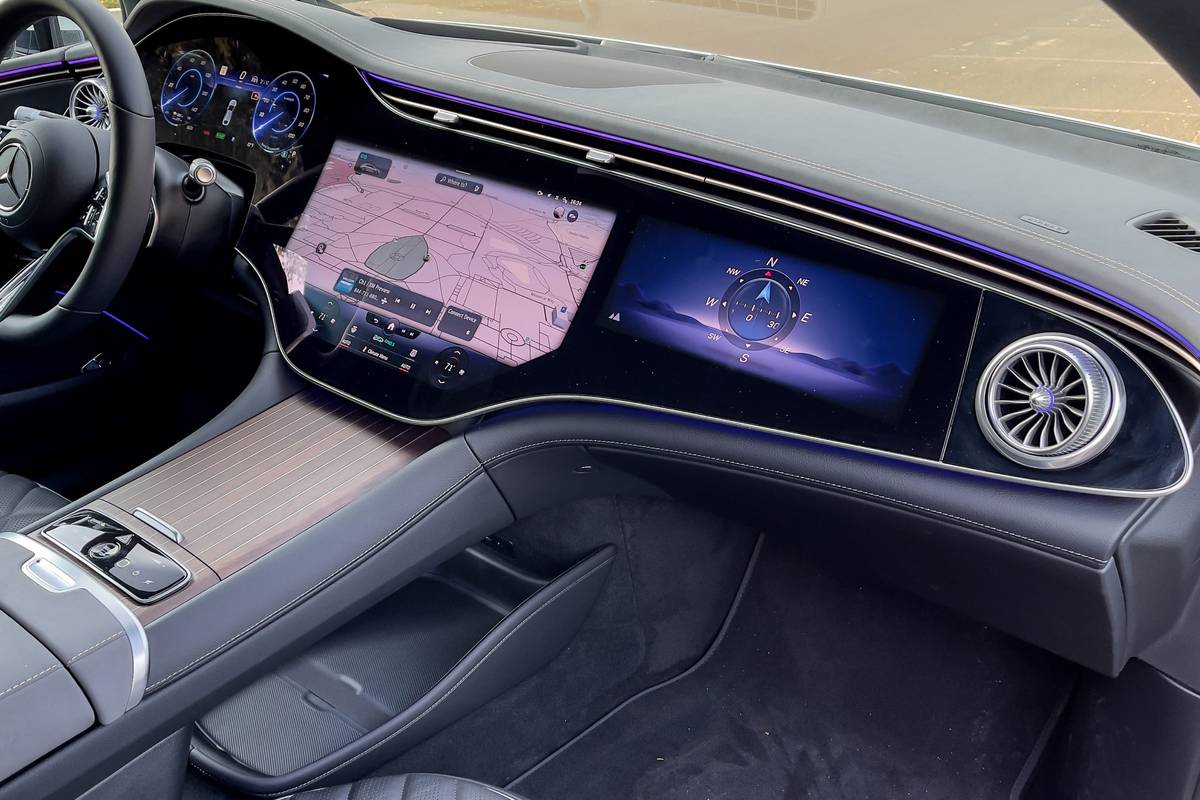 But the Hyperscreen is stunning to behold, and it's perhaps the biggest departure from traditional ideas of Mercedes-Benz luxury, even more so than the EQS' wild cab-forward, "one-bow" exterior design. The huge central screen is daunting at first due to the massive amount of information it delivers, and it does something we generally hate in all new cars: It incorporates nearly all of the controls into a capacitive-touch-sensitive interface, which is both distracting to use while driving and generally less easy to use than dedicated buttons. But the sheer size of the thing makes it a bit easier once you've progressed through the learning curve of where everything is located and how it works. Older Mercedes-Benz buyers will almost certainly be hopelessly lost trying to use any of it. Younger ones, people for whom an advanced luxury EV like this is primarily a tech toy first and transportation device second, will likely take to it immediately.
Mercedes-Benz's latest augmented reality tech, also seen in the S-Class, is present in the EQS, and it's just as amazing as ever. Not only will a camera display an actual live picture of the way forward in the central screen with floating blue arrows over the route you're to take, but those arrows are actively duplicated in the massive head-up display in the driver's line of sight. It's frankly remarkable, and seems to be just one step away from the whole windshield eventually being an augmented reality screen.
Flagship Material?
Once you're done gawping at the unprecedented digital displays, taking a closer look at the rest of the cabin reveals that this … simply isn't as nice as an S-Class, either in space or materials. First, space: The EQS interior feels considerably more intimate than the S-Class' roomy environs. The front-seat space feels narrower, and when it combines with thick windshield pillars, the unusually tall dash, and a low and racy roofline, the EQS doesn't feel as spacious as an S-Class or Model S. Then you pop into the backseat and realize this doesn't feel like an S-Class at all. The backseat is higher than normal, but the floor feels taller, too, creating a slight knees-up position. Legroom is fine, but headroom is not. Sitting in the back, my head was hard up into the headliner, and combined with the high beltline, narrow windows and dark upholstery of my test cars, it felt positively cavelike in the rear. Here's to hoping a long-wheelbase model is coming eventually to help address that. The upcoming EQS SUV might be more popular than the sedan due to likely increased high-up airspace in the cabin.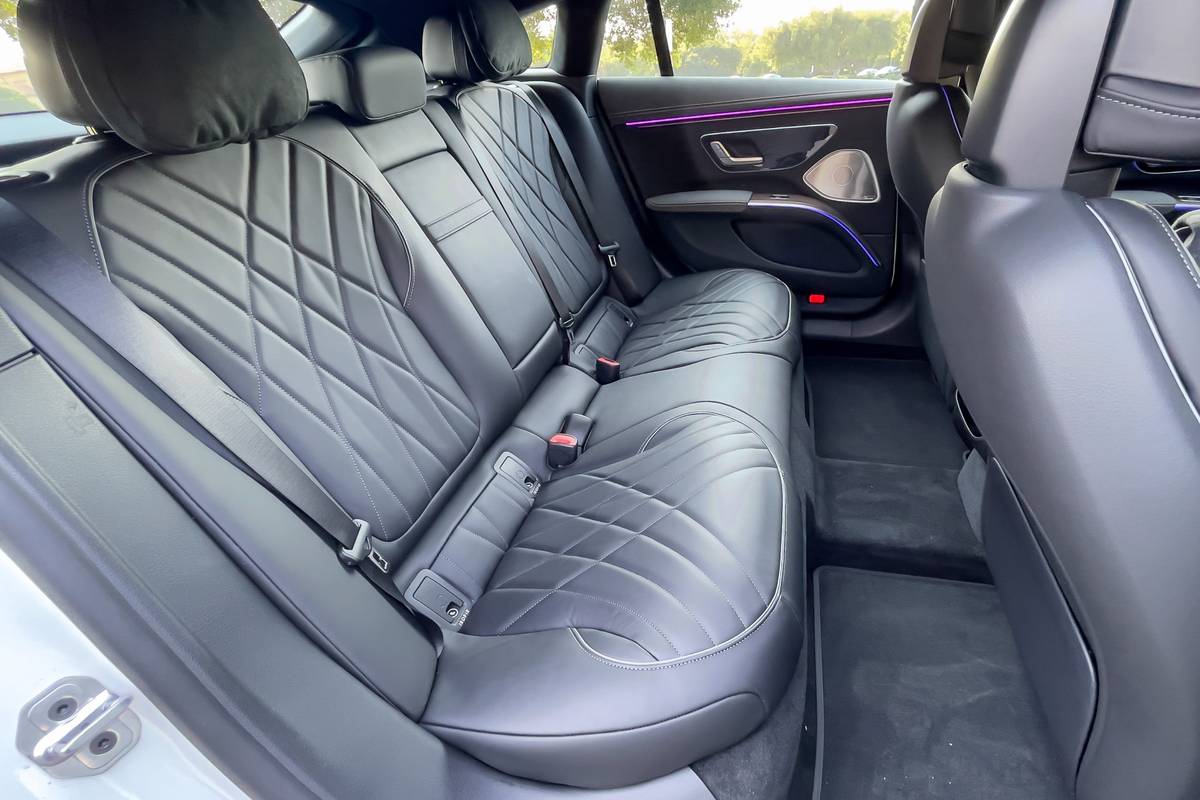 Materials quality is also important in a luxury flagship, but there are a few obvious places where Mercedes-Benz cut some corners, likely due to the hugely expensive battery. The center console is that place, with a hard plastic consistency and hollow-sounding construction that simply did not feel up to S-Class standards. There's also a ton of windshield reflection from the head-up display's smooth, plastic housing surround that manifests in unwelcome light artifacts in the driver's line of sight near the HUD. (Why this isn't a flocked surface to diffuse any reflection boggles me.)
More From Cars.com:
The Wave of the Future
Like it or not, Mercedes-Benz executives said at the launch drive event in San Francisco that electrification and touch-sensitive interiors are here to stay. For the old generation of Mercedes-Benz intenders, this is going to be a painful transition. But for bringing in legions of new buyers, the shift in how the company approaches its vehicles will be extremely enticing. For a Model S buyer who recognizes the cachet of the historic brand but still wants a fully modern vehicle, the EQS should be amazingly compelling. It features some of the most gee-whiz interior lighting of any modern vehicle, and can even be tuned to play tunes and tones that make it sound like a spaceship when accelerating. It will come with a high level of semi-autonomous driving tech, but also a significant amount of suspension sophistication that many upstart automakers can't match.
It's even priced squarely among the new crop of high-zoot luxury EVs, such as the Tesla Model S, Porsche Taycan, Audi e-Tron GT and Lucid Air. Mercedes-Benz has created a new sub-brand to house all EQ models called Mercedes-EQ, which joins Mercedes-AMG and Mercedes-Maybach. Both models, EQS450 Plus and EQS580 4Matic, are available in three trim levels: Premium, Exclusive and Pinnacle. Premium comes very well equipped with a starting price of $103,360 (including a surprisingly reasonable $1,050 destination fee) for the 450 Plus and $120,160 for the 580 4Matic. The loaded Exclusive trim starts at $106,760 for the 450 Plus and $123,560 for the 580 4Matic. The big difference between the Exclusive and the Pinnacle comes in their backseats — Pinnacle adds all kinds of limousine-like features, including reclining rear seats, and starts at $109,560 for the 450 Plus and $126,360 for the 580 4Matic. That's a consistent $16,800 gap between the 450 Plus and the 580, and while there are some minor styling and wheel differences, you're largely paying mostly for the standard Hyperscreen and the second motor with AWD system.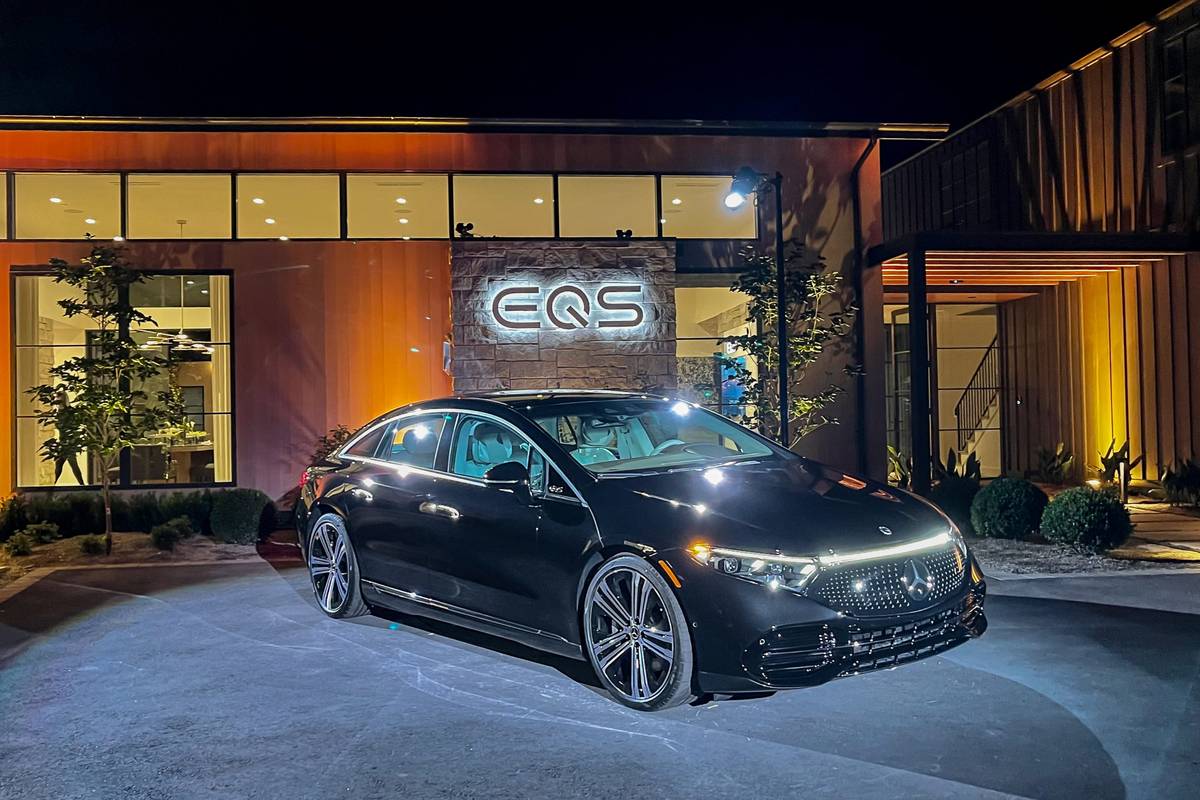 Frankly, as nice as the explosive power is from the 580 4Matic's dual-motor setup, the lighter single-motor 450 Plus is the way to go. It's more agile, nearly as quick and can be optioned up to the 580's level of equipment easily enough. Both of them are truly impressive machines, and as cars designed to draw EV intenders into the Mercedes-EQ brand, they're going to be massively successful, in my opinion. It's going to be a whole new era at Mercedes if all the EQ cars end up with this level of astonishing tech, smooth operation, swift recharging and head-turning style. I expect an EQS Maybach model will address the few interior shortcomings. I hope a concerted effort to improve the braking performance is also in the cards. Furthermore, I hope that buyers will be patient in learning the myriad multimedia systems' quirks and stick with it through the learning curve. There's a lot to like in the new EQS — but also some things that need to be addressed.
Cars.com's Editorial department is your source for automotive news and reviews. In line with Cars.com's long-standing ethics policy, editors and reviewers don't accept gifts or free trips from automakers. The Editorial department is independent of Cars.com's advertising, sales and sponsored content departments.