21 Booster Seats Named Best Bets by IIHS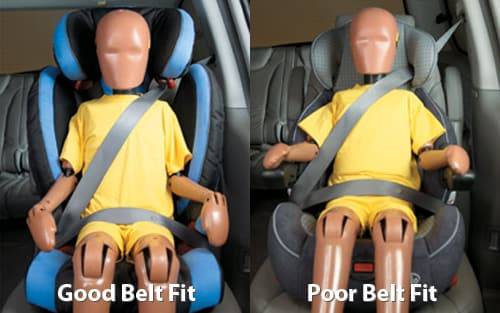 The number of booster seats recommended by the Insurance Institute for Highway Safety has grown significantly over last year, with the safety agency recommending 21 Best Bets and seven Good Bets out of 72 booster seats it tested this year. Eight booster seats aren't recommended.
To be named a Best Bet or Good Bet, a booster seat must properly position a three-point seat belt over a 6-year-old testing dummy. IIHS engineers measured seat-belt fit in a variety of vehicles and used high-back and backless booster seats as well as combination child-safety seats, which can be used as a booster. However, these ratings do not take into account any type of crash tests.
Children ages 4-8 who ride in booster seats are 45 percent less likely to be injured in a car crash than children using only seat belts, according to IIHS.
Thankfully, parents don't have to spend a lot of money to get a booster seat that's a Best Bet. The Evenflo Big Kid Amp costs about $25 (depending on the retailer), and the Graco TurboBooster Crawford is about $44. If money is no object, the Britax Frontier 85 and the Recaro ProSport — both combination car seats — cost around $280.The lists of IIHS' Best Bets, Good Bets and seats not recommended are below. For a full list of model numbers, go to IIHS.org. 

Best Bets
Britax Frontier 85 (combination highback)
Chicco Keyfit Strada (dual highback)
Clek Oobr (dual highback)
Cosco Juvenile Pronto (dual highback)
Cybex Solution X-Fix (highback)
Eddie Bauer Auto Booster (dual highback)
Evenflo Big Kid Amp (backless)
Evenflo Maestro (combination highback)
Graco TurboBooster Crawford (dual highback)
Harmony Baby Armor (dual highback)
Harmony Dreamtime (dual backless)
Harmony Dreamtime (dual highback)
Harmony Secure Comfort Deluxe (backless)
Harmony Youth Booster Seat (backless)
Maxi-Cosi Rodi XR (dual highback)
Recaro ProBOOSTER (highback)
Recaro ProSPORT (combination highback)
Recaro Vivo (highback)
Recaro Young Sport (combination highback)
Safety 1st Boost Air Protect (dual highback)
The First Years Pathway B570 (highback)
 
Good Bets
Britax Parkway SG (dual highback)
Combi Kobuk Air Thru (dual backless)
Combi Kobuk Air Thru (dual highback)
Evenflo Symphony 65 (3-in-1 highback)
Graco TurboBooster Sachi (dual highback)
Graco TurboBooster Wander (dual highback)
Maxi-Cosi Rodi (dual highback)
 
Not Recommended
Eddie Bauer Deluxe (combination highback)
Eddie Bauer Deluxe 3-in-1 (highback)
Evenflo Express (combination highback)
Evenflo Generations 65 (combination highback)
Evenflo Sightseer (highback)
Harmony Baby Armor (dual backless)
Safety 1st All-in-One (3-in-1 highback)
Safety 1st Alpha Omega Elite (3-in-1 highback)
Note:Thirty-six boosters are in the middle range. They may provide adequate belt fit for some kids in some vehicles.