$40,000 3-Row SUV Car Seat Challenge: the Highs and Lows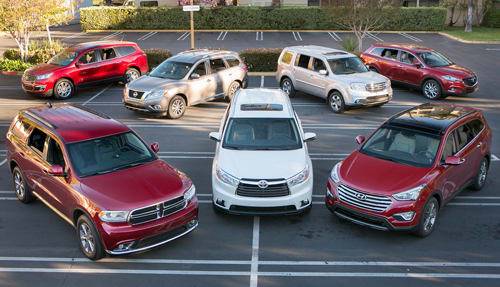 Large families basically have two choices when it comes to what to drive: a three-row SUV or a minivan. Both have their merits and handle cargo and passenger room differently. During Cars.com's recent $40,000 3-Row SUV Challenge, I spent a few days getting to know seven of the contenders in the midsize crossover class, driving them, climbing in and out of them, and installing car seats in their second and third rows.
Read the Full $40,000 3-Row SUV Challenge
Although they all have to offer a large amount of room in order to fit that third row, it's obvious that not all SUVs are created equal. When it comes to car seats, there were some very clear winners and losers, with the Honda Pilot and Hyundai Santa Fe leading the pack, and the Chevrolet Traverse and Mazda CX-9 bringing up the rear.
The Winners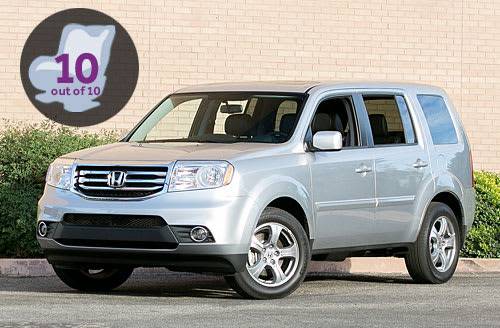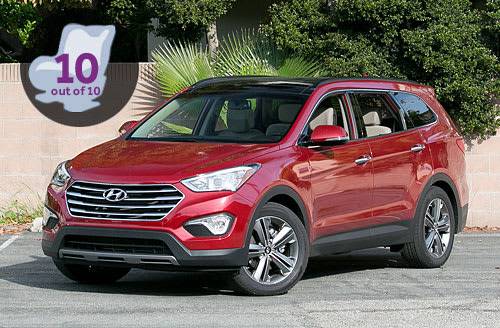 The Honda Pilot's cavernous interior will make parents with small children very happy; plenty of room, easy Latch access and extra Latch and tether anchors helped make this SUV a car seat all-star with a score of 10 out of 10 points.
The Hyundai Santa Fe isn't as roomy, but is still very accommodating when it comes to car seat fit and ease of installation in both rows; it also scored a 10.
The Losers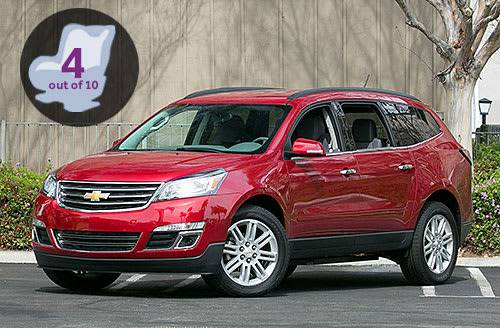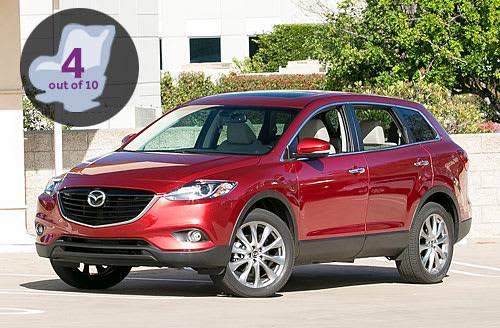 Although the Chevrolet Traverse was one of the largest vehicles in the Challenge, it failed to impress in terms of Latch anchor accessibility and second-row room when the rear-facing infant seat was installed. It scored just four points.
The Mazda CX-9 similarly came up short and also scored a four thanks to its tiny third row and complicated Latch access; the CX-9 was also the only vehicle in our test group that lacked a third-row tether anchor.
Test Notes: For the car seat checks, we set the front seats in a comfortable position for a 6-foot-tall driver and a 5-foot 6-inch passenger. We installed the rear-facing seats (Graco Snugride infant seat and Britax Roundabout convertible seat) behind the front passenger and the forward-facing seats (Britax Roundabout convertible seat and Graco Turbobooster) behind the driver to minimize driver legroom impact. We installed the booster and forward-facing convertible in the third row.
Each SUV started off with 10 points and lost points if it did not accommodate car seats in all available second- and third-row seating positions. Points were also removed if the Latch and tether anchors were difficult to access, if the second row didn't slide, if the buckles were difficult to grasp or use, or if the car seats impacted front-passenger legroom. We added points if the SUV had an extra set of Latch anchors in its second or third rows (only two sets are federally mandated) and if the third row had a top tether anchor, essential for safely installing a forward-facing convertible child seat but not federally mandated.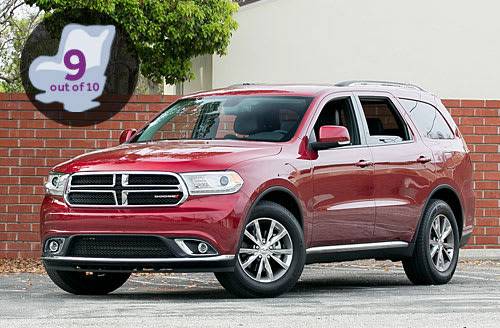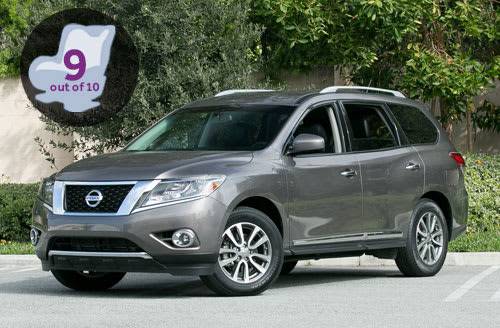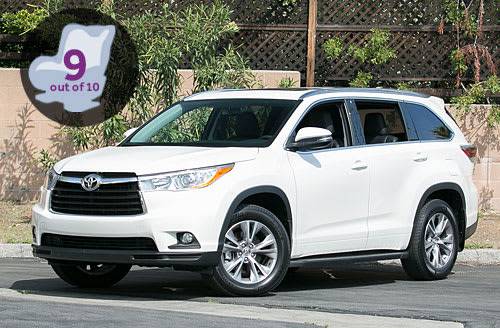 Cars.com photo by Evan Sears