$4,500 Off 2009 Ford F-150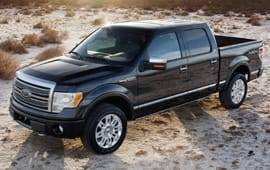 If you thought massive incentives would disappear because Cash for Clunkers is over, guess again. Manufacturers now have more reason to put cash on the hood because they aren't getting any help from federal dollars. Ford is offering $4,500 in cash back on the 2009 F-150 through Oct. 5.
The 2010s are arriving on dealer lots, but there are plenty of 2009s still available according to inventory search on Cars.com. Besides new trim levels and larger brakes for 2010, there are few changes to the truck, as it was redesigned for the 2009 model year. If you want a 2010, there is $1,500 cash back plus 0% financing for 60 months available to those who qualify. Regular cab and Raptor models are excluded from both model year deals.
2009|Ford|F-150
2010|Ford|F-150