Acura NSX Concept at the 2013 Detroit Auto Show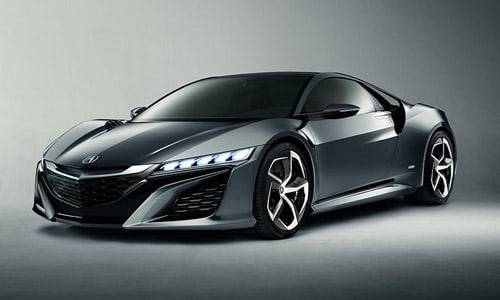 Looks like: Déjà vu. It's the same NSX concept we saw last year
Defining characteristics: It has an interior! We finally get a peek inside Acura's new supercar
Ridiculous features: It's a hybrid mid-engine exotic car
Chances of being mass-produced: No update on this; still at least two years out
Before we get to see the production version of the NSX, Acura has another concept to show off. The styling of the NSX concept that we saw at the 2012 Detroit auto show was pretty outlandish; this year's version is practically the same, except this time we get a peek inside.
More 2013 Detroit Auto Show Coverage
This year's NSX concept uses the same powertrain setup as the previous version: a mid-mounted, direct-injected V-6 engine mated to Acura's Sport Hybrid Super Handling All-Wheel Drive system. It uses a pair of electric motors to generate torque and apply it to the front wheels for better cornering control and improved handling, according to Acura.
What's new, however, is the car's interior. The latest iteration of the NSX concept features a cabin based on what Acura calls the "Human Support Cockpit" theme, which focuses on the "synergy between man and machine," the automaker said in a statement. It looks like the car uses a streamlined interface that's virtually button-free. Check out the pictures below for more details.
The production version of the NSX will be made in Ohio, but Acura is mum on a timeline. At last year's Detroit auto show, the automaker said we can expect to see the supercar in dealerships in about three years.