American-Made Index: Fewer Cars Overall?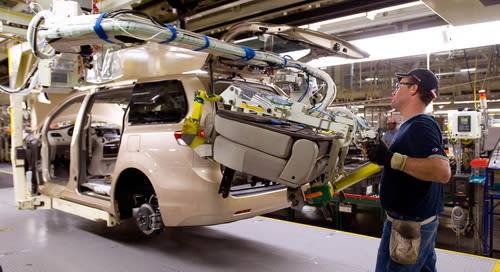 Cars.com's American-Made Index measures cars built and bought here, with high domestic-parts content as measured by Congress' 1992 American Automobile Labeling Act. But with each passing year, the number of qualifying models dwindles, and at some point soon, the AMI may have fewer than 10 cars left in it.
Cars.com's 2013 American-Made Index
For the 2013 model year, just 14 models had domestic-parts content above 75%, according to the National Highway Traffic Safety Administration. In the 2012 model year, 20 cars met that threshold; in 2011, it was 30. Past AMI regulars like the Honda Accord and Chevrolet Malibu have tumbled below 75% domestic content; the Ford Explorer, which ranked in fourth place for the 2011 American-Made Index, has just 50% domestic content today.
Kristin Dziczek, who directs the Labor and Industry Group at Michigan's Center for Automotive Research, calls it the "global car" effect, where shoppers from Denver to Dubai see the same model in their showrooms.
"Back in the '80s, there was a lot of talk in the auto industry of the 'global' car, the world car," Dziczek said. "They're really doing it now. Back then they weren't doing it. [It's] the consolidation of platforms, and the fact that we've got the same vehicle being sold in most advanced markets."
Content Down, Manufacturing Up
That sets the stage for truly global cars, ranging from the Ford Focus to the Chevrolet Cruze. Both compacts are sold on multiple continents, and even their U.S. versions have less than 60% domestic-parts content today. Even "homegrown" cars marketed primarily to Americans may not be as domestic as you think. The Chevrolet Camaro is built in Canada; the 2014 Ford Mustang has a modest 65% domestic content. The Mississippi-built Nissan Titan, originally conceived to challenge Detroit's full-size pickups, has just 50% domestic content. Chrysler assembles both its "imported from Detroit" 300 sedan and Town & Country minivan in Canada. (In fairness, Chrysler does base a higher percentage of its global workforce — 85% — in the U.S., which is more than any other major automaker, the Detroit Three-backed American Automotive Policy Council argues.)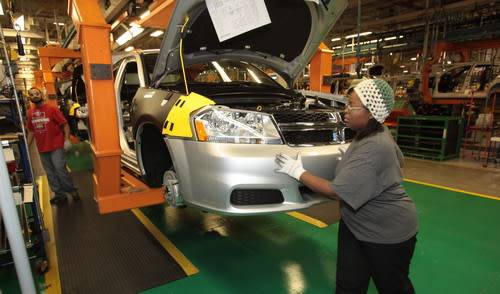 Domestic content is falling while U.S. auto manufacturing is on the rise. Through the end of May 2013, all automakers built 6.3% more cars in the U.S.; of that group, Detroit automakers were up 5.6%. Ron Bookbinder, who directs the Japan Automobile Manufacturers Association, notes that the Japanese auto industry now builds as many cars in the U.S. as it did before the recession.
Honda, in particular, has led the charge. Nine of the automaker's 16 U.S. mass-market models have at least 50% domestic-parts content, according to NHTSA data. That ratio leads other foreign-based automakers, not to mention Ford, for whom just seven out of 18 mass-market models have 50% or higher domestic parts. Honda is tied with Chrysler on this score, in fact, and only GM (25 out of 33 cars are 50% or higher) has a higher ratio among major automakers.
"Our U.S. story is very strong; it's the heart of our North American operations," Honda spokesman Ed Miller said. Honda has six assembly plants in the U.S., versus two in Canada and one in Mexico.
Even AAPC president Matt Blunt recognizes Honda's contributions.
"Compared to their Asian peers, there's no question that Honda's got the most significant North American footprint," Blunt told us. "They're really in many ways, compared to their peers, an outlier."
Still, Blunt argues, the Detroit Three smother even Honda's growing footprint. The Japanese automaker bases 14% of its global workforce in the U.S. That's more than Toyota, Nissan and other foreign-based automakers, but it is nowhere near the Detroit Three's ratios, according to AAPC.
CAR's Dziczek adds that Detroit automakers have a larger portion of salaried workforce (engineers, designers, executives and the like) in the U.S. because their headquarters are here. But foreign-based automakers are still setting up shop, and that's crucial to a recovering U.S. economy.
"In the depths of the recession, Volkswagen and Toyota were going ahead with opening up a new plant," Dziczek said, a reference to new plants in Tennessee and Mississippi, respectively. "This is an important market to be in for the more heavily contented vehicles, for the more advanced technologies."
Falling labor costs should foster more of it. The Bureau of Labor Statistics reports the average American autoworker earned $21.29 per hour in 2012. That's down slightly from the $22 to $23 range for much of the 2000s. Health care and other benefits drive total compensation much higher, but U.S. workers still earn relatively little, as developed countries go. Dziczek notes the average U.S. autoworker made $38 an hour in total compensation in 2011, which is about even with Italy and Japan but less than Canada ($44), France ($45) and Germany ($60).
Keeping Pace With Mexico?
U.S. autoworkers may face the largest competition from their Mexican peers. Autoworkers south of the border earned, on average, from $4 to $5.50 an hour in total compensation, analysts told Reuters in 2012. The Washington Post reported in April 2012 that GM pays its U.S. workers about 13 times what their Mexican counterparts earn. Automakers are piling on the production in Mexico, even as labor-union agreements have brought some production back to the U.S. Mexican auto production increased 7.8% from January to May 2013. That outpaces the production gains in the U.S., and Mexico has more free-trade agreements with the rest of the world, improving their export outlook.
Automakers are moving in. New auto plants in Mexico will build the Honda Fit subcompact in 2014 and the Audi Q5 SUV in 2016. And overall investment there continues to rise.
"From 2010 to 2012, the automakers invested $42.3 billion in North America, $29 billion of that in the U.S.," Dziczek said. "Then, if you look at just 2012, there was $7.5 billion in investment" in North America. Of that, she added, automakers invested $3.7 billion in Mexico, or half of the North American total.
Related
The 2013 Cars.com American-Made Index
American-Made Index: Which Automakers Affect the Most U.S. Workers?
More American-Made Index News