America's Third Largest Domestic Automaker: Honda?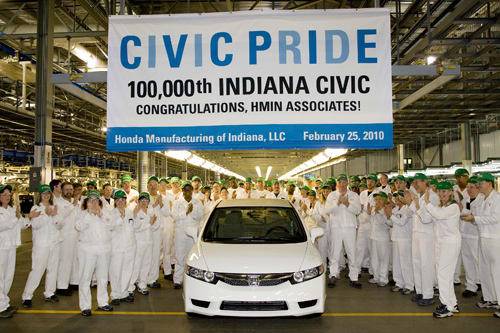 According to Automotive News, Honda beat out Toyota (the third-largest seller of vehicles in the U.S.) and Chrysler, which builds nearly all of its cars in North America. 
This year, Honda has built 555,734 vehicles in the U.S. and a total of 756,788 vehicles in North America. That bests the 468,440 vehicles that Chrysler produced in the U.S. and Toyota's 430,535*. To be fair, both Toyota and Chrysler build more vehicles in North America than Honda, but both depend more on Canadian production than Honda does. 
Ford and General Motors still far surpass Honda in terms of U.S. production. 
We also found out today that Honda built more vehicles in the United States than in its home country of Japan through the second quarter, according to the Detroit News. 
Honda has more than 10 factories in the U.S., with two new plants under construction, and 14 R&D facilities. Honda employees more than 27,000 people in the U.S.; Toyota has 28,700 American employees. Honda was also the first Japanese automaker to build cars in the U.S., starting with the Accord back in 1982. 
So again, we ask: Can a foreign automaker that builds here count as domestic over a Detroit Three automaker that builds beyond our borders yet advertises its vehicles as American? 
*Toyota's domestic production includes NUMMI-produced Tacomas and Corollas. More than 50,000 Toyota Camrys have been built by Subaru through a collaboration with Toyota for 2010. These vehicles were not included in Toyota's own domestic production.