Apartment Will Come With Elevator for Your Car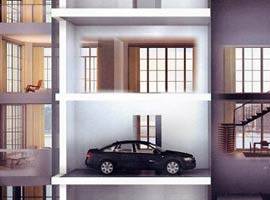 The "En-Suite Sky Garage" will be accessed by a key-lock car elevator that will raise the car up to your apartment, no matter what floor you live on. All 14 residences will come with this feature, but it will cost a minimum of $3 million.
And that's just for the bare-bones, no-frills car elevator to your personalized apartment-garage. The penthouses go for $17.5 million.
NYC's Most Expensive Things: En-Suite Sky Garages (Daily News)