Attention Holiday Travelers: Avoid These 10 Traffic Hot Spots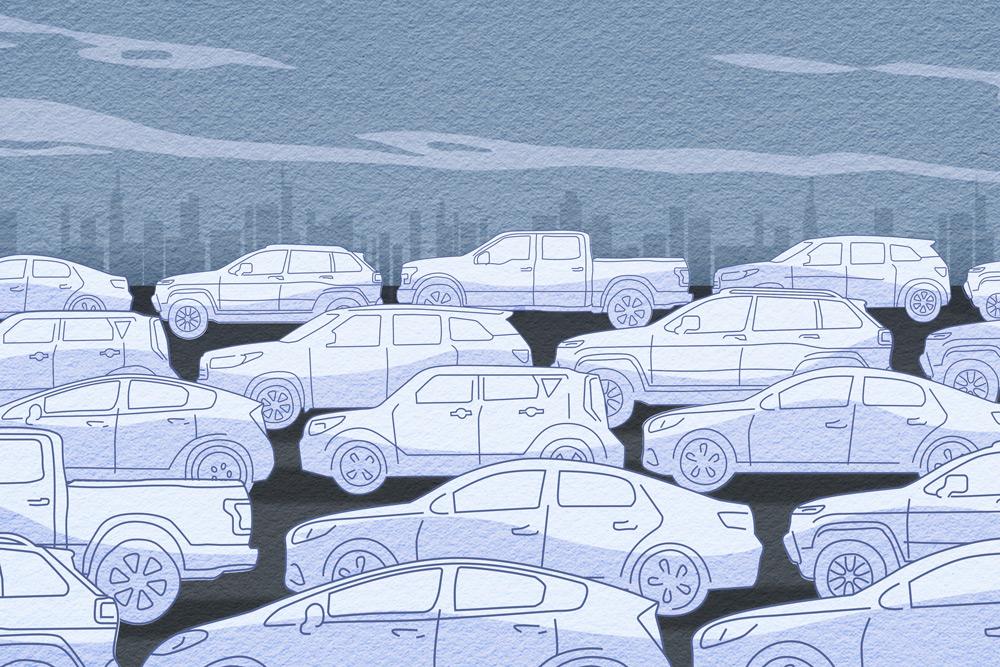 CARS.COM — Gridlock is a frustrating fact of life for motorists in many major U.S. cities, but a new report delves deeper into the list of worst traffic cities (yes, Los Angeles still takes the cake) by pinpointing the most congested swaths of U.S. highways.
Related: Traffic Sucks Worst on These 10 Roads...
A study on traffic hot spots from transportation analytics firm Inrix lists the L.A., New York City and Washington, D.C., areas as being home to the top five worst traffic hot spots in the country. Volume-wise, New York houses the most traffic hot spots, according to the report.
Here are 10 traffic hot spots you may want to avoid — especially if you hope to make good time on your family road trip this holiday season:
10. Boston: Massachusetts Turnpike East at Boston University Bridge to Oak Street
9. Miami: Interstate 95 North at Exit 12A to U.S. 1
8. Houston: I-45 South Exit 46A to Exit 63
7. San Francisco: I-80 West at Emeryville to California Route 4
6. Chicago: I-90 West at Exit 81A to Exit 56B
5. Dallas: I-20 West at Exit 451 to Exit 466
4. Atlanta: I-285 South at I-20 to Route 23
3. Washington, D.C.: I-95 South at Exit 133A to Fairfax County Parkway
2. New York: Brooklyn-Queens Expressway East at Exit 28A to West Shore Expressway
1. Los Angeles: I-405 North at Exit 43 to Exit 21
Worst of the Worst
The single most severe hot spot, according to the report, is on Washington, D.C.'s southbound I-95 near Fredericksburg, Va., where traffic jams stretched nearly 6.5 miles and lasted about 33 minutes on average.
The adverse effects of heavy traffic extend far beyond frustrated drivers just trying to make it home after a long day at work. The report estimates that delays resulting from traffic jams along I-95 South will add up to $2.3 billion in lost time, wasted fuel and carbon emitted during the next nine years.
Nationwide, U.S. roadways with recurring gridlock could cost the U.S. economy $2.2 trillion in the next decade due to wasted time spent sitting in traffic, along with fuel and carbon costs.
L.A. drivers have it the worst, however. Half of the top 10 hot spots listed in the report and 10 out of the full list of 25 are in the City of Angels, with I-405 North between Exits 43 and 21 landing in the No. 2 spot. The other two L.A. highways that made the top five are I-405 South between Exits 22 and 45, and U.S. 101 South at Exit 3B to California State Routes 134/170.
A stretch of Chicago's I-90 Kennedy Expressway between Exits 81A and 56B ranks fifth, with travel times lasting an average of 79 minutes.
Cost of Congestion
Researchers predict traffic hot spots in L.A. will cost an estimated $91 billion by 2026, while New York drivers could lose $64 billion to traffic backups and the D.C.-area could lose $29 billion. Atlanta, Dallas and Chicago were each estimated to lose $28-$29 billion over a 10-year period.
The study also revealed the total number of traffic hot spots in each city. New York has 13,608 traffic hot spots, followed by L.A. with 10,385 and Atlanta with 8,554. Chicago came in fourth with 7,719 gridlock zones.
"Congestion is a real problem for many Americans, resulting in wasted time, money and fuel," said AAA spokeswoman Jeanette Casselano.
Inrix collected its findings using a cloud-based analytics tool that uses real-time GPS monitoring to measure the frequency, size and duration of the more than 100,000 traffic jams reported in the study period of March and April. The data from those two months was multiplied by six to determine annual-projected congestion costs.
Causes and Solutions
What causes the delays? It's usually a mix of several factors, including "bottlenecks" (areas where traffic lanes are reduced), traffic crashes, inclement weather, construction zones or the ratio of traffic volume relative to available road space, according to the report.
Depending on whether funding is available, many local and state governments are doing their part to address traffic problems by implementing projects to improve travel times, according to INRIX. Such large-scale projects are often costly and can take years to complete, however.
At the federal level, infrastructure investments should focus on projects that reduce travel times, according to Bob Pishue, senior economist for Inrix. The Trump administration earlier this year proposed $1 trillion in infrastructure investments.
Casselano said increased investment for transportation funding is "critical for rebuilding the nation's roads and bridges and incorporating new technologies that could potentially reduce congestion, save money and, most importantly, prevent crashes and save lives."
Cars.com's Editorial department is your source for automotive news and reviews. In line with Cars.com's long-standing ethics policy, editors and reviewers don't accept gifts or free trips from automakers. The Editorial department is independent of Cars.com's advertising, sales and sponsored content departments.