Audi A7 Tech Takes Off for 2019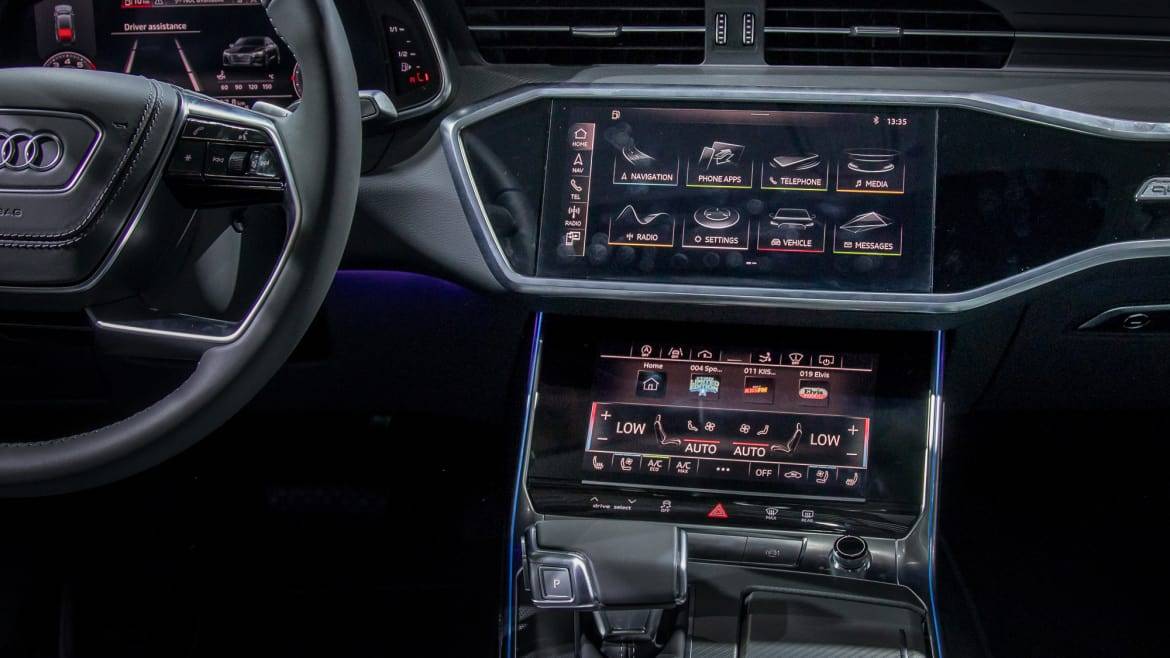 CARS.COM — We caught our first glance of the updated 2019 Audi A7 ahead of the 2017 Los Angeles Auto Show back in November, but the interior wasn't quite ready for us to crawl over. But fast-forward a couple of months to the 2018 North American International Auto Show in Detroit and the doors to the A7 have been unlocked. I gave the luxury four-door fastback's interior updates — especially that new multimedia system — a closer inspection.
Related: 2019 Audi A7 Video Review
The updates to the multimedia system mirror those found in Audi's flagship sedan, the A8, which gets its own redesign for 2019, as well. Both have ditched the old wheel-and-trackpad setup for a new dual touchscreen arrangement (standard on all 2019 A7 models), similar to the one I tested in the 2018 Land Rover Range Rover Velar. I found that the Velar's setup, which also relies on a touch-heavy two-screen design, "is a snappy system that works quickly" and "admittedly makes the interior design better, and the screens themselves are great. But for daily use I had some trouble with it, finding it difficult to use safely while driving." [Editor's note: Yes, he just quoted himself.]
The Audi system may have a few of the same issues, but it also comes with some added features that I was happy to see, which may help remedy some of the distracted-driving issues inherent in these systems and make it easier to use overall. It starts with the screens themselves, which offer haptic feedback.
Two Screens, Many Functions
That means that to engage the controls (on both screens), you'll have to physically press down on the screen, and you can feel the screen push in (like a button); it offers a satisfying audible click, too. For those who don't want this, both can be turned off, but I like the added sense of feedback — it means less accidental button presses, as you can check the positioning of your hand against the screen before activating features. The only exception to this would be sliding controls, like those for temperature settings. For those, you will just rest your finger on the screen as normal, but they won't move until you do.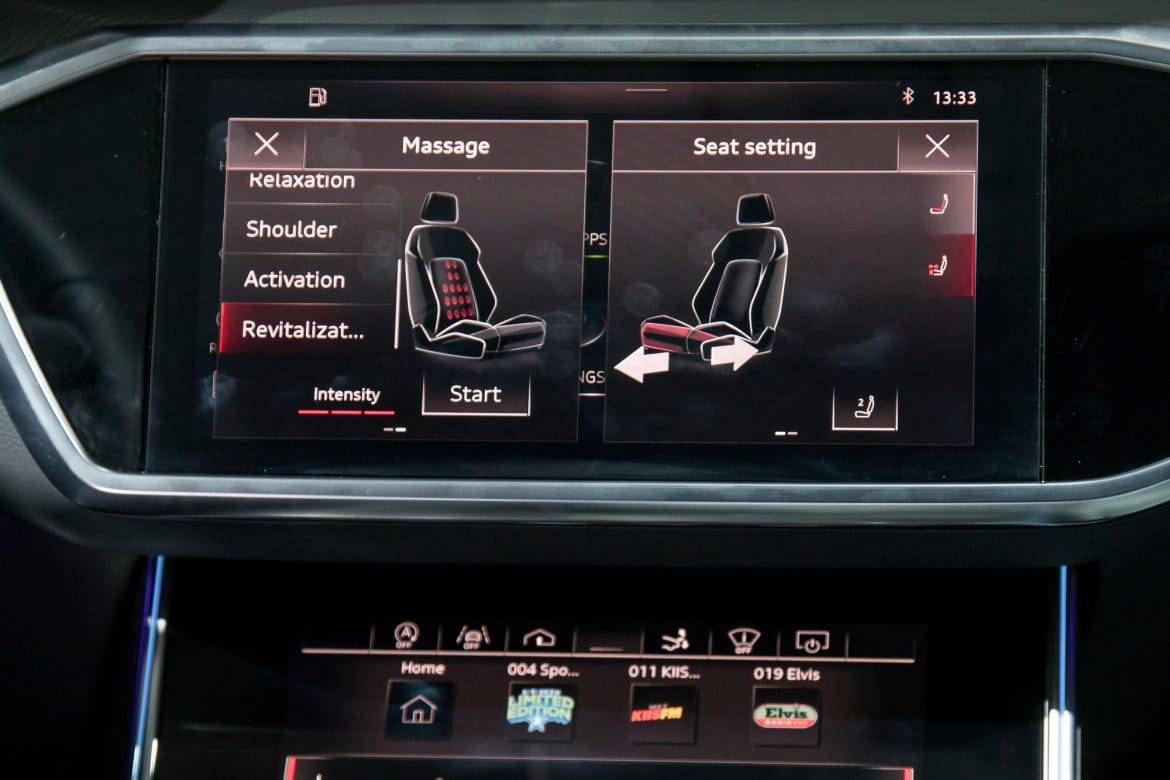 Another difference between the two systems is structure. The Audi system has a much more static bottom screen, with only one main view, for climate and seat controls. The top and bottom of the screen offer buttons to change drive modes and use various safety and engine features, as well as one very helpful blank button that has an even more useful function: It drops down a menu of four icons that are customizable. They can be radio stations, different functions, contacts to call, commonly used destinations — anything the driver uses often. The bottom screen can also be used to write in inputs for the navigation system and, instead of writing one letter at a time, whole words can now be entered.
The top screen has also moved to something more akin to what you'd find on a phone: commonly used functions on the left side that are static with larger icons and can be swapped out or moved around on a whim. Audi has also tried to reduce the depth of its multimedia system, meaning it will take fewer actions or button presses to reach different functions. Getting to where you want to go faster means less distraction and safer operation.
New Safety Tech
Speaking of safety, the 2019 A7's safety technology has also taken a leap forward — starting with its camera systems. Audi has cribbed the faux 3-D camera technology we first saw from BMW; it places a graphical representation of the A7 on the screen, allowing the user to rotate a camera around it to see the surrounding area and make sure it's clear of obstacles. This view will also have "rim protection warning," as Audi calls it: When you get too close to a curb while parallel parking, the wheels on the graphic display turn red so you don't scuff them up in real life.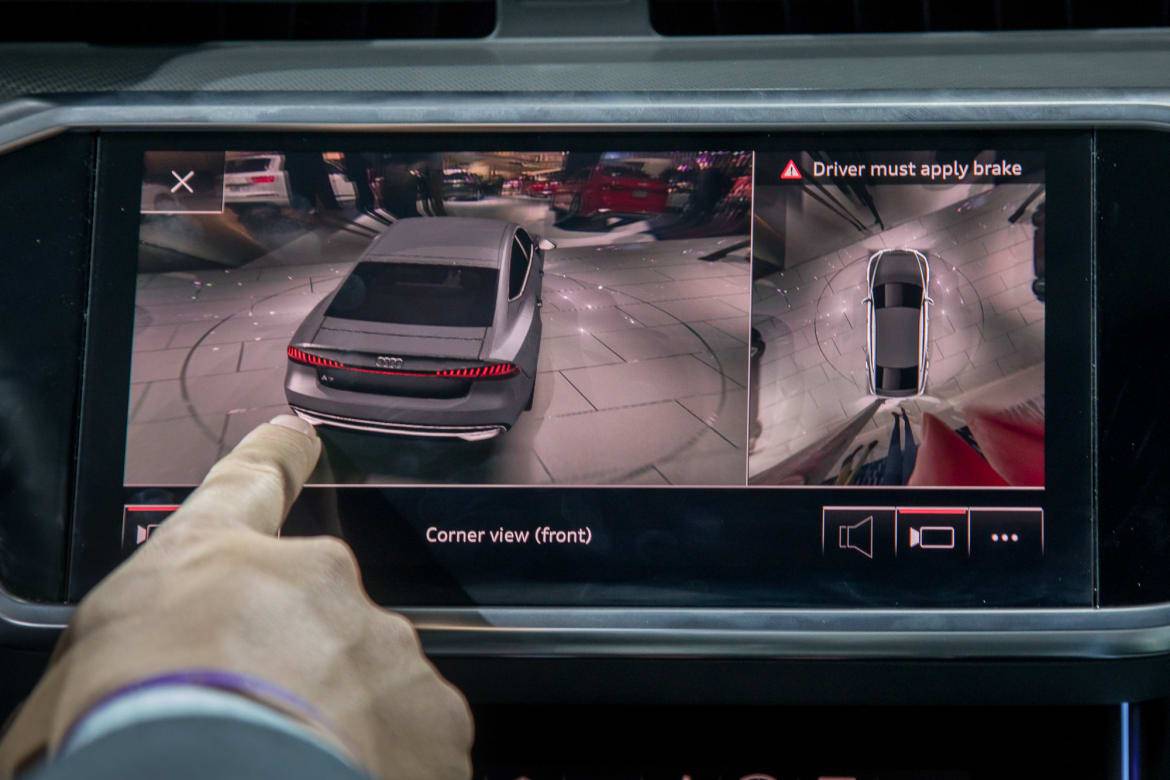 Standard camera views also have expanded. A 360-degree surround-view takes up the right portion of the screen, while the other side offers no fewer than seven different camera views showing a variety of angles and positions around the A7.
Self-Driving Systems
On the autonomous front, the A7 follows in the A8's footsteps yet again. It will have the same set of sensors, cameras and radar hardware found in the A8, but they will be optimized for the A7. That means that, like its big bro, the A7 is capable of Level 3 autonomous driving via Traffic Jam Pilot, which can fully operate the car at speeds up to 37 mph on highways with a physical barrier separating opposing lanes of traffic.
Now, while this system will be fully enabled in other regions of the world, we don't know if it'll be allowed into the U.S. just yet. Audi is currently in negotiations with regulators to see if all of the functionality of the system can be unlocked here, but there is no word yet on a timeline or progress on that front.
I'm excited to give the screens and the safety technology a thorough test of our own closer to the 2019 A7's launch date in late 2018.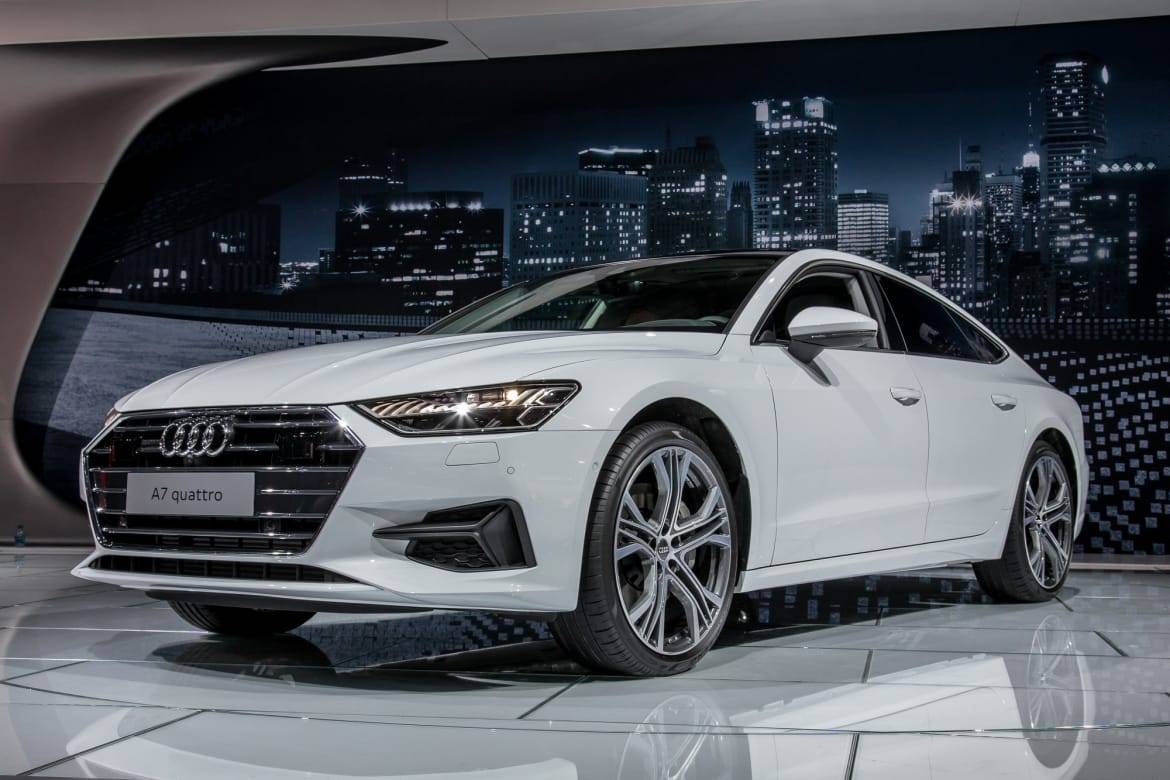 Cars.com's Editorial department is your source for automotive news and reviews. In line with Cars.com's long-standing ethics policy, editors and reviewers don't accept gifts or free trips from automakers. The Editorial department is independent of Cars.com's advertising, sales and sponsored content departments.