Audi A7 Versus RS 7: What You Get for the Extra Money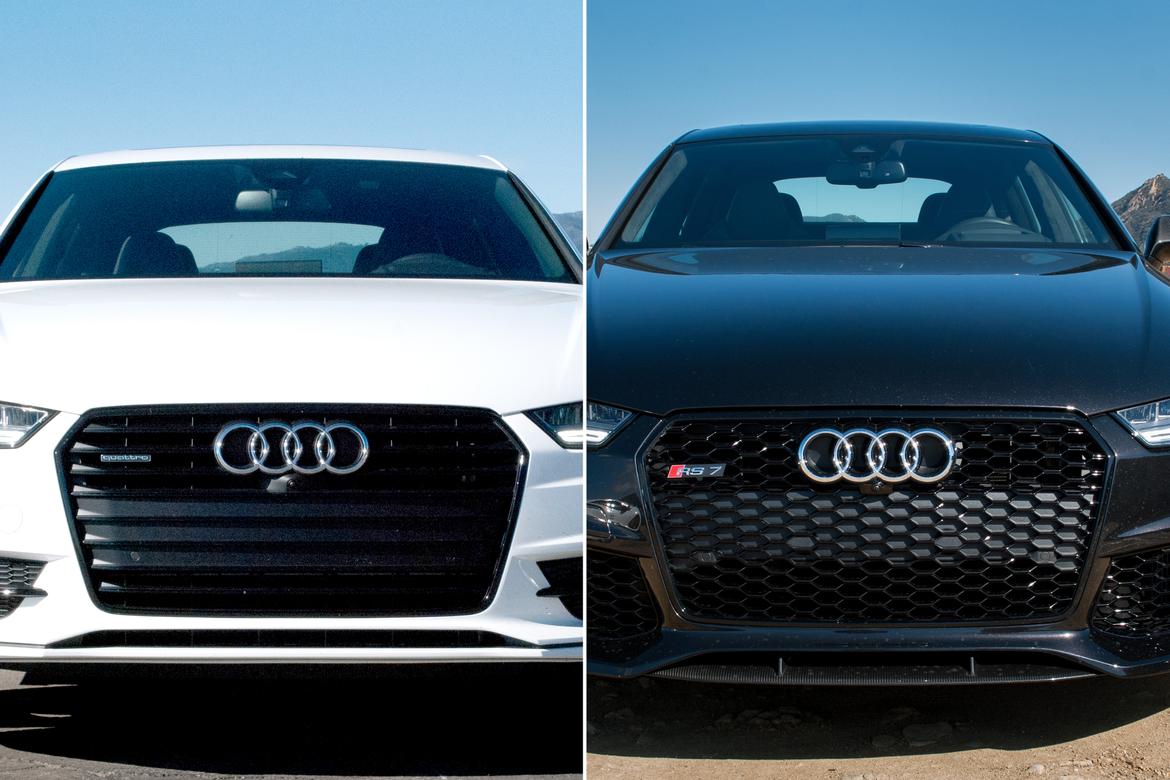 CARS.COM — Luxury automakers often make several editions of their vehicles, and Audi is no exception, with three distinct versions of A7-based models: the A7, S7 and RS 7. Each shares the same wheelbase and much of the same styling but there's a huge price gap between the A7 at the bottom and the RS 7 at the top. Is the RS 7 really worth all that extra scratch?
Related: 2016 Audi S7 Video Review
So how much extra? The 2017 A7 Competition trim I tested cost $80,450 including a $950 destination charge, while the 2017 RS 7 Performance tipped the scales at $136,975. That puts the distance between the two vehicles at a cool $56,525.
When you start to compare the two, it's striking just how similar they are. Both vehicles added the Driver Assistance Package ($2,450) and therefore had the same safety features. They also had identical multimedia systems and controllers, the same screens and practically the same dimensions inside and out (within tenths of an inch).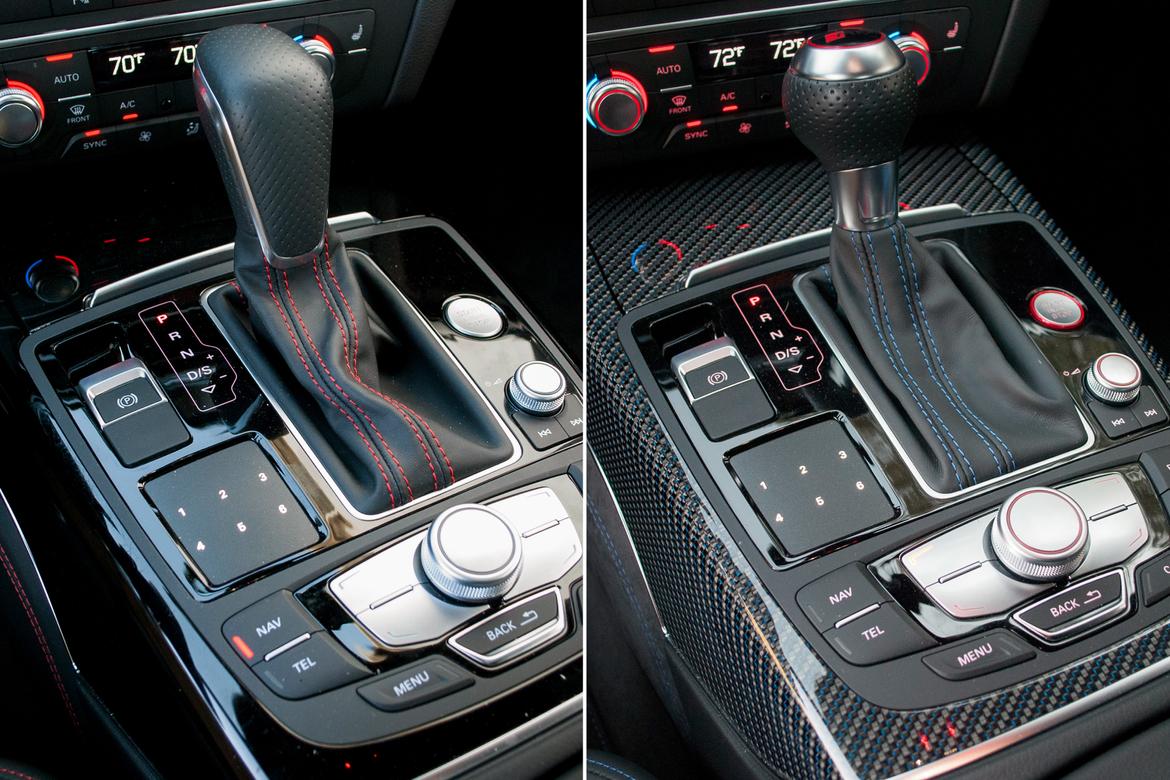 The RS 7 also doesn't look all that different from the A7 either. From the sides and back, it's difficult to tell them apart, although the RS 7 has a subtle carbon fiber rear diffuser and different tailpipes. Up front, the RS 7's mesh front grille and large low air intakes give it away, but for a $136,000 performance car it's rather incognito.
Inside, it's more of the same. The RS 7 gets a Black Alcantara headliner for an extra $3,000 and leather/Alcantara seats with a honeycomb pattern instead of the A7's diamond stitched leather pattern. There are also a few real carbon fiber trim pieces in the RS 7's center console and dashboard but besides that, the two interiors are practically identical. Even the instrument panels are the same except two small differences: the RS 7 gets an extra badge and the A7's speedometer stops at 180 mph versus the RS 7's 200 mph limit.
And that hints at the final piece of the puzzle: Where the RS 7 really delineates itself from the A7 is performance.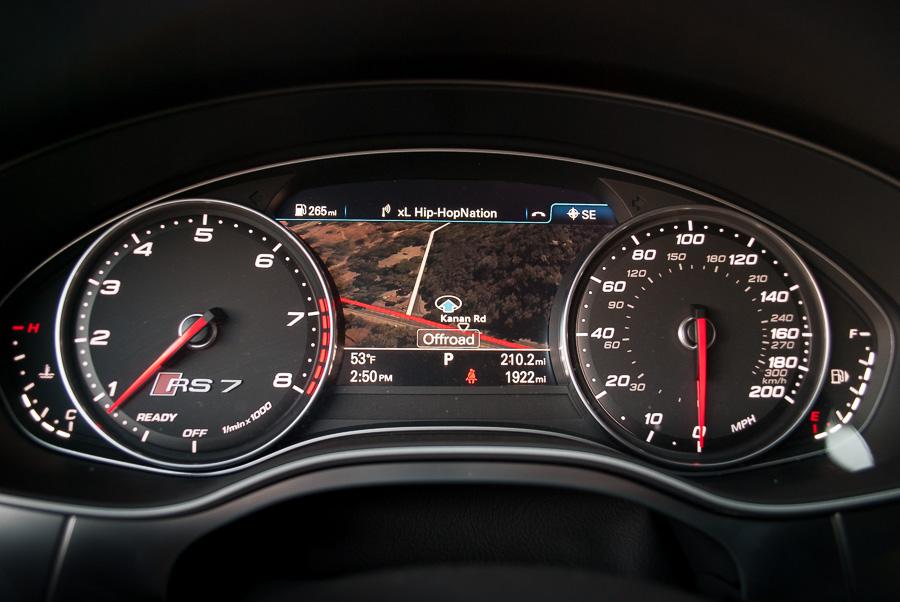 The A7 is no slouch, it has a 340-horsepower, supercharged 3.0-liter V-6 under the hood that makes 325 pounds-feet of torque, mated to an eight-speed automatic transmission with Quattro all-wheel-drive standard. It goes from zero-to-60 mph in 5.2 seconds and has a top track speed of 130 mph.
But the RS 7's powertrain is a completely different beast. It too has an eight-speed automatic and Quattro, but adds a 605-hp, twin-turbocharged 4.0-liter V-8 that makes 516 pounds-feet of torque. Zero-to-60 mph comes in at just 3.6 seconds and the RS 7 Performance model has a top track speed of 190 mph: 190 mph ... in a big sedan.
I'm thankful that I drove the A7 first, which is a special vehicle in its own right. Though its spec sheet doesn't blow you away, the engine fits the A7 perfectly. It's quick when you want it to be, or composed for comfortable driving.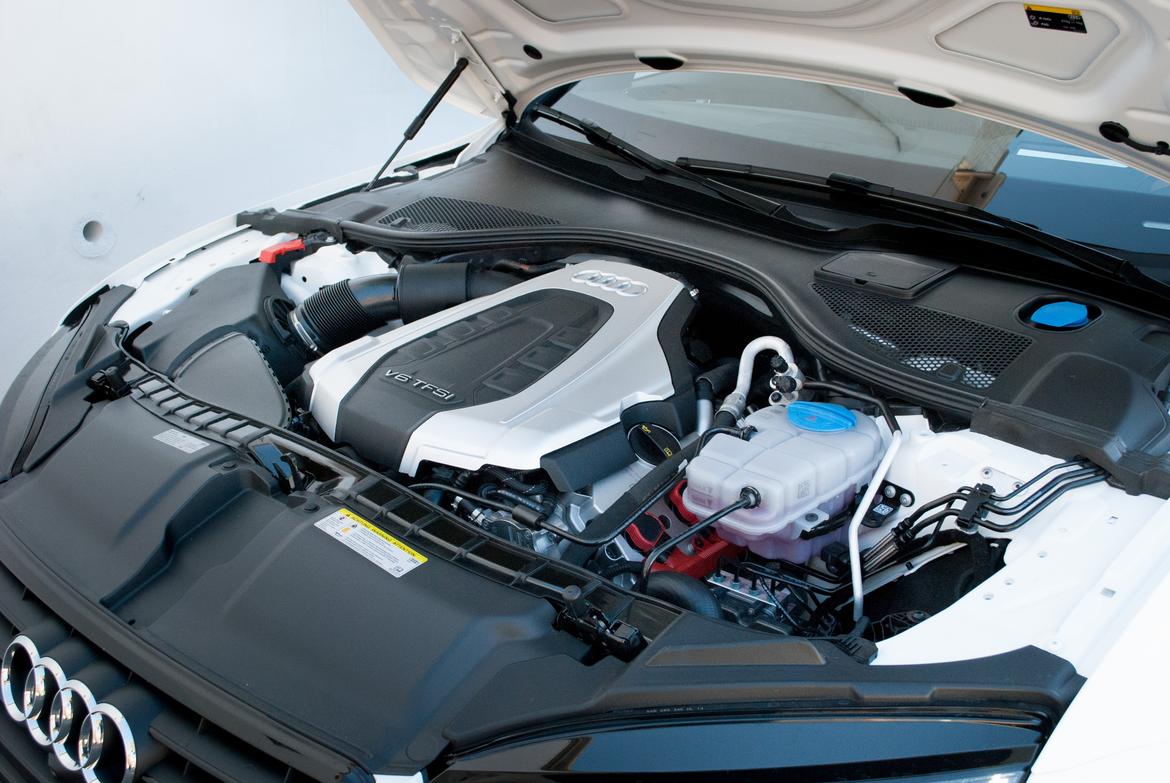 What also impressed me was how the A7 handled twisty roads. The Competition trim adds a sport suspension and a sport differential over the standard A7, and for a car with a steel spring suspension and a good amount of heft (4,354 pounds), it did an excellent job of remaining balanced throughout turns and mitigating body roll through quick changes of direction. There was some numbness in the steering, which made the initial turn-in on corners a bit slower than I'd like due to caution, but that's a minor quibble.
The A7 was so good, that I came out of it fairly confident that there was no way that the RS 7 would be worth the $56,000 markup. I was wrong.
I loved it.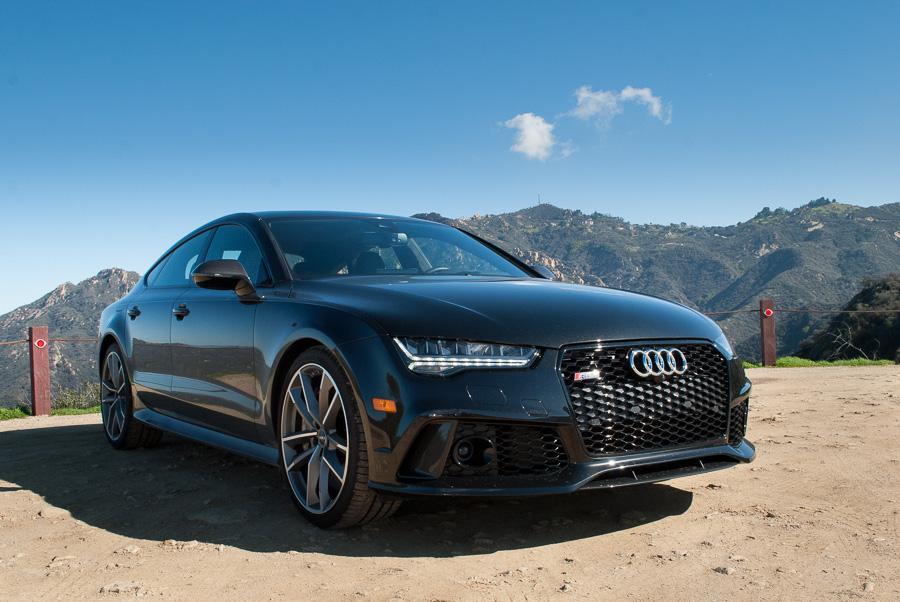 The RS 7 is a monster of a machine with a soundtrack to match. Tip-in the accelerator and it takes off with impressive immediacy. Hit the pedal hard enough and overboost kicks in, jumping up from 19.6 psi of boost from the turbochargers to 20.3 and boosting torque up to 553 pounds-feet from 516. The engine crackles and pops on downshifts, or even if you just lift off the throttle while in Dynamic mode. It's an addicting sound (though my neighbors may think otherwise).
At first, the speed of the RS 7 is a bit unnerving because it pours on so quickly; zero mph turns into 30, which turns into 50 and before you know it you are in ticket land. This is due in part to the RS 7's Dynamic Ride Control suspension, which replaces the air suspension found in the S7 and regular RS 7. In addition to keeping the RS 7 Performance flatter in the corners, it also mitigates pitching along the vehicle's long axis during braking and (you guessed it) acceleration.
In the curves, that suspension does work. For a nearly 4,500-pound sedan with lots of cargo and passenger room it's absurd what it can do in the bends. It stays so flat and puts down the power with such temerity that I was left muttering "what a car..." to nobody in particular over and over again. If I had to pick one thing to change about it, there is some of the same A7 vagueness on turn-in and I'd like a bit more weight to the steering. But when you blast out of the backside of the turn with that V-8 roaring, everything else is forgotten pretty much instantly.

So, our initial question remains — is it worth it to drop $56,000 more than you would for an already very good A7 to move up to the RS 7 Performance? If you're looking for something nicer and more comfortable, the answer is no. If you're looking for something with all of the latest technology and conveniences, the answer is definitely no.
But if you want something that will make you smile each time you get behind the wheel and can dust everything on the road short of exotic sports cars, the 2017 RS 7 Performance is a ready and willing partner. If it were up to me, I'd shift to a 100 percent Top Ramen diet and stop paying for electricity because the only spark that I need is in the seat behind the RS 7's wheel.
2017 Audi A7 and RS 7; Cars.com photos by Brian Wong