Auto Show Season Cutbacks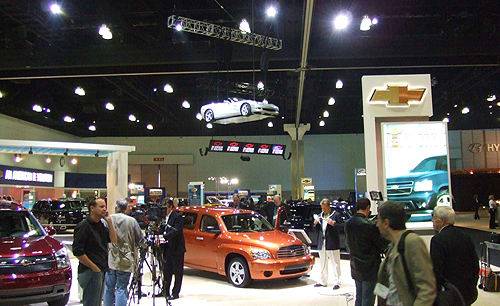 Last week, the L.A. Times released a story detailing how the current economic crisis is impacting not only automakers' car businesses, but also the auto show circuit. Traditionally, carmakers use the four major U.S. shows — L.A., Detroit, Chicago and New York – to debut their new production and concept models to the media and the public.
Theoretically, this is where "buzz" for new models takes off. According to the L.A. Times, the level of buzz will be much lower this auto show season.
GM announced last week that it would not hold a press conference in L.A., and that two new models that were set to debut had been pushed back until the Detroit show in January, at the earliest. It also canceled plans to fly in 25 members of the media, as well as pay for their lodging. Doing so is a common practice in the automotive media industry.
Volkswagen is also canceling its news conference and will delay the debut of a roadster concept until Detroit. Chrysler had already bowed out of hosting a press conference in L.A. and will make dealers shoulder the cost of the exhibition space. That's an unusual move.
L.A. will have nearly 20% fewer exhibitors than it did last year. Ford, Nissan and Honda are not cutting back in L.A. They will be the major players at this year's show.
However, there are also companies pulling out of the Detroit auto show, which is the unquestioned top show of the season. Ferrari, Rolls-Royce, Land Rover and Suzuki will not have a presence in Detroit at all. Last year, Porsche pulled out of Detroit with no plans to return.
By the time the Detroit show happens in early January, the fates of the Detroit Three and a possible bailout will have most likely put a damper on Chrysler's usually over-the-top presentations. The company is also considering closing its popular Firehouse hospitality restaurant for the media during the three media preview days.
Who's not scaling back? Toyota and Honda are going ahead with plans to unveil highly visible hybrids in Detroit. Toyota confirmed with us that not only was it not cutting back its plans at any major auto show this year, it will debut an all-new Lexus hybrid sedan in Detroit, along with the new version of the Toyota Prius. The two hybrids, along with Honda's hybrid, could outshine anything else shown in Detroit.
The Chicago Auto Show will shrink in size by 15,000 square feet for its 2009 show. While that's not a good sign, the massive Chicago show has grown significantly the past few years.
GM and Ford have already reduced their space for next spring's New York show as well.
Here's Where We Weigh In
If automakers want to cut costs, the idea of paying for journalists' travel should be the first to go. Local press and organizations that are used to paying their own way — like Cars.com — will still be on hand to cover the shows. This idea should also be carried over to the often-extravagant trips automakers organize for journalists to test-drive their cars well ahead of product launches.
Auto shows themselves still serve a great function for consumers. Where else can you browse nearly every make and model without a salesman over your shoulder? While you can't drive the cars at the event — besides Chrysler's extravagant indoor driving course, which we've been told will still go on we assume will not make a return this season — just seeing a car in person and getting to sit in it can help determine if it makes it on your shopping list. 
Here's Where You Weigh In
Hit the comments to tell us if you're planning on going to an auto show this season, and why or why not. Will the scaled-back release of new models change your mind? Will you follow car show coverage here on Cars.com starting next week?