Big Savings or Big Brother? Your Usage-Based Car Insurance Is Watching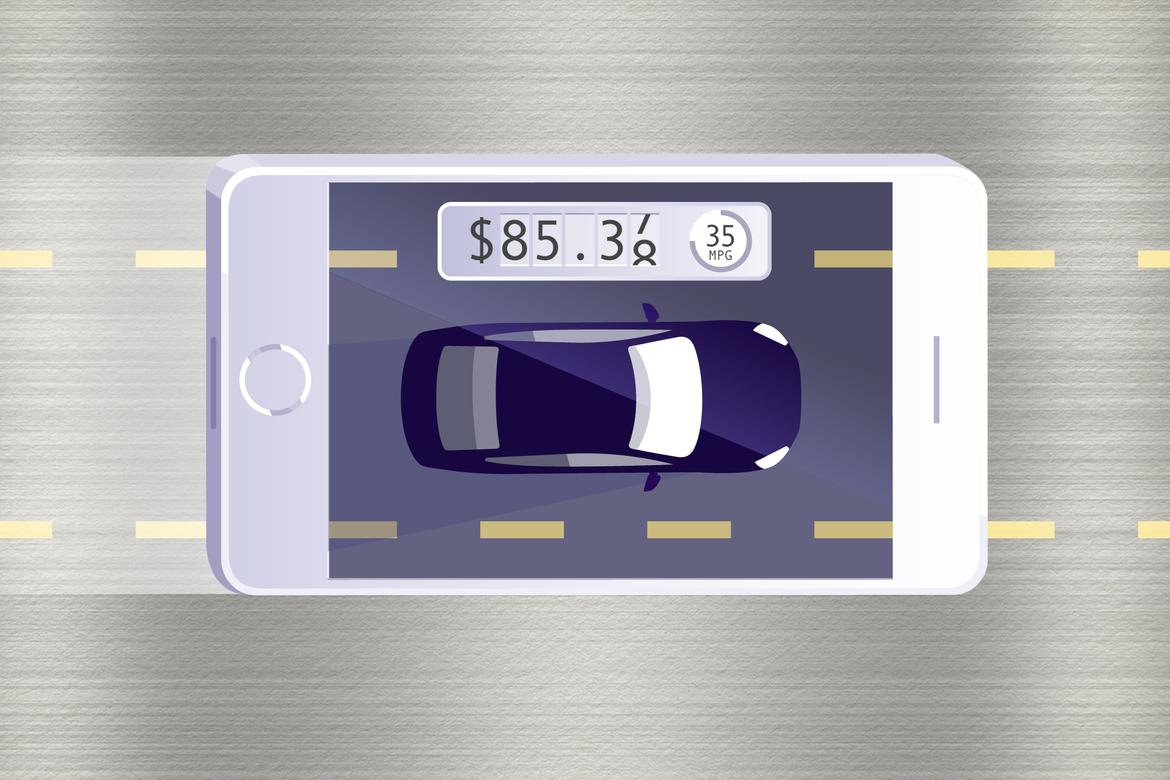 You wouldn't invite just anyone into your car or truck, would you? While most of us would never allow a total stranger to hop aboard, a growing number of car owners are increasingly comfortable letting their insurance company come along for the ride — every ride. Usage-based car insurance allows a customer to potentially save money by more accurately tracking driving criteria such as the mileage driven in a given month or the time of day someone's routine driving is taking place.
Related: Driving Smart Video: Do I Need Gap Insurance?
In some cases, a sensor is plugged directly into a car's diagnostics port to monitor the car and driver. Other programs use smartphone apps that work with a Bluetooth-enabled sensor positioned in the vehicle. That eliminates the need for a fixed connection to the car itself.
"Think of these devices as a way to get insurance more 'custom-tailored' to the way you drive," said Lynne McChristian of the Insurance Information Institute, an independent industry-supported research group.
McChristian noted that these auto insurance programs are not new — the first usage-based car devices appeared more than a decade ago — and the results have been encouraging.
"Telematic devices help a driver monitor their own driving behavior and that leads to better drivers," McChristian said. "Studies have indicated that the crash rates fell between 20 [and] 30 percent in cars monitored via telematics."
McChristian said having a device that acts like "a nagging backseat driver" forces car owners to reconsider aggressive behavior when behind the wheel. With the advent of smarter and more connected vehicles, this technology could be poised to reshape the way we drive - and how much we pay for the privilege. Car companies are starting to take notice, too.
Hyundai Puts Premium on Usage-Based Insurance
Hyundai recently announced its own dedicated plan to participate in the usage-based car insurance realm. The South Korean automaker will cooperate with Verisk, a data analytics provider, to offer usage-based insurance to interested customers. The program targets young shoppers, many of whom might be scared away from purchasing a new car due to their age group's higher insurance rates.
Participants in the car insurance program can opt into what's called the Verisk Driving Score. Working in conjunction with Hyundai's Blue Link connected car service, an individual's driving behavior is monitored — such as force of acceleration or braking — and the information is stored on Verisk's data exchange. This exchange already includes 3.3 million cars, along with more than 36 billion miles of recorded driving data. The recorded information in the Verisk data exchange can be checked by the driver, simply to see his or her own driving habits, or shared with an auto insurance company as part of a usage-based enrollment program.
Hyundai's Blue Link service is now available across the company's entire range of model-year 2018 and newer vehicles. Free for the first three years of ownership, Blue Link connectivity allows for features like remote locking/unlocking, remote start and climate control, enhanced roadside assistance, car finder and stolen-vehicle recovery.
Savings, Not Sanctions
In an emailed response to Cars.com's inquiries about its relationship with Hyundai, a Verisk representative stated the primary goal of these car insurance systems is to educate car owners about their driving while potentially helping them save money.
"The services provided by Verisk are to help educate drivers to become less risky, and to make their driving data portable so that a consumer can potentially be rewarded for safer driving with their insurer of choice. Driving data is not provided to law enforcement except in the event of lawful subpoena," Verisk's written response stated.
But can a driver be punished, or charged more, if the data shows unsafe driving behavior? In the Hyundai and Verisk program (and in many similar usage-based programs), the answer is no. A participant exhibiting poor driving standards simply does not get anywhere near the maximum insurance savings as a better driver in the same program.
Mileage Matters
Despite the high-tech aura of these usage-based insurance programs, many of the hard numbers behind them have been cornerstones of the insurance world for years. A vehicle's annual mileage, for example, long has been a key factor in insurance costs.
"Miles matter; the difficulty is trying to estimate how many miles our customers actually drive," said Scott Bruns, head of the telematics unit in State Farm's property-casualty actuarial department.
Bruns is the point person for State Farm's usage-based car insurance program, Drive Safe & Save. He explained that, in the past, low- and high-mileage drivers were often broken into two main categories: those who drove less than 7,500 miles a year and those who drove more than that set amount. Now, with usage-based devices, there is much greater flexibility when it comes to determining where a customer falls in terms of mileage — and how much they should be paying for their insurance.
"We like having many more mileage categories," Bruns said. "We can go from only two to virtually 50 categories."
These mileage markers are broken down into 500-mile increments, versus the thousands of miles used previously. Of course, these various devices — State Farm's Drive Safe & Save system uses a smartphone app and Bluetooth sensor mounted in the car — are doing more than measuring miles. They record how hard you're braking or accelerating, how forcefully you're turning and even what time of day you're typically driving.
"Driving behaviors can give greater context regarding how those miles are driven by an individual. All of those [driving criteria] matter," Bruns said, offering as examples that rush hour and late night are known to be riskier times to be on the road. "It's longer-term patterns that we're looking at."
The sensors and gyroscopes in your phone act as a virtual eye into your driving habits. Bruns said these phone sensors, combined with advanced GPS technology, can accurately hone in on "G-force types of events," such as acceleration or steering inputs. Might a sliding smartphone in a storage compartment or cupholder throw off these measurements?
"It really shouldn't," Bruns said. "We've done some pretty intensive research, filtering out the random movement of the phone versus the true car movement. There is a lot of complex physics involved."
Like the Hyundai and Verisk offer, State Farm's usage-based insurance is a discount-only program.
"That puts a lot of fears at ease," Bruns said.
Cars.com's Editorial department is your source for automotive news and reviews. In line with Cars.com's long-standing ethics policy, editors and reviewers don't accept gifts or free trips from automakers. The Editorial department is independent of Cars.com's advertising, sales and sponsored content departments.