BMW 1 Series Priced Less Than $30,000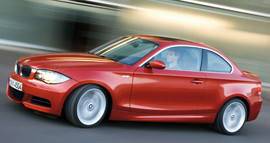 BMW's new 1 Series coupe will have a base price including destination of $29,375 for the 128i and $35,675 for the 135i. The 128i is powered by a 230-hp inline-six that can hit 60 mph from a standstill in 6.1 seconds with the manual transmission, while the 135i does the run a whole second quicker. Under the 135i's hood sits the BMW's 300-hp twin-turbo six-cylinder.
The coupe hits dealerships in spring 2008, and a convertible version of the 1 Series will be shown at the Detroit auto show in January.
Related
More on the LA Auto Show
More on the BMW 1 Series