BMW 5 Series Gran Turismo: First Look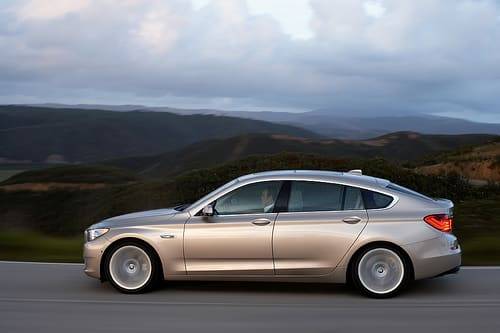 Competes with: Infiniti FX, Acura MDX, Audi A6 Avant
Looks like: A cross between an X5 and 5 Series Wagon
Drivetrain: 400-hp, 4.4-liter twin-turbo V-8 with eight-speed automatic transmission
Hits dealerships: Late 2009
BMW has been rapidly expanding its lineup as of late. No longer content with wagons and SUVs, the company adds its second hatchback in a year's time, the 5 Series Gran Turismo. Following on the heels of the X6, which got a lukewarm reception, the 5 Series Gran Turismo promises a lot of power and a unique cargo area. We're not sure if the combination will entice consumers.
Like the X6, the Gran Turismo comes with a twin-turbo V-8 engine good for 400 hp, however, this is the only option for the vehicle. Also unlike the X6, this is a rear-wheel-drive vehicle, which means the 550i Gran Turismo will be more of a performance machine. A 535 xi Gran Turismo will be offered in Europe, but there's no mention of it coming to the U.S. Sales of the 550i GT might be the measuring stick for BMW to consider bringing over the twin-turbo six-cylinder.
The Gran Turismo also features regenerative braking that helps charge an augmented battery. The battery doesn't help drive the car, so this isn't a hybrid car; it does help power the electronics systems, which in a BMW is no small thing.
On the utility side, the Gran Turismo features an interesting dual hatch. It can open like a traditional trunk for small items, and the full hatch opens to load larger objects. It's an interesting system that we like, but after recently testing the exceptional 5 Series wagon, we're not sure if this is a huge upgrade for those looking for a utilitarian BMW.
The awkward profile also makes the X6 look even better. When pricing is announced, the two might not be far apart. That leaves us really wondering who would buy the 550i GT. Weigh in with your comments below.