Brad Pitt to Remake 'Bullitt': Car Guys Everywhere Cringe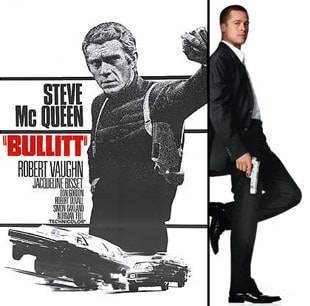 Hollywood loves to remake the classics, mainly because there isn't enough original thinking in that town to produce interesting new movies. OK, maybe we're just venting because we've learned that Brad Pitt will soon reprise Steve McQueen's legendary role of Lt. Frank Bullitt. The original "Bullitt" movie featured arguably the greatest car chase scene of all time. 
Pitt has a thing for remakes, hot off his third appearance in an "Oceans" movie based off a Rat Pack original. The "Bullitt" movie has been in the works since 2003 but is being rushed into production before a possible strike by the Screen Actors Guild. 
We're obviously car and movie buffs here at Cars.com, and we just released our second list of the top 10 movie cars of all time. While the "Bullitt" Mustang is No. 5 on the list, we'd probably rank that car chase Numero Uno. If you're as riled by this news as we are, leave a comment below.
Brad Pitt's Bullitt (Monsters & Critics via Autoblog)