Can the 2018 Ford Mustang GT Really Do a Sub-4-Second Zero-to-60?
Contrarian minds would love to see a Detroit pony car like the Ford Mustang blow the doors off a highly sophisticated, German-engineered Porsche 911. It seems far-fetched considering both are performance cars and one is tens of thousands of dollars more than the other. But for 2018, a 911 taking a straight-line spanking from a Mustang GT might be a thing. Ford says the 2018 Ford Mustang GT can accelerate to 60 mph in less than 4 seconds, which is faster than a Porsche 911 Carrera's 4.4 seconds. Ford's assertions might not be as kooky as they sound: We backed up the brand's zero-to-60-mph claim during our acceleration testing of the 2018 Mustang GT.
Related: 2018 Ford Mustang GT's Magic Numbers Are 4-6-0: 460 HP, 4 Seconds to 60
And by "backed up," we mean by the narrowest of margins. Like, "hair-of-my-chinny-chin-chin" less-than-4 seconds. The high-horsepower V8 2018 Ford Mustang GT test car accelerated from zero-to-60 mph in 3.9 seconds (using a Racelogic Vbox II GPS data logger) — and not just 3.9 seconds, but 3.99 seconds. In our testing history, that puts the 2018 Mustang GT on par with the 2015 BMW M4's 3.9 seconds to 60 mph (nice company to be in with that as-tested M4 at $86,200) and many ticks faster than the last Mustang GT that wore our test gear, a 2016 with a manual transmission that did the deed in 4.7 seconds — and was a pain to get there. Perhaps most impressive is just how easy it was to coax the fastest times out of the 2018 Mustang, including an 11.9-second quarter-mile, which is seriously quick and a tenth of a second quicker than the aforementioned BMW M4.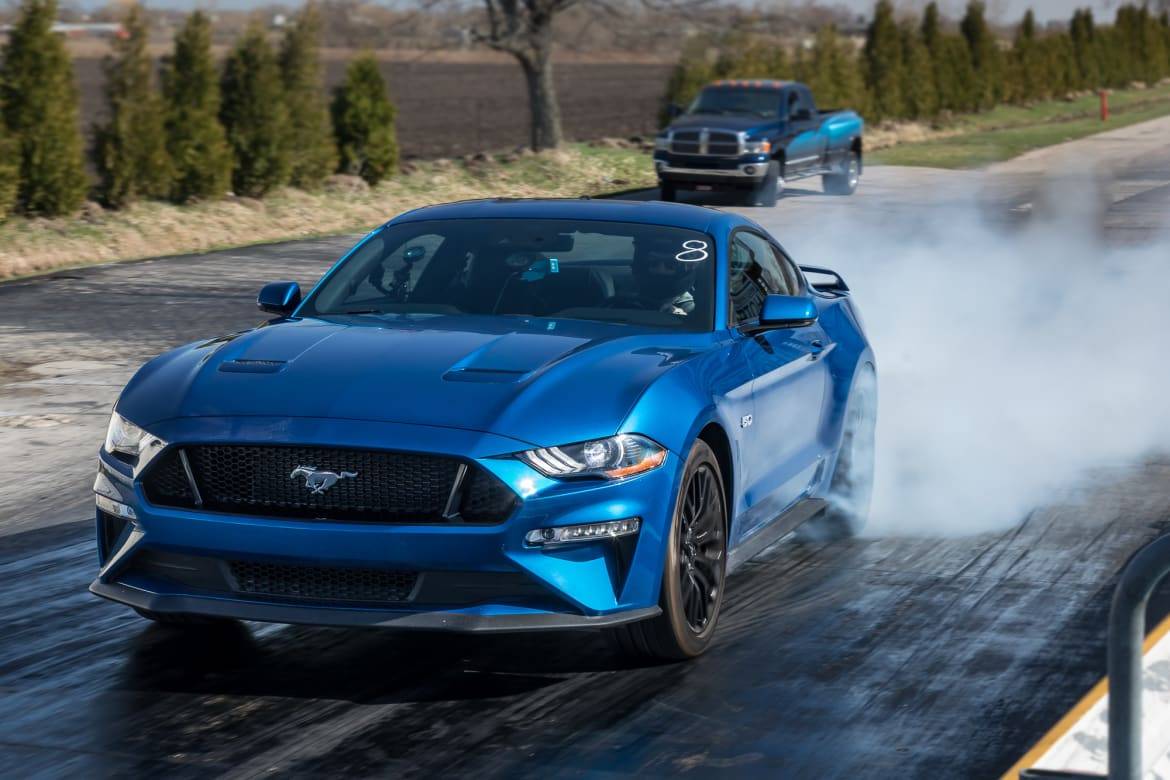 The Price of Performance
For owners of this particular Ford Mustang, the hardest part of persuading the fastest acceleration out of a 2018 Ford Mustang GT will be opening your wallet: The stout acceleration claim requires the $3,995 Performance Package and $1,595 10-speed automatic transmission; at minimum, a $41,680 car with destination. Our heavily optioned Mustang rung the bill to $52,000, so it's not quite the budget underdog you'd expect. More than $50,000 is actually a jaw-dropping price for a non-Shelby, non-GT350/500 Mustang.
The Performance Package includes Brembo front brakes, a limited-slip differential, unique suspension tuning and more — but most importantly in our straight-line testing are the Michelin Pilot Sport 4S tires. For a hard-sidewall, handling-oriented tire, this rubber hooked hard at Great Lakes Dragaway in Union Grove, Wis. I was surprised at the grip for not being a dedicated drag radial tire — the track surface was prepped with the sticky stuff to optimize traction, but even that isn't a guarantee of traction with a traditional high-performance summer tire. With the 2018's engine torqued up against the brakes at 2,100 rpm and traction control off, those Michelin tires gripped at wide-open throttle launches with no drama, not even a peep or squeak, giving seat-pinning performance at the track.
Track-Tested, Driver-Approved
It took only three runs to net the best time of 3.9 seconds to 60 mph and the quarter-mile in 11.9 seconds at 119 mph. And the only adjustment was with my right foot. With no traction issue on the first two runs, run No. 3 was full bore, and the car took it like a champ.
While the tires are good, equal appreciation goes to the 10-speed automatic transmission. Its aggressive gearing keeps the rev-happy 5.0-liter V-8 up in its powerband, sounding more like a sport-bike motorcycle than a Mustang with gear changes, which have little falloff in engine speed between gears. To top it off, the automatic transmission's dedicated Drag Strip Mode optimizes acceleration by minimizing torque reduction between gear changes of the 10-speed automatic. In Drag Mode, the shifts are hard, fast and bark the tires when the transmission shifts into 2nd gear, feeling more like a car with an aftermarket calibration than something that came from the factory floor.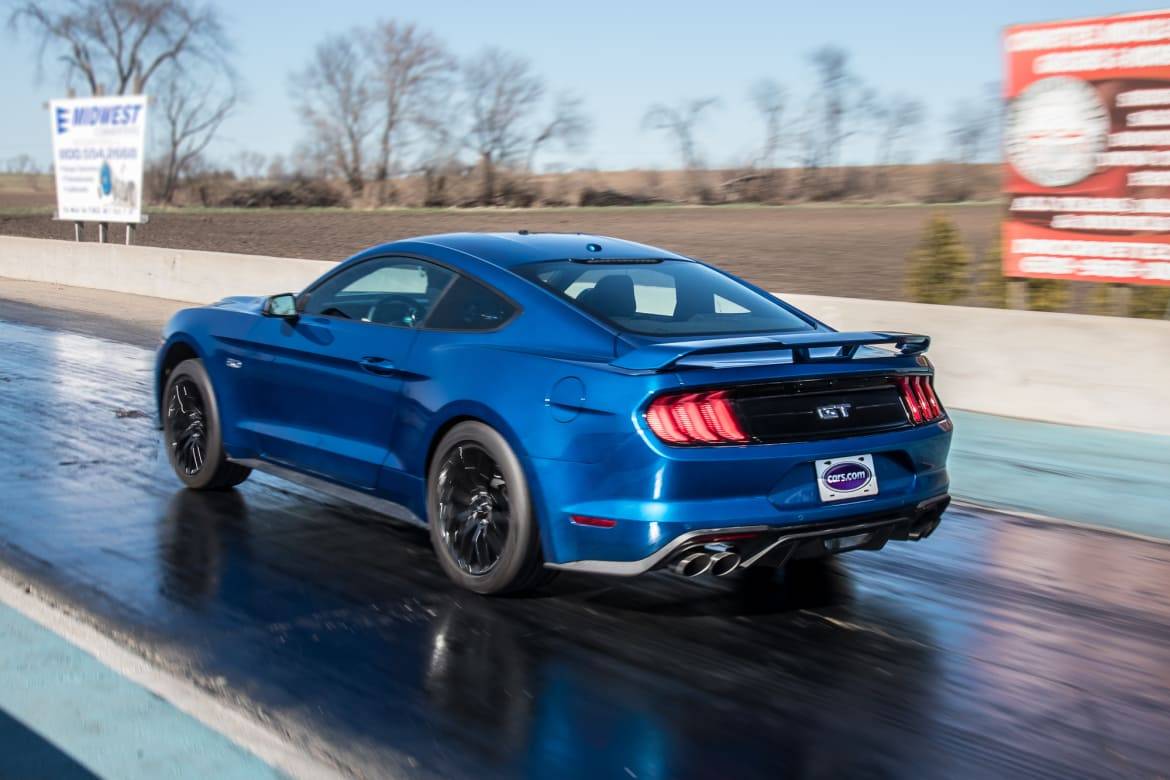 Drag-Strip Darling
The transmission's performance at the drag strip is, no doubt, impressive, but our experience with this car's 10-speed is less gush-worthy off the track. We're hoping an update comes along to help the Mustang's mushy, rough-shifting performance in non-Track/Drag modes. On the drag strip, though, is where the 10-speed Mustang GT feels most comfortable. We still have more testing to do with this 'Stang, where we'll dive deeper into the transmission, handling and daily drivability of the updated 2018, so stay tuned.
Cars.com's Editorial department is your source for automotive news and reviews. In line with Cars.com's long-standing ethics policy, editors and reviewers don't accept gifts or free trips from automakers. The Editorial department is independent of Cars.com's advertising, sales and sponsored content departments.