Can the 2020 Kia Telluride Really Go Off-Road?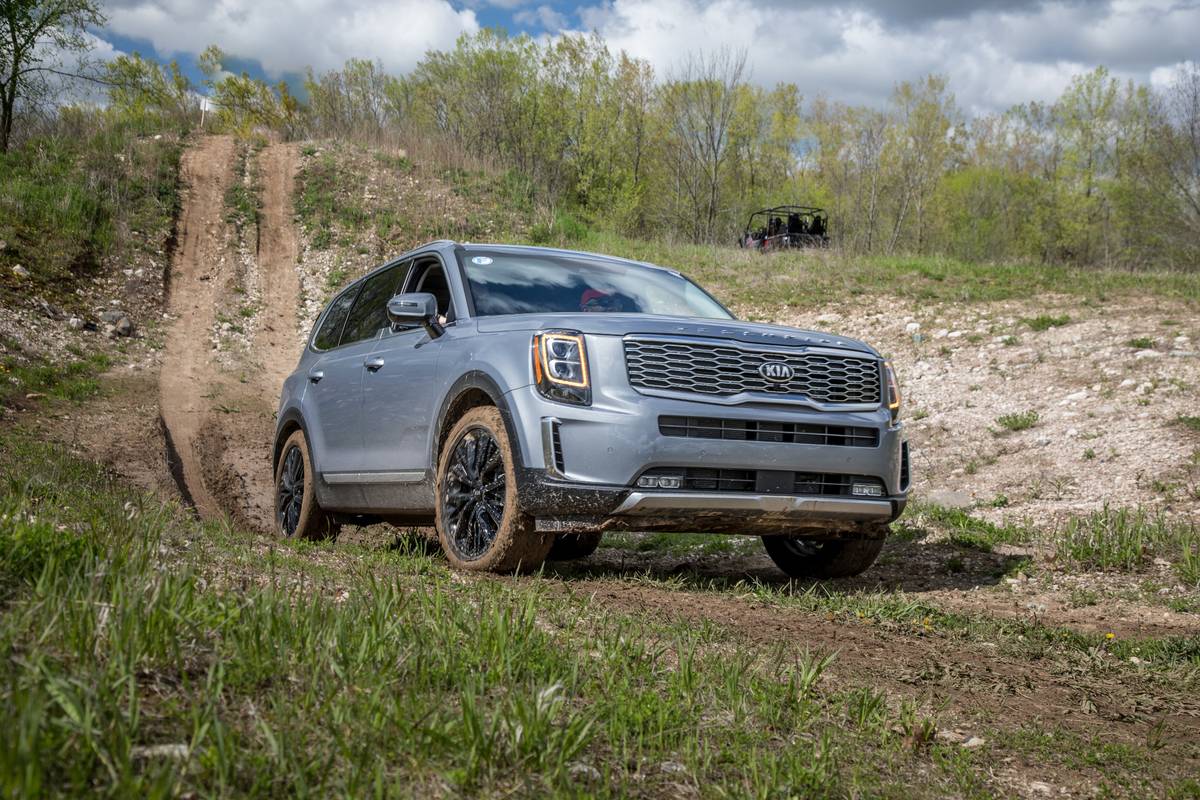 We wouldn't normally be compelled to take a mild-mannered three-row family SUV off-road to see what it can do, but Kia introduced the 2020 Telluride to the car-buying public in a Super Bowl commercial by diving it into a river up to its beltline with the confidence of a submarine. And though the off-pavement imagery has toned down since, it hasn't stopped. Subsequent commercials have called out the model's all-wheel-drive lock mode and torque-vectoring corner control, and shown the Telluride on a muddy farm running with livestock and/or compared it to a bull.
Related: 2020 Kia Telluride: 6 Things We Like (and 2 Not So Much)
Honestly, we've been wondering exactly how much bull is involved here, so when James Bell, Kia's director of corporate communications, recently offered to let us stray from the milder off-road course at the Midwest Automotive Media Association's 2019 Spring Rally into some of the obstacles reserved for the more purpose-built off-roaders on hand, we gladly accepted.
To be clear, this course wasn't the Rubicon Trail (though I did spy a [Jeep Gladiator] Rubicon on said trail). It was a route on the grounds of Wisconsin's historic Road America comprising mostly hills, moguls and a respectable amount of mud. On the other hand, it was at this same annual event over the past decade-plus where I once saw a street SUV with one of its wheels pointing the wrong way and, a separate time, got stuck for 15 minutes behind another light-duty SUV whose traction control had overheated and refused to budge until it had cooled down. These two had never even left the "green" trail.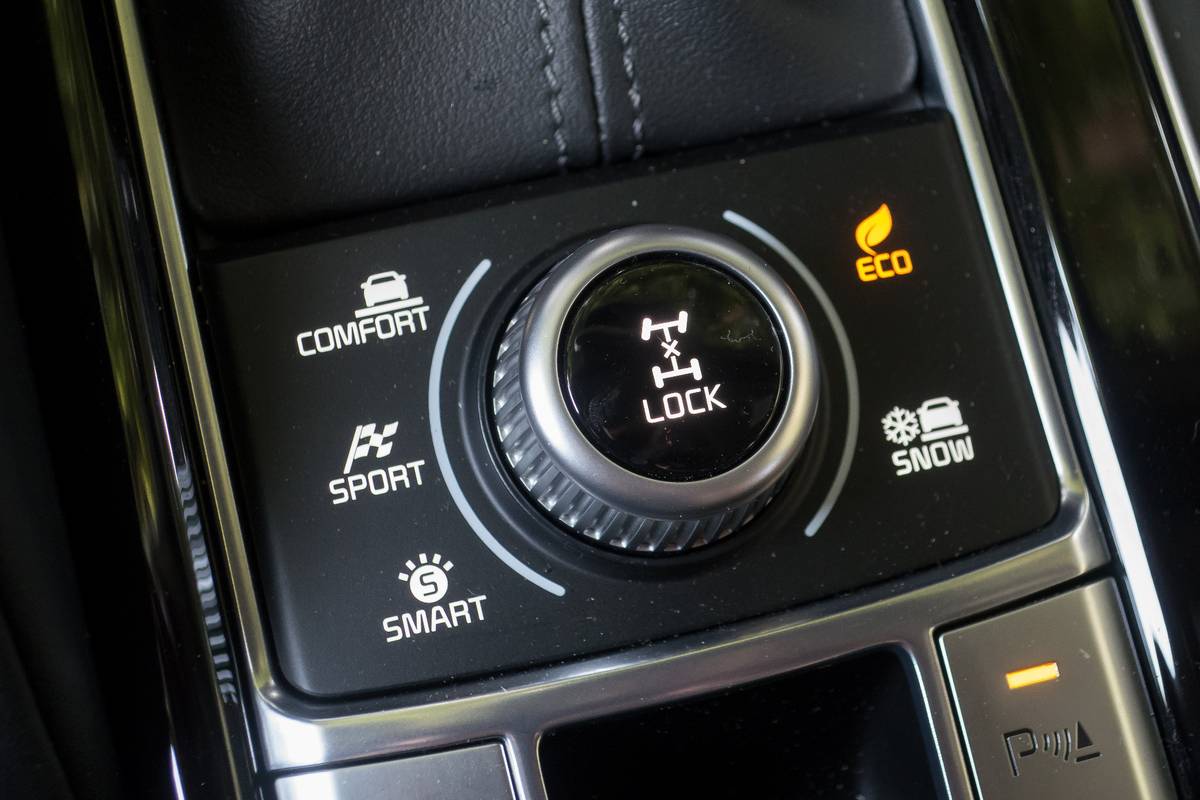 What It Has
The Telluride I drove was just a regular SX with optional all-wheel drive and street tires on 20-inch wheels. Setting up the Telluride for its off-road romp involved pushing a single button marked "Lock" on the driving-mode selector knob that locks the center differential; this ensures that the front and rear axles each get 50 percent of the torque. Without this mode activated, the differential's multiplate clutch is free to shift torque forward and back, with a default distribution that varies with the driving mode: The Eco and Smart modes send 100 percent to the front; Comfort and Snow send 80 percent to the front and 20 percent to the rear; and Sport divides it 65/35.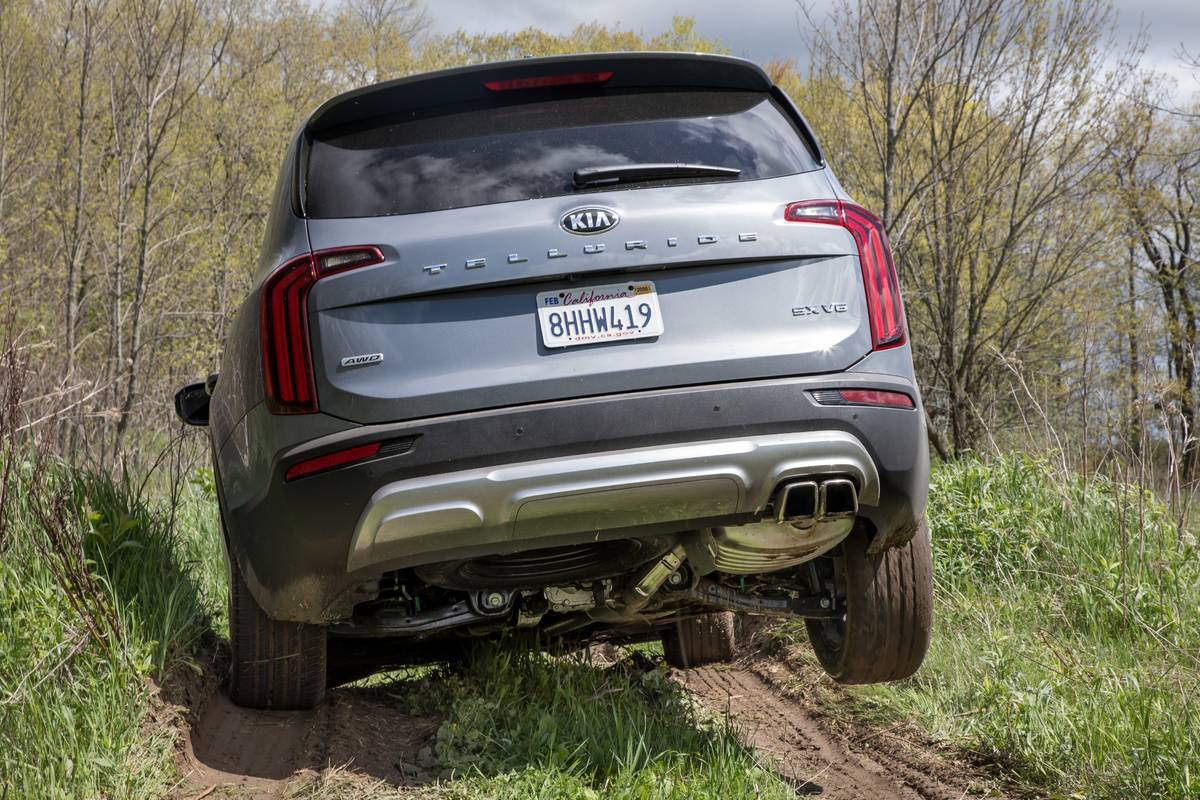 What It Lacks
The Telluride's standard ground clearance is a respectable 8 inches, but its approach angle (17 degrees) and departure angle (20.9) are definitely limiting factors, and the Telluride isn't equipped with hill descent control as some light-duty SUVs are — but we tackled some of the trickier obstacles anyway. As I said, this wasn't a super-difficult route, and most of the red-trail vehicles — the Rubicon, a 2019 Chevrolet Colorado ZR2 Bison, 2019 Ford Ranger Lariat FX4 and select SUVs — didn't really break a sweat on the red portion of this course. The Telluride sweated more, mainly because its brake-based traction control had to work harder to keep the big thing moving up and over the damp hills on all-season tires. I sweated a bit myself, because I knew the Telluride has no skid plates, and the sound I heard when cresting the sharper hills was typical plastic underbody panels rubbing earth.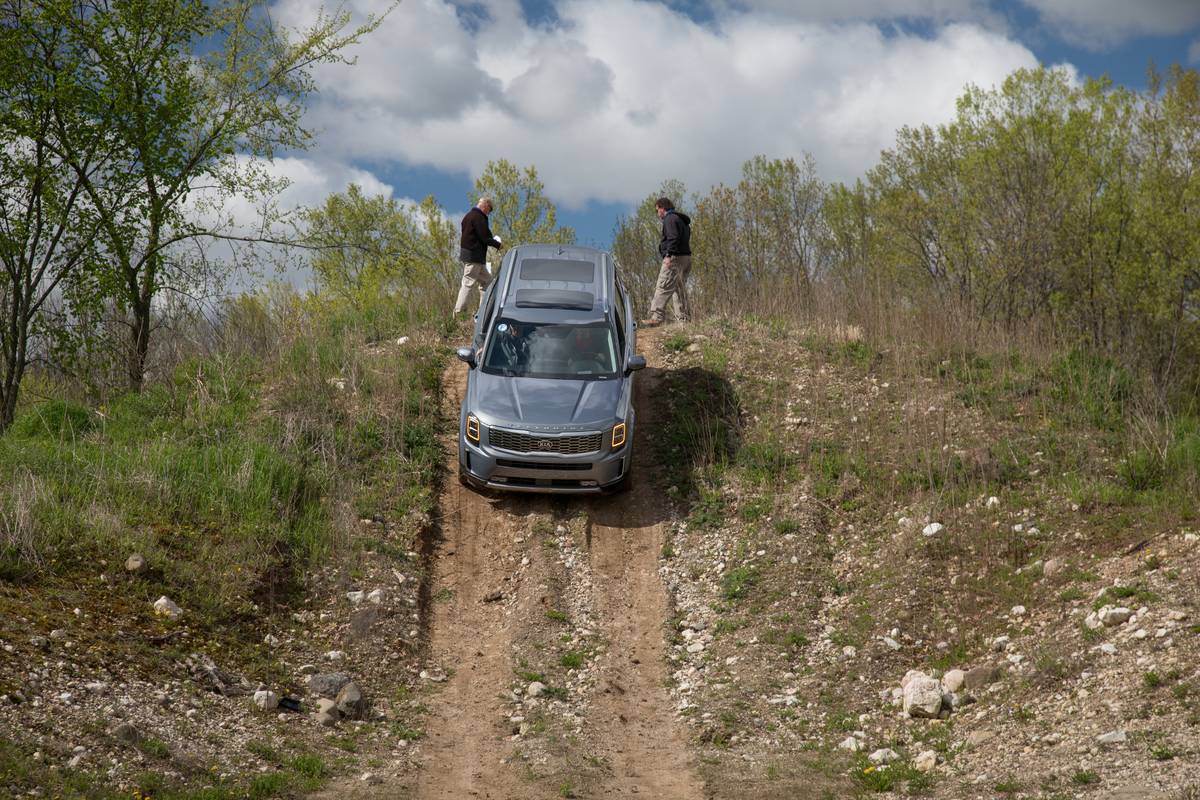 More From Cars.com:
Maybe, One Day …
It's true. The Telluride has been seen at both the Specialty Equipment Market Association trade show and the North American International Auto Show in Detroit outfitted with all variety of off-road accessories, and the Super Bowl commercial's U-boat routine was disclaimed as a "water stunt" complete with an "aftermarket snorkel" (the invisible kind). Yet Kia itself offers none of these goodies. But that might change: Our experience with the existing suspension and AWD system suggests the Telluride is no poser, and James Bell said, "Kia is actively investigating potential enhancements for future model years and trim levels that might further extend the current vehicle's surprising off-road prowess."
Cars.com's Editorial department is your source for automotive news and reviews. In line with Cars.com's long-standing ethics policy, editors and reviewers don't accept gifts or free trips from automakers. The Editorial department is independent of Cars.com's advertising, sales and sponsored content departments.