Car Caught in a Flood? Here's What to Do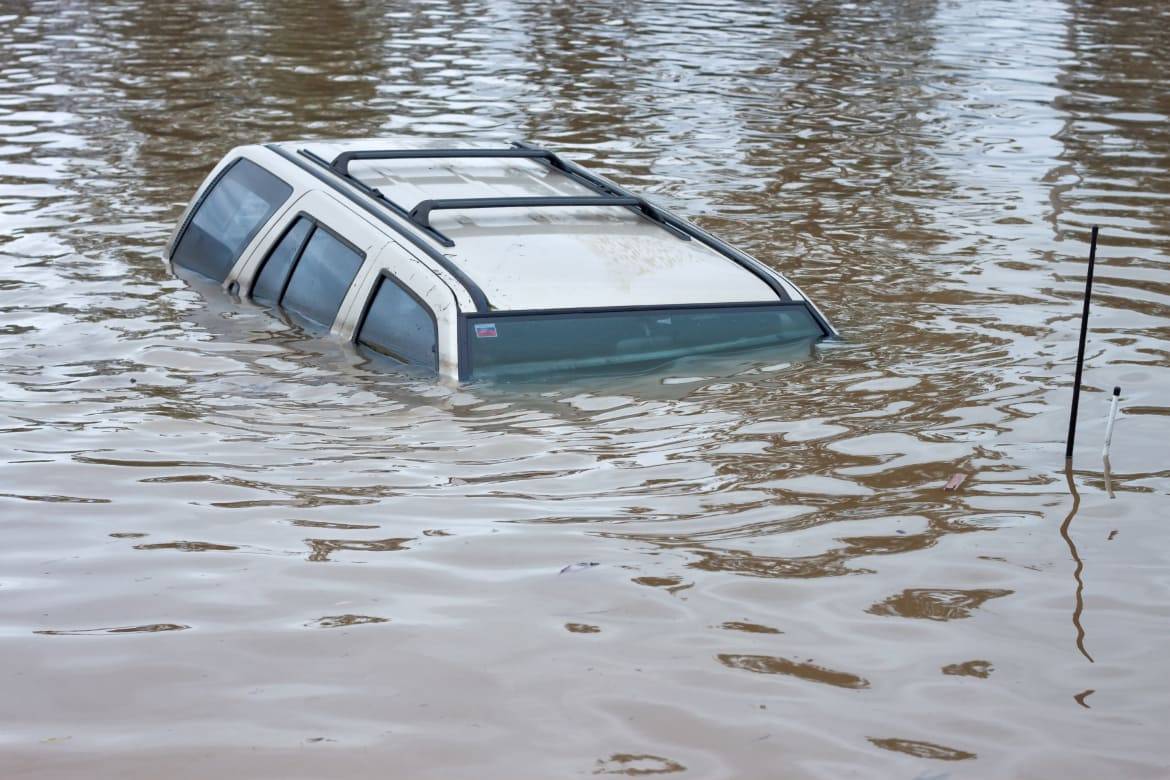 CARS.COM — Hurricane Harvey was downgraded to a tropical storm and continued to pummel Texas this week and, tragically for storm victims and rescue workers, it showed no sign of abating in the immediate future. CNN reports that flooded rivers in east Texas were not expected to crest until later this week, by which time another 2 feet of rain may well have fallen — doubling the deluge that has already resulted in catastrophic damage and could force some half a million people in the area to seek disaster assistance.
Related: Beware of Flood-Damaged Used Cars
With the continued heavy rains, of course, will come more flooding, which the National Oceanic & Atmospheric Administration notes is the most common and widespread of all natural disasters. Due to their speed and unpredictability, flash floods are the most dangerous. This poses a particular threat for motorists, as a wide majority of fatalities in flash floods in the past two decades have occurred in vehicles.
Heed these do's and don'ts if you find yourself trapped in your car in fast-rising water:
Do's
Stay calm. You'll need your wits about you.
Turn on the vehicle's headlights and hazard lights. This will make it easier for emergency personnel to see you in the flooded waters.
Unbuckle your seat belt.
Unlock the vehicle's doors.
Take off any jackets or outer clothing.
Lower your vehicle's window slowly.
Most electric windows should work unless the vehicle is completely submerged in water.
If you can lower the car's windows, climb out of the vehicle. Get to high ground and call 911.
If the car's windows will not open, you'll have to use a door to get out. But you won't be able to open a door until the water pressure is equalized between the outside and the inside of the car. This means you'll have to wait for water to enter the car and fill up to about your neck level (this sounds terrifying, but this is the only way the doors will open).
Once the doors are open, swim to safety and call 911.
Dont's
Do not panic.
Do not use your energy trying to open the doors because water pressure will keep them from budging (wait for the car to fill with water and the pressure to equalize).
Do not try to save your possessions.
Do not try to break windows to get out. If water pressure has not equalized, glass will explode inward toward you or other occupants.
Once out, do not stay with your flooded car. Get to high ground and be cautious of other cars if you find a road.
Do not stand on the roof of your damaged car. If your car is swept away, you'll be carried away with it. You could also fall and injure yourself if the flooded car shifts abruptly.
Do not return to your flood-damaged car if you think the water level is going down. Water flooding levels could rise without warning. Allow emergency personnel to tow your vehicle to a safe place.
"Flash floods occur when excessive water fills normally dry creeks or river beds along with currently flowing creeks and rivers, causing rapid rises of water in a short amount of time," NOAA states on its website. "They can happen with little or no warning."
Motorists should always bear in mind that it's easy to misjudge the depth of floodwater, particularly at night. Car owners also may not be able to see any other submerged cars in the standing water.
"The single worst decision you can make in a flash flood is driving your vehicle into floodwaters of unknown depth," The Weather Channel warns.
Why? Because, as the Federal Emergency Management Agency states, just 6 inches of water will reach the bottom of most passenger vehicles and cause loss of control and steering, while 1 foot of water can cause many vehicles to float away — and 2 feet of flood water is enough water to carry an SUV or pickup truck away.
Cars.com's Editorial department is your source for automotive news and reviews. In line with Cars.com's long-standing ethics policy, editors and reviewers don't accept gifts or free trips from automakers. The Editorial department is independent of Cars.com's advertising, sales and sponsored content departments.