Cargo Specs: Be Careful What You Compare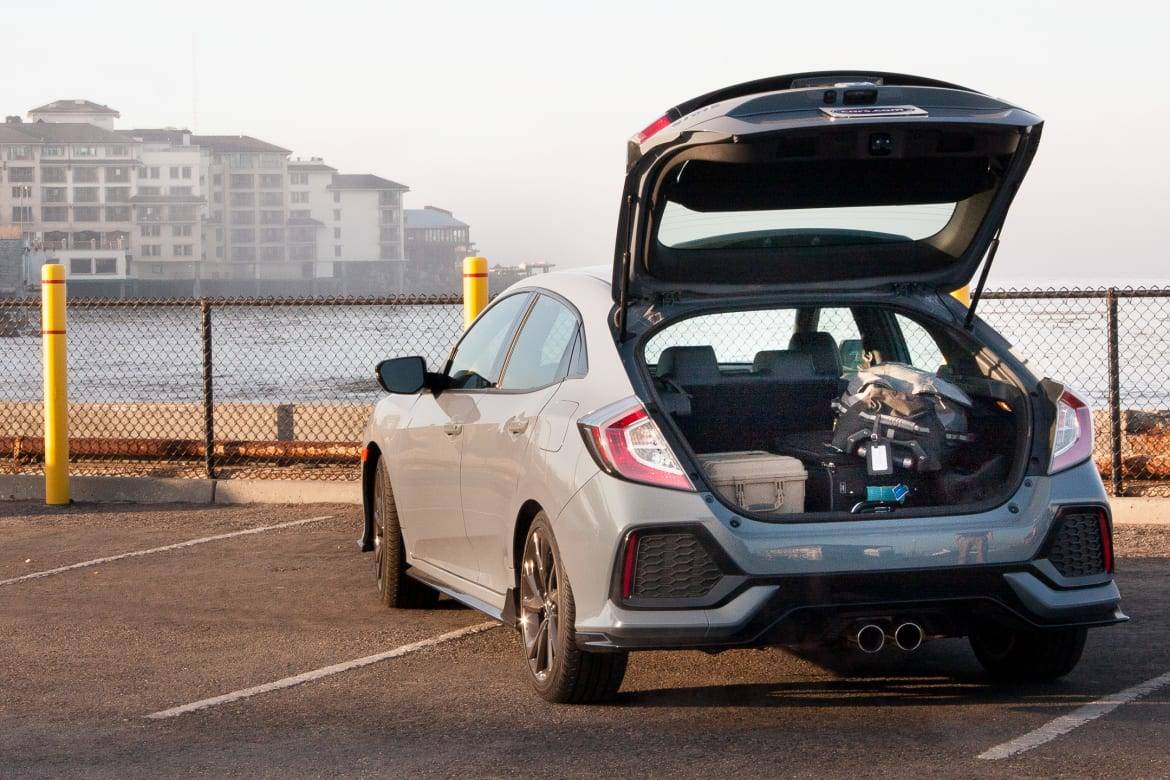 CARS.COM — Comparing cargo specs? Approach with caution. Established methodology measures cargo room, but variances between bodystyles — and automakers — can be significant. Cars.com first reported on this in 2014. In our reexamination three years later, it appears the inconsistencies are alive and well.
Related: Why Cargo Specs Can Stretch the Truth
Take the 2017 Honda Civic. One year into the car's 10th generation, Honda introduced the Civic hatchback, a body style U.S. shoppers haven't seen since the mid-2000s. On paper, the hatch offers utility in spades: Most trim levels have 25.7 cubic feet of cargo volume behind the rear seats. That's up 10.6 cubic feet, or about 70 percent, versus trunk volume in most versions of a Civic sedan.
There's only one problem: You can't compare the two figures.
Under widespread industry practices, the way to calculate cargo volume for open areas in certain vehicles — like you'd find in a hatchback, minivan or SUV — differs from enclosed areas like the trunk of a sedan or coupe. And the two measures are "not in the least comparable," said Brian Shanfeld, a Honda engineer focused on interior packaging.
The disparate methodology isn't Honda's fault, nor is it unique to the automaker.
Why It's Inconsistent
As we detailed in our earlier piece, the difference stems from SAE International's J1100 Motor Vehicle Dimensions, a document that recommends automakers measure cargo volume for enclosed areas with standardized blocks that simulate pieces of luggage. Open areas, by contrast, involve calculations to measure length, width and height.
Those measurements can yield different results — and automakers admit they aren't perfect. For sedan trunks, "the SAE standard calls for you to use a certain set of luggage pieces that come with an equivalent volume score," said Jeff Omichinski, a vehicle architecture manager at Ford. "Depending on what you're able to fit in there, you're going to leave a potentially lot of air space in a cargo area."
The dimensional measurements in an SUV or hatchback's open areas, by contrast, "may or may not be the largest dimensions of any of those directions," Omichinski said. "The length is affected by the seatback angle. You end up with a cube that essentially fits in an empty space. … It could be poking through the backlight glass a bit."
Add it all up, and "J1100 in an open car generally tends to overestimate the usable space," said Chad Harrison, chief engineer of the 2018 Honda Odyssey. But in enclosed compartments, the methodology "generally underestimates the actual usable space."
Automakers aren't required to use it, but Omichinski calls J1100 an "industry-accepted standard" that "does a reasonably good job of setting up a set of standards or rules to operate by and compare each other by."
The Standard Isn't Always Followed
More than once, automakers told us they don't follow the methodology in its entirety. Take trunk volume, which recommends automakers use a set of SAE-specific simulated luggage parcels. Among them are 16 rectangular blocks with handles to represent various standardized suitcases, plus two standardized golf bags and 20 smaller boxes to fill any remaining crevices. J1100 calls for automakers to fill a trunk with the bigger blocks, add the smaller ones to any nooks and ensure the trunk can close freely.
But the practice isn't consistent. Omichinski said Ford's blocks have handles, but Honda and Fiat Chrysler Automobiles told us theirs do not. Shanfeld said it's to stay consistent with Honda's older enclosed-trunk specs, which never used handles.
Measurements for open spaces, meanwhile, have their own variances. Shanfeld says Honda uses the same set of SAE blocks to measure covered storage areas underneath the cargo floor. Honda includes such areas in its characterization of maximum cargo volume even though they're assessed with blocks instead of spatial measurements.
Omichinski said Ford excludes under-floor storage if it's defining cargo volume in SAE terms. But when faced with differences in rivals' methodology, Ford may offer non-SAE cargo specs. "If we're going to report something different, then we're not going to use the SAE definition," he said. "And we'll do our best to try and communicate what this represents."
Varies By Body Style
The body style can also introduce its own variances. J1100 calls for cargo volume in a hatchback to extend to the top of the seatback but to the ceiling in a wagon or "multi-purpose vehicle," Honda added. J1100 stipulates this, but that makes comparisons for consumers between hatchbacks and other body styles another case of apples and oranges.
Indeed, Honda follows this practice for the new Civic hatchback, with cargo space measured to the top of the seatbacks, though it also moves the front seats forward and adds a calculation of floor space ahead of the second row to the total, the automaker said in an email.
The inconsistency isn't lost on GM, it seems. The automaker says its hatchback cargo volumes "for advertising purposes" extend up to the ceiling, much as they do for other body styles — an admitted departure from SAE practice, which the automaker otherwise claims to follow. GM confirmed this practice for the Chevrolet Cruze hatchback, whose reported cargo volume amounts to 24.7 cubic feet behind the backseat and 47.2 cubic feet with the seats folded. The Civic hatchback's numbers are similar (at 25.7 and 46.2, respectively), but how each automaker got there appears anything but.
The Differences Can Be Huge
Methodology differences don't just amount to a cubic foot here or there. They can result in considerable differences on paper. When GM redesigned the Chevrolet Traverse for the 2018 model year, cargo volume measured 98.5 cubic feet behind the first row — a seeming downgrade versus the 2017's 116.3 cubic feet.
GM clarified: The outgoing model fell under an older SAE measurement, spokeswoman Tara Kuhnen told us in February. Its successor uses a new SAE formula. Measured the same way, the 2017 Traverse would have had just 91.8 cubic feet behind the first row — 21.1 percent less on paper if measured the same way as the 2018.
Cars.com asked SAE to review the Traverse's change in volume and discuss J1100, but the organization did not respond to multiple requests for comment.
What's a Consumer to Do?
Approach cargo comparisons with a spoonful of salt, and don't compare numbers between sedans and hatchbacks, SUVs and minivans. When you hit the dealership, bring some tape measure and note depth, width and height for yourself. Or snap a photo of each cargo area with a consistent item — a briefcase or duffel bag, for example — to give perspective. Cars.com's reviews generally show just that, with cargo space involving real-world items like shopping bags.