Cars.com Recommends the 2012 Honda Civic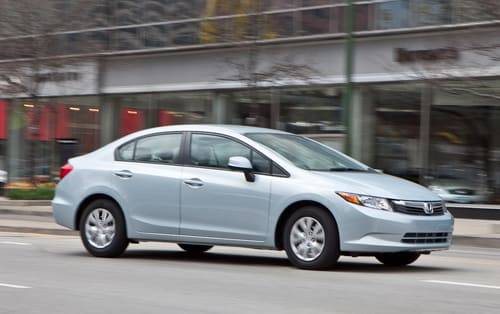 The editorial staff at Cars.com has tested various versions of the 2012 Honda Civic over hundreds of real-world miles, and today, we still recommend the car to consumers.
We recommend it for numerous reasons including its terrific mileage, comfortable cabin, top safety scores, high resale value and a long track record of reliability. When the class is so competitive, these factors are what many car shoppers focus on.
In our review of the 2012 Civic we did note that the interior was a step back from the heights of the 2011 Civic. In terms of ride, the new Civic actually is more comfortable than before, but it sacrifices sporty handling in the process.
In a recent Cars.com Shootout we pitted the Civic — an LX model with 15-inch wheels and tires, which is what Consumer Reports tested — against the redesigned 2012 Ford Focus, 2011 Kia Forte, 2011 Chevy Cruze and 2011 Hyundai Elantra. The Civic came in second to the Elantra and was well-ahead of the rest of the group in our scoring.
It was praised for superb visibility, front and rear seat comfort, and acceleration. "The Civic's automatic is among the group's most responsive," Cars.com editor Kelsey Mays said.
The 2012 Civic, which gets an EPA-estimated 28/39 mpg city/highway, returned mileage of 36.8 mpg in our Shootout mileage test that mixed city and highway driving. It topped the Shootout competitors, besting the Elantra at 34.5 mpg. With gas prices still hovering near $4 nationally, the Civic is one of the most efficient non-hybrid models that can fit five people.
The 2012 Civic has been named a Top Safety Pick by the Insurance Institute for Highway Safety. This is IIHS' highest safety award. The federal government has not yet tested the new Civic.
Consumer Reports with its well-earned history of studying car reliability gave the previous Honda Civic sedan its top score for predicted reliability the past three years, and the 2012 earns a Better Than Average score. No other compact car scores higher with Consumer Reports.
ALG currently rates the 2012 Civic at 58% residual value for a three-year lease. The segment average is 49%. Residual scores directly impact resale values down the line.
While it may have flaws, the 2012 Honda Civic is still one of the best cars in its class and should be on any short list for compact-car shoppers.