Cars.com Recommends the 2012 Toyota Prius c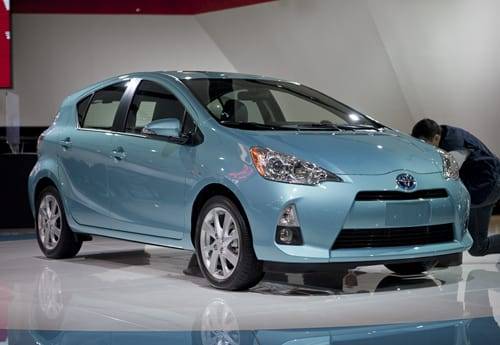 Everyone has the right to their opinion, especially when it comes to evaluating new cars.
But sometimes — only one other time, actually — we have to step in and let car shoppers know we have a different point of view that could impact the car they decide to buy.
Consumer Reports announced Wednesday that it wasn't recommending the 2012 Toyota Prius c due to low scores in the publication's testing. Its final rating of 53 is near the bottom in terms of cars this size; it sits below the Mazda2 and Scion xD, which both received a rating of 60. Consumer Reports does recommend the xD, however. The segment's best rating is 68 for the also-recommended Honda Fit.
CR's low testing scores for the Prius c stand in stark contrast to our impressions of the hybrid.
I stated in my Prius c review, which ran in February, "If value proposition were the 2012 Toyota Prius c's only feat, it would likely still be a sales success, but the mini-Prius is also surprisingly roomy — and has a comfortable ride and an impressive array of standard features."
The rest of our editorial team had similar positive impressions of the car.
Consumer Reports takes to task the advertised low price, stating their test car — a Prius c Two that cost $20,660 (including a $760 destination charge) — is too expensive. But the base model at $19,710 is extremely well-equipped and stands up affordability-wise against similarly equipped traditional subcompact hatchbacks. It beat all of them but the discount-priced Nissan Versa when taking fuel costs into account.
Add the extra $950 for the Two trim level that CR tested and the hybrid still beats the Chevy Sonic and Honda Insight on affordability.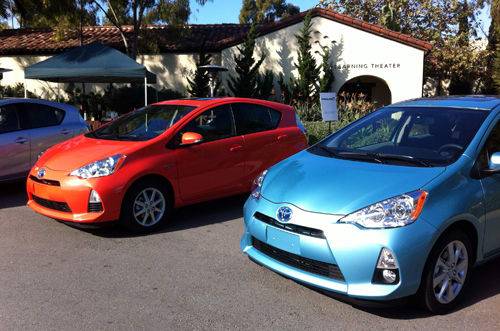 We won't nitpick every point of contention — Consumer Reports says the ride and handling are subpar, and we find them quite good for the segment; everyone differs on interior quality — but we find it odd that CR gives the Prius an overall score of 80 when it makes similar trade offs in areas of ride, noise and comfort versus traditional cars in its price point as the Prius c does.
Consumer Reports also says you'd be better off buying a used Prius liftback versus a new Prius c for the same money because it's a better vehicle.
While we might pick the Prius c over even a new Prius, used prices for the liftback are higher today than at any time in the past six months, according to Cars.com's inventory. This makes it a bad time to buy one on the used market.
The average price of used Prius models from the 2010, 2011 and 2012 model years — the current generation — is $24,128 for the month of May, according to Cars.com data. The lowest price in the past six months was $21,818 in January.
The Prius c gets an EPA-estimated 53/46 mpg city/highway. The Prius liftback gets 51/48 mpg. Both return 50 mpg combined in the EPA testing cycle.
We recently drove the Prius c on a 143.6-mile trip of mostly highway roads in pleasant weather, returning 52.7 mpg at an average speed of 55 mph. CR doesn't argue the Prius c's extreme efficiency, though.
We're not trying to play favorites with Toyota with this recommendation, either. We didn't choose the Corolla as a Best Bet because our editors faulted its driving experience; both the Toyota Highlander and Toyota Sienna also fared poorly in two recent Cars.com Shootouts.
Why isn't the Toyota Prius c officially a Cars.com Best Bet? While it meets the requirements for safety, mileage and editorial judgment, cars must have average or better reliability. We refer to Consumer Reports' annual survey for that requirement and plan on continuing to do so. The Prius c is too new for accurate reliability data, but the publication lists predicted reliability as above average.
Related
Research the 2012 Toyota Prius c
2012 Toyota Prius c Review
More Cars.com Reviews