Cars.com's $16,000 Subcompact Shootout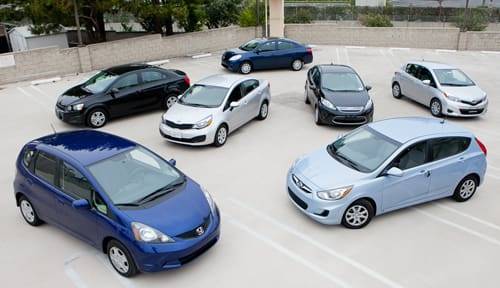 Gas prices are high. Americans are downsizing, and automakers are meeting these needs with a slew of new subcompact cars. Cars.com along with USA Today and MotorWeek chose six recently redesigned subcompacts — and one aging one — for our latest Shootout, and they all had to be priced under $16,000. That might sound like a lot of money, but these are some the most affordable new cars you can buy.
The vehicles in the Shootout are:
2012 Chevrolet Sonic
2012 Ford Fiesta
2012 Honda Fit
2012 Hyundai Accent
2012 Kia Rio
2012 Nissan Versa
2012 Toyota Yaris
Check out the entire Shootout to find out not only which car won the test in surprising fashion, but also which car returned the best mileage and which had the best stereo and iPod integration, and meet the real-life couple who helped us make up our minds.