Cash for Clunkers Two Years Later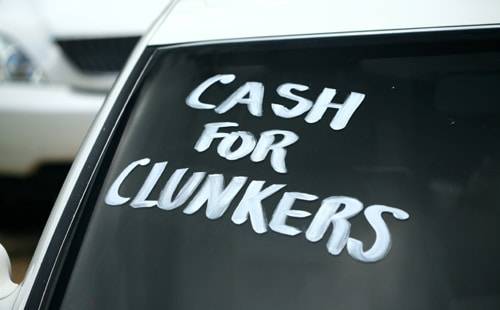 "Obviously a lot of them were junk and deserved to be called clunkers," says Powell, who owns the store his father began in 1933. But a sizable chunk — Ford Explorers and other four-wheel-drivers — were "decent cars," he says. "I think we're paying for it now. Prices for used cars are up, and the cheaper stuff was higher now than it was before."
In the program's aftermath, slashed supplies drove used-car prices up.
Indeed, they still cost more today than in the year before the program, but it's hard to pin that on Cash for Clunkers alone. As many as 13 million new cars weren't bought between 2008 and 2010, a supply disruption that dwarfs Clunkers. It's a point Powell recognizes. Other trends — higher delinquency rates for Clunkers-issued loans and a marked drop in other new-car incentives — have run their course with little effect today, and the program's eventual lease returns and trade-ins won't put much of a dent in used-car prices. Perhaps the ultimate result of Cash for Clunkers was to put nearly 700,000 Americans into more fuel-efficient, safer vehicles more effectively than a regular incentive program.
In summer 2009, it took just 29 days for Cash for Clunkers to burn through nearly all of Congress' $3 billion allocation. The program sent used Explorers, Ford F-150 pickup trucks, Jeep Grand Cherokee SUVs and other low-mpg vehicles to wrecking yards in exchange for $3,500 or $4,500 vouchers toward more fuel-efficient replacements: brand-new Toyota Corollas, Honda Civics, Ford Focuses and the like. Two years later, consider four principal effects:
1. Some buyers made purchases they couldn't afford. Eighty percent of Cash for Clunkers buyers wouldn't have otherwise bought a car over that span, reported a study last year by Maritz Research. Not surprisingly, another study by CNW Market Research found repossession rates among low-credit Cash-for-Clunkers buyers more than double the industry average. Buyer's remorse among Clunkers purchases was five times higher, CNW said. It's one reason James Merriman, general manager of Montgomery Motors in Dallas's suburbs, calls the Cash for Clunkers "a complete fiasco."
"The people who really had these clunkers, most of them weren't qualified to buy a new vehicle," says Merriman, who has worked at the used-car dealership for 40 years. "They were qualified to buy a new[er] used vehicle."
How did banks respond? It's hard to say. Any effects on auto-loan credit have since subsided, in part because car sales loosen credit. Peter Turek, automotive vice president at TransUnion, says that until Cash for Clunkers, recession-wracked banks were issuing car loans only to high-credit buyers, but loans became easier to get in the months after the program. TransUnion reports that in the two years since Cash for Clunkers, delinquencies have declined to historic lows.
"Lenders had money to lend, and people started feeling a little bit better about themselves, so we did have a slight uptick in car sales as well as auto loans," Turek says. "It may be coincidental that it started happening right around Cash for Clunkers, but that's kind of what we see."
What it means to you: A $4,500 trade-in voucher sounded great at the time, but it didn't take many months for the car payments to add up. Like any incentives program, Cash for Clunkers saddled some car shoppers with payments they defaulted on. Discounts are good, but make sure you can afford what you buy no matter the size of the incentive.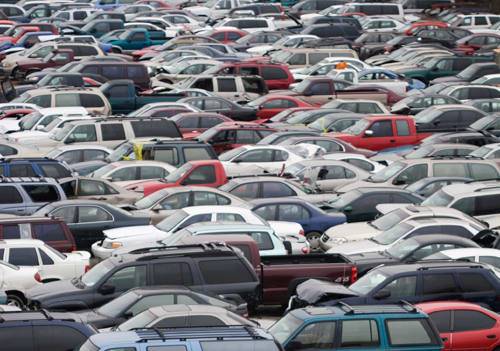 2. Used-car prices went up — a little. Cash for Clunkers took a lot of certain models off the road: about 91,000 Explorer and Grand Cherokee SUVs, for example, and 51,000 F-Series pickups. In the six months that followed, used truck prices rose as much as 16.2 percent beyond year-before levels, Automotive News and ADESA, an automotive auction firm, data show.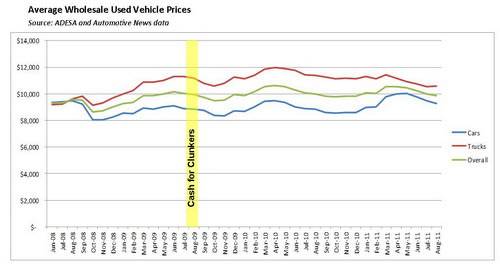 "When the program ran, the volume of vehicles [it took off the road] was large, but in the bigger picture, it wasn't that big," King says. "Yes, it took used vehicles off the market, but we're talking about older, higher mileage vehicles, and a lot of them were near the end of their life anyhow."
Since then, prices have come back down. Today's average wholesale price for a used car is actually $68 less than it was two years ago.
Montgomery Motors' Merriman described inventory shortages as short-lived. "I really haven't felt any of the effect of it," he says. "It slowed down some of our inventory for a month, maybe six weeks."
What it means to you: Cash for Clunkers took a lot of pickups, vans and SUVs off the road, but in the scheme of things, it deserves only slight blame in higher used-car prices, which are cooling off today. If you want the sort of cars Clunkers hit hard, they remain in good supply. As of this writing, Cars.com's national inventory has 760 late-1990s Explorer SUVs and more than 2,200 late-'90s F-Series pickups.
3. Cash for Clunkers put shoppers into safer cars and raised fuel efficiency more effectively than a normal incentive program. Ford's second-generation Explorer SUV (1995-2001), 10th-gen F-150 pickup (1997-2003) and first-gen Windstar minivan (1995-98) were among the top clunkers turned in. So was Dodge's third-gen Caravan/Grand Caravan minivan (1995-2000) and Chevrolet's second-gen Blazer SUV (1995-2005). Together, those five models accounted for nearly 100,000 Cash for Clunkers trades.
By today's standards, the group offered dubious safety. None were side-impact tested by the Insurance Institute for Highway Safety. It's not likely their scores would have been good since all but the Explorer lacked side-impact airbags. Electronic stability systems, which didn't proliferate until the 2000s, were absent across the board. The Grand Caravan received a score of Marginal in IIHS front crash-tests, while the Blazer and F-150 scored Poor, the lowest rating possible. When the National Highway Traffic Safety Administration began issuing rollover ratings, the Explorer and certain F-150 variants received two out of five stars. Two-wheel-drive Blazers earned just one star.
What a difference the switch made. The top five purchased models were the 2010 Toyota Corolla and Camry, the 2009 Honda Civic, the 2009 Ford Focus and the 2009 Hyundai Elantra. All five cars had at least six airbags, and the Corolla, Camry and Civic earned top front- and side-impact IIHS scores. (The Elantra, an exception, had low side-impact scores.) Electronic stability systems were optional on the Elantra, Focus and Civic and standard on both Toyotas. NHTSA gave all five cars a four-star rollover rating.
As intended, gas mileage spiked. NHTSA estimates the average traded vehicle got 15.8 mpg. Prompted by voucher requirements, its replacement averaged 24.9 mpg, a 58 percent improvement. Had the Explorer, F-150, Blazer and Grand Caravan buyers swapped for new (2009) equivalents, the uptick in fuel efficiency with four-wheel drive and base drivetrains would have been (hold your breath) 1 percent. Even if the Explorer and Blazer owners had switched to crossover alternatives in 2009, the mileage improvement would have been 22.5 percent. That's less than half the Clunkers' improvement.
What it means to you: If you bought a car under Cash for Clunkers, you likely have a much safer vehicle than the one you traded in. You certainly have a more fuel-efficient car, and a conventional incentive program may not have rendered that. Clunkers had its share of problems, but moving that many buyers from trucks and SUVs into cars was no easy feat — and it's one for which the program deserves credit.
4. Cash-for-Clunkers cars could help bring used-car prices down in 2014 and beyond, but not by much. In 2010, owners kept their vehicles an average of 63.9 months, a report from R.L. Polk & Co. found. That suggests car shoppers could see an influx of fuel-efficient cars — by today's standards, anyway — hitting the used market in late 2014, with off-lease Clunkers cars relieving low inventories of certified pre-owned cars as soon as next year, right?
Wrong. It would take a concentrated influx of trade-ins — all Cash-for-Clunkers purchasers would have to swap in their cars during a six-month period in 2014 — to drive down used-car prices. Given that the Maritz study found more than 60 percent of Clunkers-participating respondents plan to drive their cars into the ground, the odds of a massive trade-in effort are virtually zero.
Clunkers cars "may create a small variation" in the used-car supply, J.D. Power's King says. "But I think, truth be told, it will be smoothed out and almost invisible by then. And the reason is that, yes, consumers generally keep their vehicles for a certain period of time, but there's a pretty bell-shaped curve. You'll get some consumers bringing their cars back in three years, some back in four, some back in five or six."
Leased vehicles, which dealers often refurbish and sell as certified pre-owned cars, offer a more predictable timeline: After a set period, they have to be turned in. But the U.S. Transportation Department didn't break out Cash-for-Clunkers leases, spokeswoman Karen Aldana says. Leased cars are often pricier, but the program capped purchases at $45,000 — less than the base price, at the time, of a BMW 5 Series. Unsurprisingly, less than 1 percent of Clunkers purchases came from a luxury brand.
Another wrinkle: Cash for Clunkers required qualifying leases to be five years or longer — far more than the customary three-year lease that makes an ideal certified pre-owned candidate. About half of all brands cap their certified pre-owned programs at five years or newer, which would deep-six a Clunkers lease altogether.
What it means to you: Don't count on Cash for Clunkers trade-ins to alleviate today's high used-car prices. The good news, however, is used-car prices appear to be falling on their own. In the past five months, average wholesale used-car prices dropped at least 6.5 percent versus the prior year. Look for bigger factors — like lower industry-wide sales of inexpensive, efficient cars following last April's Japan earthquake — to affect used-car prices in years ahead.