Catalytic Converters Are the Cadillac of Car Components for Thieves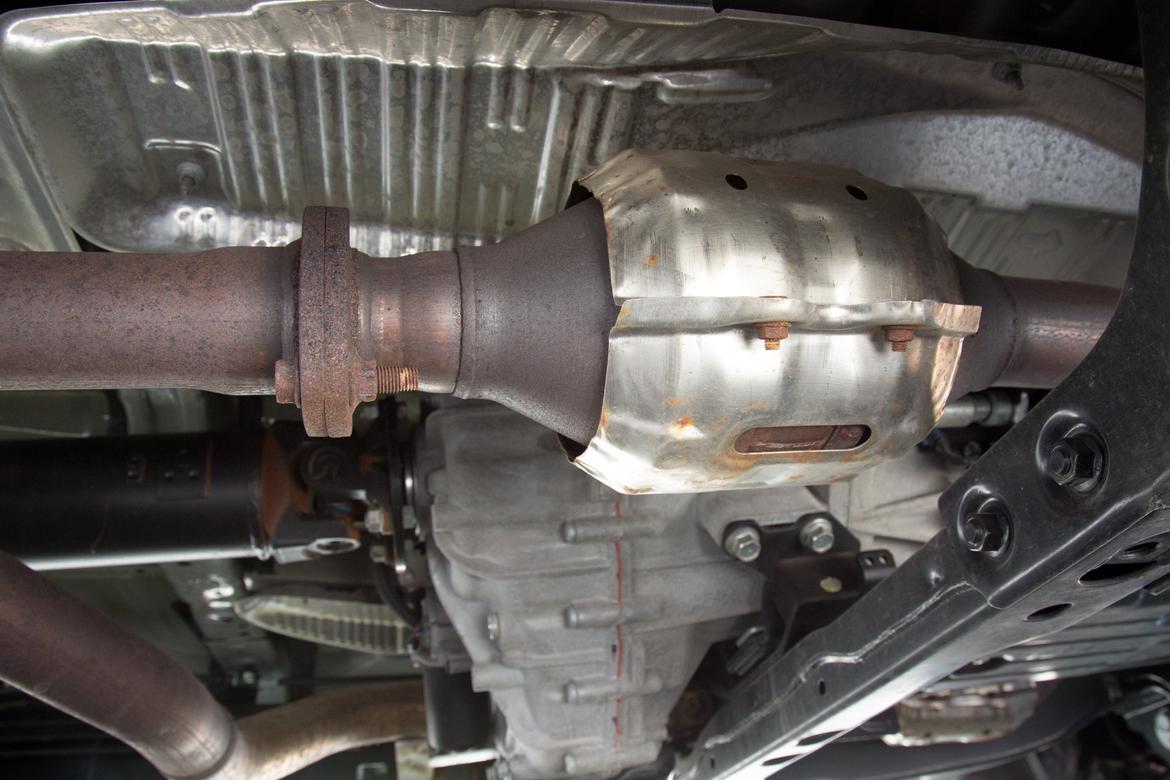 CARS.COM — The National Insurance Crime Bureau is clearing the air on the latest trend in car-component theft: catalytic converters. The crime-stats crunchers at Illinois-based NICB examined insurance claims and determined that 25,394 catalytic converter thefts were reported nationwide during the past eight years, rising from 3,246 thefts in 2008 to nearly 4,000 in 2015 — an almost 23 percent spike.
Related: Auto Theft Evolves As Cars Get Harder to Steal
"Why should that concern me?" you might ask. "I don't even know what that is." The catalytic converter is a crucial part of your car's emissions system and changes environmentally damaging pollutants in the exhaust stream into more benign gases.
On a statewide basis, the theft rate of catalytic converters largely reflects how populous a state is, California leading the nation by a massive margin with 8,072 thefts during the period measured. The Golden State is followed by Texas (1,705 thefts) Illinois (1,605) Ohio (1,439) and Georgia (1,215).
The top 10 U.S. cities for catalytic converter theft, followed by the number of incidents reported from 2008 to 2015, are:
10. San Antonio, 215
9. San Diego, 216
8. Stockton, Calif., 335
7. Dallas, 337
6. Phoenix, 347
5. Indianapolis, 353
4. Atlanta, 407
3. Los Angeles, 550
2. Sacramento, Calif., 850
1. Chicago, 980
According to NICB researchers, the vast majority of catalytic converter thefts — more than 80 percent — are from personal vehicles, versus less than 20 percent for commercial ones. On a monthly basis, July is the most popular period of the year for catalytic converter thieves and Monday is their busiest day of the week.
But now you might find yourself asking: "Until just a few paragraphs ago, I didn't even know what a catalytic converter was — who would want to steal one?" The answer: Scrap-metal scavengers. Catalytic converters can be converted to cash through legally operating scrap-metal operators unwittingly recycling stolen components brought to them by thieves, NICB explained. The converters contain a small amount of one of three precious metals: platinum, palladium or rhodium. Converters can fetch $20 to $240 a pop and NICB estimates that a motivated thief can swipe as many as 15 in a day.
"They often target sport utility vehicles because their ground clearance is sufficient for the thief to gain access to the converter without having to deploy a jack. And that saves time," NICB stated. "While the replacement of a catalytic converter alone may be relatively inexpensive, many times vehicles are significantly damaged in the theft process, making repairs much more costly."
NICB recommends the following precautions against catalytic converter theft:
Etch the component with your vehicle identification number or purchase an aftermarket security device.
Secure the converter to the vehicle frame with additional welding (but first be certain that this won't void your warranty).
If possible, park in well-lit areas that are close to the entrance of buildings or shopping centers.
New anti-theft technologies such as immobilizers, smart keys and location tracking devices are making modern cars all but impossible to steal via traditional theft methods. As a result, the incidence of vehicle theft nationally has sharply declined over the past decade. Auto thieves, meanwhile, have either turned to new and innovative methods, or simply turned to swiping the parts they can still get their hands on and selling them.