Ch-Ch-Changes: 2008 Nissan Sentra Drops Manual Base Model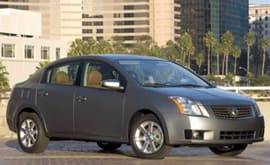 Nissan announced prices for the 2008 Sentra compact sedan today. The Sentra was completely redesigned in 2007, so we wouldn't expect any major revisions in the 2008s. There are two noticeable changes, however: First, Nissan has discontinued the manual version of the base Sentra 2.0, so the starting price for any Sentra goes from sub-$15,000 to $15,750, not including a $625 destination charge.
The other major change is that antilock brakes are now standard instead of a $600 option on the 2.0 S trim level. That absorbs most of the small price increases, roughly $300, but the SL, SE-R and SE-R Spec V receive similar price bumps without adding such a significant feature. Full pricing is below.
Sentra 2.0   CVT: $15,750
Sentra 2.0S M/T: $15,980
Sentra 2.0S CVT: $16,780
Sentra 2.0SL CVT: $18,680
Sentra SE-R CVT: $19,680
Sentra SE-R Spec V M/T: $20,180
$625 destination charge not included
Related
More Nissan Sentra News (KickingTires)
2007 Nissan Sentra Expert Review (Cars.com)