Chevy Volt To Pack Energy-Efficient Bose Stereo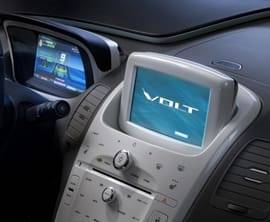 The 2011 Chevrolet Volt will have an optional ultra-efficient Bose stereo that uses 50% less energy than an equivalent Bose system in a similar-sized car, Chevy says. Using a smaller amplifier, lighter speakers and unique circuitry to connect the components, the system — dubbed Bose's Energy Efficient line — is also 30% smaller and 40% lighter, a Bose official said. Naturally, Bose says sound quality remains top-notch. We'll have to hear it in the Volt before we know for sure.
Using this system instead of the Volt's base stereo nets the efficiency equivalent of 50 pounds' mass reduction, vehicle line executive Frank Weber said. Though a regular stereo obviously doesn't weigh that much, the new unit's efficiency gains are reportedly equivalent to reducing the Volt's weight that much.
"You have to manage this electricity budget milliwatt by milliwatt," Weber said. Anything that uses juice — cabin lights, power windows and the stereo, for example — taxes the car's lithium-ion battery and affects the targeted 40-mile electric-only cruising range. Weber said GM engineers are getting 40 miles of electric cruising regardless of city or highway speeds, which sounds promising. Anything that taxes the system, including A/C usage, affects the range.
A/C usage affects the efficiency of regular cars, too. So does hilly driving, quick acceleration and a host of other actions, so until we get some seat time, we can't report on the effects on electric range of driving style and equipment usage.
Another issue: Efficient as it may be, there's no hard data to quantify the Bose stereo's effects; Chevy won't adjust the Volt's 40-mile electric range based on what stereo it has. We asked Weber if the stereo would create any real-world increase in the Volt's range, and he demurred: "You have to look at [all the Volt's components] holistically and you will see the difference," he said.
The situation is not unlike Toyota's, which couldn't quantify the efficiency gains for the new 2010 Prius' optional solar-panel moonroof. It helps with overall efficiency, the company said, but there isn't any gas-mileage increase to measure how much. (A Toyota spokesman put the onus on the Environmental Protection Agency, which only rates gas mileage for additional trims if they have different drivetrains. To be fair, though, you could say the same thing for everything from roof racks to larger wheels: All could affect mileage slightly, but if the EPA rated every possible mileage-affecting option, you'd have dozens of ratings for one car.)
There's no word on whether Bose's new system will make its way into other green cars, but we wouldn't be surprised to see it in GM's other hybrids in the not-so-distant future given the company's longtime relationship with Bose. The Prius, on the other hand, probably won't get it anytime soon. Most uplevel Toyota and Lexus stereos — including the one in the 2010 Prius — are from JBL, a brand made by Bose-rival Harman International.