Chevy Volt Tops in Owner Satisfaction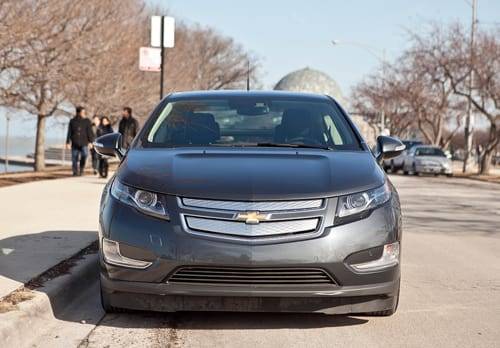 In its annual owner satisfaction study, Consumer Reports admits that it's dominated by fuel-efficient vehicles and sporty ones. These two types of owners seem the most satisfied with their purchase versus buyers of more traditional or practical ones.
The Volt had the highest satisfaction rate with 93% of owners saying they'd buy it again. Consumer Reports says its study was composed of 314,000 responses from subscribers with vehicles from the 2009 through 2012 model years. Because the Volt has sold in such small quantities for such a short time its high score should have a few asterisks attached to it.
The study also focuses on just one premise: Would you buy this car again?
It doesn't take into consideration reliability or other issues covered in other CR studies.
Overall, domestic automakers dominated most segments of the study, taking the top spot in eight of 10 segments surveyed. However, domestic makes also took the lowest scoring title in seven out of 10 segments.
Check out the full lists below.
Small Cars
Best: Chevrolet Volt: 93%
Worst: Chevrolet Aveo: 37%
Small SUVs
Best: Ford Escape Hybrid: 75%
Worst: Jeep Liberty 53%
Coupes & Convertibles
Best: Chevrolet Corvette: 89%
Worst: Lexus IS C: 65%
Sporty Cars
Best: Dodge Challenger, Porsche 911: 91%
Worst: Kia Forte Koup: 65%
Family Cars
Best: Toyota Prius: 85%, Ford Fusion Hybrid 85%
Worst: Chevrolet Impala: 53%
Wagons & Minivans
Best: Volkswagen Jetta SportWagen TDI: 81%
Worst: Kia Sedona: 56%
Midsized SUVs
Best: Jeep Grand Cherokee: 77%
Worst: Dodge Journey: 50%
Pickup Trucks
Best: Ford F-150 EcoBoost: 84%
Worst: Chevrolet Colorado: 47%
Luxury Cars
Best: Lincoln MKZ Hybrid: 89%, Lexus CT 200h: 89%
Worst: Buick Lucerne: 61%
Large & Luxury SUVs
Best: Ford Flex EcoBoost: 86%
Worst: GMC Acadia: 62%