Distracted Driving Campaign Targets 'Big Fat Myth' of Hands-Free Safety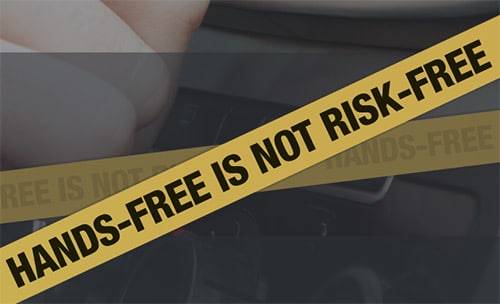 Safety advocates want motorists to pay attention to the dangers of distracted driving. As April is designated Distracted Driving Awareness Month, the century-old Itasca, Ill.-based National Safety Council has released a new poll showing that 80 percent of drivers across the U.S. believe hands-free devices are safer than using a handheld phone while behind the wheel. The group believes this not to be the case. Meanwhile, among motorists reporting using hands-free devices while driving, 70 percent said they do so for safety reasons.
"While many drivers honestly believe they are making the safe choice by using a hands-free device, it's just not true," said David Teater, the NSC's senior director of transportation initiatives. "The problem is the brain does not truly multitask. Just like you can't read a book and talk on the phone, you can't safely operate a vehicle and talk on the phone."
Confusing matters, NSC says, many states have laws prohibiting the use of handheld cellphones while driving, though no state has yet banned the use of hands-free devices. Likewise, automakers continue to incorporate hands-free communication technologies into their vehicles. NSC fears this sends a dangerous mixed message to drivers that the availability of and lack of restrictions on hands-free devices means they're safe; certain statistics show the opposite, linking thousands of deaths each year as a result of cellphone use while driving.
To help spread the word on distracted driving, NSC has compiled these facts to show the dangers: About 100 people die in car crashes every day; 90 percent of car crashes are caused by driver error; and 26 percent of all car crashes involve mobile-phone use, including hands-free devices, which at any moment are being used by 9 percent of drivers.
With regard to what NSC calls the "big fat myth" of multitasking, activity in the area of the brain that processes moving images decreases by as much as one-third when listening to talking on a phone, and drivers looking out the windshield miss as much as 50 percent of what's around them due to a narrowing of their field of view, NSC reported. Concerning emerging technologies, NSC reports that new studies show using voice-to-text is actually more distracting than typing texts by hand.
Underscoring those eye-opening stats, the U.S. government's official distracted-driving website, Distraction.gov, calls the practice "a dangerous epidemic" that in 2012 alone resulted in 3,328 driving deaths. The problem is of particular concern among teens and young people — 71 percent have composed and sent text messages while driving, and 78 percent of whom have read messages, according to the National Highway Traffic Safety Administration.
To take the NSC's pledge not to engage in distracted driving, click here.
NSC image