Dodge Demon May Not Be a Slam Dunk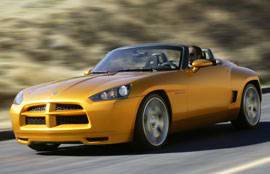 In a consumer focus group held by CNW Marketing Research, Dodge's Demon concept — the automaker's possible answer to the Miata and Solstice — scored an 8.6 on a scale of 10, and only 20% of those polled said they would consider buying one, maybe as a second car.
If Dodge has hopes of taking on the Miata, Solstice and Sky roadsters, it had better head back to the drawing board. 
In the same focus group, the Carver, a two-seat enclosed motorcycle to be manufactured in England and perhaps sold in the U.S., scored a 9.6 out of 10, even after consumers were told it would start at $50,000 if sold here. It's one major drawback: no air conditioning, though the top is removable for cycle-like motoring.
Also, the research group said more women than men favor buying vehicles with manual transmissions. The reason: women favor a manual for high mileage and lower initial purchase price, while men who favor manuals want one for performance driving. It seems there are more frugal women than speed-demon men out there.
Related
Cars.com Video: Driving the Dodge Demon (KickingTires)
Dodge Demon Concept (KickingTires)