Dodge Expects V-6 to Power Almost Half of Challengers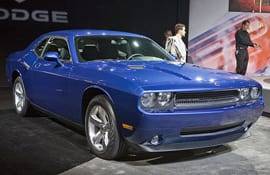 Spurred by high gas prices, Dodge unexpectedly sped the introduction of a V-6 version of the 2009 Challenger, a model that could account for 40% or more of Challenger sales. The Challenger SE, powered by a 3.5-liter V-6, joined the much-anticipated 2009 Challenger R/T — which uses a 5.7-liter Hemi V-8 — on stage at the New York auto show. Come fall 2008, those versions will join the current Challenger SRT8, which has a 6.1-liter version of the Hemi V-8 and is the sole trim level available as a 2008.
While Dodge expects the R/T trim level to be the volume seller, Bryan Zvibelman, Chrysler Group's manager of car, minivan and truck product communications, says the model's appeal is broad enough to attract buyers who are less interested in speed. "The look of the car is a big part of its appeal, and people will be happy to have that for just over $20,000," he said. That rough price refers to the base SE trim level; the SRT8 stickers for $37,320.
Zvibelman said he expects V-6 Challenger sales to follow the class, which is most directly illustrated by the Ford Mustang. The V-6-powered base Mustang historically has comprised 40% of sales, with the balance opting for the V-8-powered GT and other special editions based on it, such as the Mach 1 and Bullitt. Where the Mustang offers five-speed manual and automatic transmissions with both engine sizes, the Challenger SE will come only with a four-speed automatic.
Though it's one gear shy and weighs a few hundred pounds more, the Challenger SE is estimated to get 18/25 mpg city/highway, versus the base Mustang's 16/24 mpg. The manual Mustang V-6 is rated at 17/26 mpg.