Drowsy Driving a Far Greater Danger Than Thought, Study Shows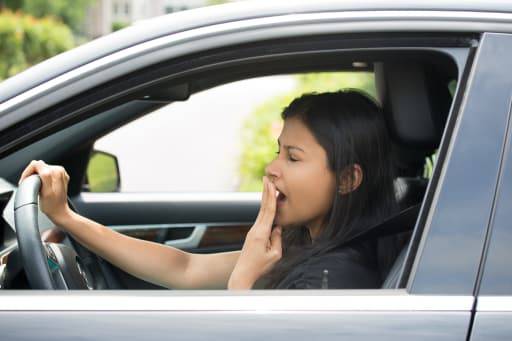 CARS.COM — It's no secret that Americans don't get enough shut-eye. While getting quality sleep in sufficient amounts plays a vital role in cognitive functioning, only about 35 percent of drivers in the U.S. report getting the recommended seven-hour minimum recommended daily.
Related: Study: Phones Aren't the Only Things Distracting Drivers
Tired driving appears to be a more serious problem that previously thought, according to a new report from the AAA Foundation for Traffic Safety. The research, unveiled this week, reveals the percentage of crashes involving drowsy drivers is nearly eight times higher than federal estimates that indicate fatigue accounts for only 1 or 2 percent of crashes.
Gauging whether a driver is impaired by alcohol is much easier than pinpointing a sleepy driver, making it one of the most underreported traffic safety issues, according to AAA.
The new evidence tying tired driving with more accidents was unearthed in AAA's Second Strategic Highway Research Program's Naturalistic Driving Study. Researchers monitored nearly 3,600 drivers for several months via dashcams and recorded about 700 traffic crashes, according to AAA.
Studying how many seconds that drivers' eyes were closed during the 3 minutes leading up the crash, researchers concluded that drowsiness was a factor in nearly 10 percent of all crashes, and nearly 11 percent of more serious accidents in which major property damage occurred.
It seems American drivers are well aware of the dangers of driving while sleepy, but millions continue grabbing the car keys without enough rest. AAA statistics show 96 percent of drivers reported tired driving as "unacceptable behavior," yet still nearly a third of respondents admitted to having trouble keeping their eyes open at least once while driving during the past 30 days.
Loading up on caffeine or blasting the air conditioning are only quick-lived solutions to feeling tired behind the wheel. The only antidote to drowsiness is sleep, said William Van Tassel, AAA's manager of driving training. "Short-term tactics like drinking coffee, singing or rolling down the window will not work," Van Tassel said. "Your body's need for sleep will eventually override your brain's attempts to stay awake."
The most common symptoms of being too tired, according to experts, are:
Drifting in and out of your lane
Difficulty keeping your eyes open
Driving in a trance-like state, not remembering the past few miles driven
AAA reminds drivers to:
Avoid heavy foods and medications that could cause drowsiness before driving
On longer road trips, schedule breaks every 100 miles
Travel with a passenger who can take turns driving whenever possible
Don't be afraid to pull over (in a safe spot) for a quick power nap
Want to know if your medications or supplements could affect your performance behind the wheel? The AAA Foundation offers Roadwise Rx, a free online service that warns drivers about potential interactions that could affect safety.
Cars.com's Editorial department is your source for automotive news and reviews. In line with Cars.com's long-standing ethics policy, editors and reviewers don't accept gifts or free trips from automakers. The Editorial department is independent of Cars.com's advertising, sales and sponsored content departments.