First Look: 2010 Acura ZDX, On Sale This Winter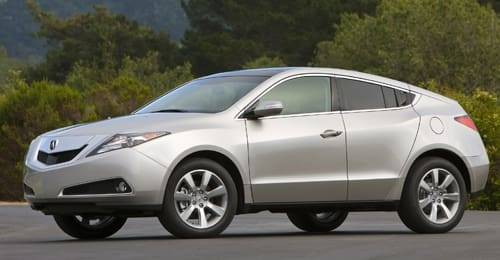 Acura's new ZDX crossover will go on sale this winter, the automaker announced today. It also unveiled the first images of the production version, seen in the photos above and below.
The styling of the production version is almost identical to the prototype we saw at April's New York auto show. However, we're not sure why Acura made the door panel gaps so pronounced, even extending them across the top of the vehicle. It makes it look a bit like a jigsaw puzzle. 
The ZDX will feature a 300-hp V-6 and Acura's new six-speed automatic transmission, as well as standard all-wheel drive. Nineteen-inch wheels are also standard; as the company points out, they're the largest in the Acura lineup.
We also get a glimpse of the interior, which looks very similar to the redesigned TL sedan in terms of scalloped dashboard. The ZDX seats five, unlike the BMW X6, which forgoes a fifth seat in the rear for a cargo compartment.
Speaking of cargo, the ZDX offers up some surprises because it doesn't pack a normal SUV silhouette. The side panels in the cargo area can be removed so longer items like golf bags can fit across.
Acura says the ZDX will go on sale this winter and will be priced between the $40,990 MDX SUV and the $46,830 RL sedan.