First Official Pictures: 2012 Chevrolet Aveo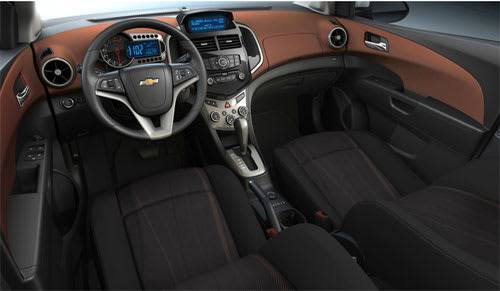 &&&&&EMBEDDED_ELEMENT_START&&&&& {"id":1420668665744,"originalName":"2015_03_04_17_01_41_002_http___blogs_cars_com__a_6a00d83451b3c669e201310f30d724970c_800wi","name":"MMS ID 48091 (created by CM Utility)","URI":"/89/-1535998391-1425510101989.","createDate":"2015-03-04 05:01:42″,"metadata":{"AUTHOR":"automatic-content-migration","KEYWORDS":""},"href":"https://www.cstatic-images.com/stock/1170×1170/89/-1535998391-1425510101989.","description":"Came from https://www.cars.com/.a/6a00d83451b3c669e201310f30d724970c-800wi","externalid":"48091″,"updatedby":"cmuadmin","updateddate":1425511422554,"associations":{}} &&&&&EMBEDDED_ELEMENT_END&&&&&
Last month, GM showed off the Chevrolet Aveo RS at the Detroit auto show as a sneak peek of the upcoming compact car. Here are the first official photos of the production version.
The Aveo, whether in sedan or hatchback form, has been a source of cheap wheels for car shoppers for years, but the new Aveo looks to be a significant upgrade in style and materials. Chevrolet wants to make it something more than just an affordable choice. The design of the sedan shown here is sharp, with a handsome front end that offers something on par with Ford's new Fiesta. The interior — shown in images below — looks to follow the trend of the Chevy Equinox in terms of improved materials and design. The offset analog tachometer and digital speedometer are unusual.
It's too early to know how the new Aveo will be priced, but from what we see here, the new Aveo looks much better positioned to challenge models like the Honda Fit, Nissan Versa and the upcoming Fiesta.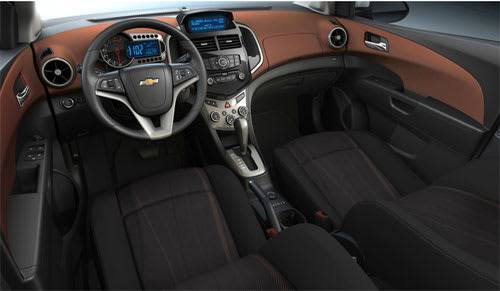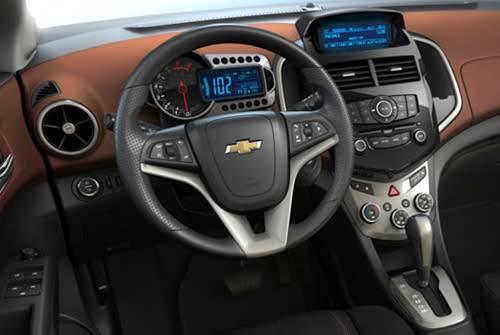 Chevrolet Aveo RS: Up Close
Chevrolet Aveo RS: Video