Ford Escape Again Walks Away With 'Most-Stolen' Title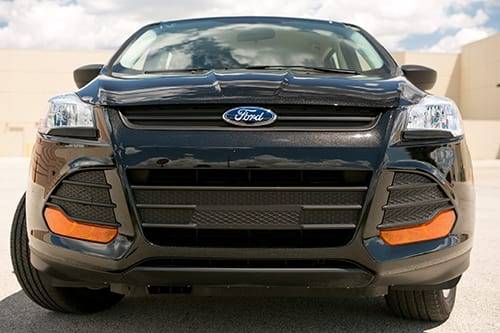 As stolen SUVs go, crooks are still most likely to abscond with the Escape. Once again, the Ford Escape topped the National Insurance Crime Bureau's list of most-stolen SUVs and crossovers. The Des Plaines, lll.-based nonprofit today released the 2014 SUV hot list, which examines model-year 2011-13 SUV and crossover thefts that occurred between Jan. 1, 2010, and Dec. 31, 2013.
Ford Escape Tops List of Most-Stolen SUVs
According to the NICB, a total of 21,711 SUVs and crossovers were reported stolen in that time; that's up from just less than 20,000 on the list released in February 2013. The consistently coveted Escape did its share in making up the difference in the increase. At 1,421 thefts, the Escape logged 407 more thefts than reported in the 2013 list, a nearly 29 percent spike. Ford also dominates the balance of the top three, with 1,140 Edge thefts and 958 Explorer thefts.
It comes as little surprise that four of the top five states for SUV theft also happen to be the four most-populous states in the U.S. — more people, more vehicles to steal. California led the pack, reporting 3,531, followed by Florida (1,897), Michigan (1,834), Texas (1,686) and New York (1,577). When examined by states' large metropolitan areas, New York-Northern New Jersey-Long Island posted the most thefts (2,520), followed by Detroit-Warren-Livonia (1,701) and Los Angeles-Long Beach-Santa Ana (1,300).
So does your vehicle make the cut with criminals? Here are the top 10 most-stolen SUVs and crossovers, followed by the number stolen:
1. Ford Escape, 1,421
2. Ford Edge, 1,140
3. Ford Explorer, 958
4. Jeep Grand Cherokee, 912
5. Kia Sorento, 725
6. Chevrolet Traverse, 720
7. Nissan Rogue, 695
8. Honda CR-V, 688
9. Toyota RAV4, 665
10. Chevrolet Equinox, 648
Cars.com photo by Evan Sears