Ford Flex Fridge: Have Sushi, Will Travel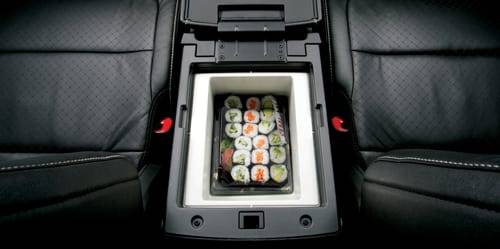 Ford did it. It's done. The in-car refrigerator has arrived in the 2009 Flex, and with it a new world in which you will not get sick from the sushi you bought the day before and forgot about.
As a $760 option, Ford isn't simply giving you a plastic compartment cooled by the air conditioner, which can drop the temperature of a beverage perhaps 20 degrees. No, this is an honest-to-goodness refrigerator that uses a compressor to create chilled liquid that can lower the temperature of a beverage 41 degrees in two and a half hours. It also has a freezer option that can chill to 23 degrees Fahrenheit.
The compartment is small — capable of holding seven 12-ounce cans, four half-liter bottles or two orders of vegetable maki — but the utility is also evident. For drivers who live in hot climates, it might save a gallon of ice cream on the way back from the store or allow drivers to run other errands while keeping raw meat at a safe temperature.
What do we want next? The in-car microwave.