Ford to Offer Diesel F-150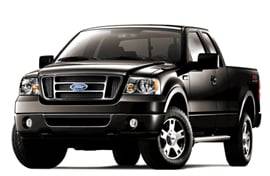 Ford will offer a diesel engine for its light-duty F-150 pickup, likely around 2008, according to a former Ford executive in Automotive News earlier this week. The engine will come from Land Rover's diesel-powered Range Rover in Europe. It's a 3.6-liter turbodiesel V-8 that makes 267 hp and 472 pounds-feet of torque in the Range Rover – and it helps the Rover get around 31 mpg on the highway.
This marks the first U.S. light-duty pickup truck to have a diesel engine, according to Automotive News. Those who tow covet diesels for their prodigious torque and massive pulling power, and most heavy-duty pickups – like the Ford F-250/350 and the Chevy Silverado 2500/3500 – offer them. Light-duty pickups typically have regular gasoline V-8s with less torque and towing capacity. To get a sense of how diesels affect things, compare Ford's F-350 with a regular gasoline V-10 to a diesel V-8:
2007 F-350 6.8L V-10: 362 hp, 457 lbs.-ft. of torque
Max towing capacity (4.1 axle, dual rear wheel): 13,100 – 14,100 lbs., depending on cab style
2007 F-350 6.0L V-8 (diesel): 325 hp, 570 lbs.-ft. of torque
Max towing capacity (4.1 axle, dual rear wheel): 15,000 lbs., all cab styles
The brawniest F-150 uses Ford's 5.4-liter V-8 to make 300 hp and 365 pounds-feet of torque, and it can tow up to 10,500 pounds. Since torque has greater impact on towing than horsepower, it's likely the diesel F-150 will tow considerably more.
[Ford Will Offer Diesel in F-150, Automotive News – registration required]