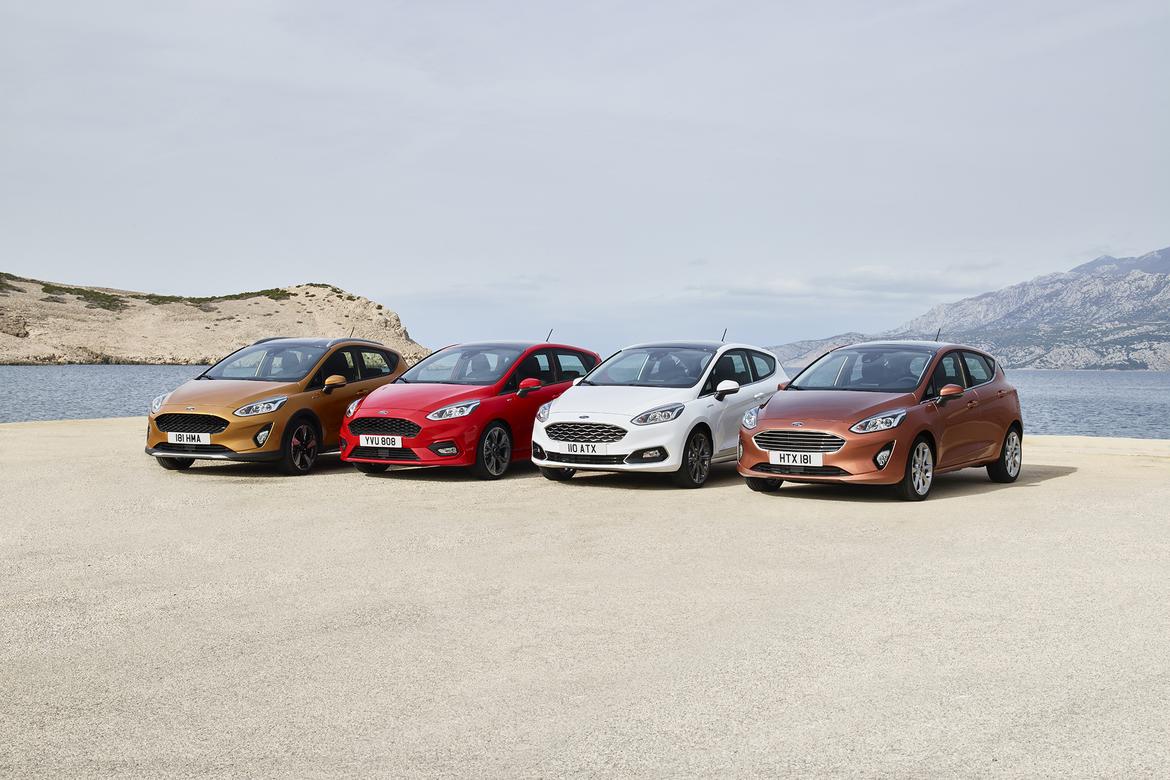 CARS.COM — At an event in Germany, Ford unveiled the next generation of its global Fiesta subcompact, but it's unclear when, or even if, the car will hit U.S. showrooms. The new Fiesta combines a lot of styling cues from the current generation with a similar interior to the EcoSport subcompact SUV, which Ford just introduced for the U.S. market. That's not surprising, since the two cars have historically shared the same platform.
Related: 2018 Ford EcoSport Video Review
Like its predecessor, the Fiesta still wears a prominent six-sided grille below its headlights, though the grille's raised midpoint makes for a less hexagonal outline. The headlights are the same general shape, but they get some snazzy three-dimensional LED piping that recalls the prior-gen Hyundai Elantra. The bumpers have unique configurations depending on the variant. Ford unveiled four of them for its global car: the Titanium and uplevel Vignale editions, as well as a performance-lite Fiesta ST-Line and a cladded-up Fiesta Active crossover.
It's easiest to see the changes in the rear, where the Fiesta hatchback wears horizontal taillights versus the current model's vertical ones. (The existing Fiesta also comes as a sedan, but the redesign appears hatchback-only, at least for now.) It's longer and slightly wider, too, with length up 2.8 inches and width up 0.5 inch.
If you saw the EcoSport, the Fiesta's cabin should look familiar. A tablet-like display perches above the center air vents. Screens measure 4.2 to 8 inches, with higher versions sporting Ford's Sync 3 system plus Android Auto and Apple CarPlay. Below it are the climate controls and gearshift. The Fiesta's dashboard wraps around the air vents in a way the EcoSport's stacked design does not, but it's an otherwise similar layout.
Other features include brake intervention with the Fiesta's automatic parking system to mitigate low-speed collisions, plus a panoramic moonroof and a bevy of sensor and camera systems capable of scanning up to around 427 feet ahead. The global car will offer a range of pint-sized three- and four-cylinder engines.
The Fiesta's global roots go back 40 years, but the nameplate missed 30 of those years in the U.S. after it vanished in 1980, only to return in early 2010 amid a wave of subcompact popularity in an era of high gas prices. But gas is relatively cheap again, and subcompact sales have stagnated as shoppers snap up small SUVs instead.
It's unclear whether Ford will bring the new Fiesta here or let the current generation wither on the vine while it bets on the EcoSport. Dan Jones, the automaker's U.S. car communications manager, declined to say whether Ford has any plans to bring the redesigned version to North America.
European Ford Fiesta; Manufacturer images