Gasoline Takes Biggest Weekly Dive Ever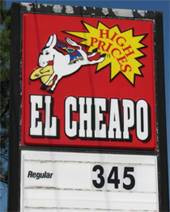 Turns out, 33 cents in one week is the biggest price drop in the history of anyone paying attention to the national average price of a gallon of gas. Currently, the national average price is $3.12, according to AAA. With the price of oil below $80 a barrel, this price could come down even more over the next few weeks, bringing $3 gas back into sight.
Even at $3.12, though, gas prices are probably the one part of the economy people don't need to sweat right now. However, car-buying trends still point to a decline in large SUV sales and an uptick in sales of efficient vehicles.
Gasoline falls 33 cents in largest weekly price drop ever (USA Today)