Give Carstache a Twirl During No Shave November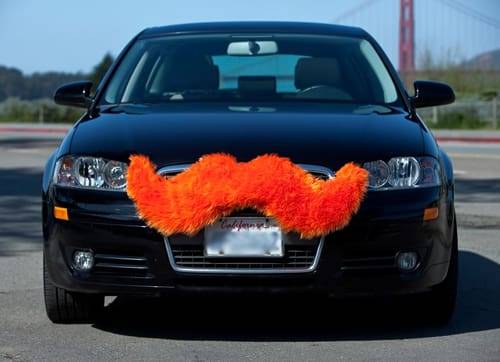 If you notice a few men in your life looking a bit, um, fuzzier than usual this month, they could be growing their shadows into full-blown beards for No Shave November or trimming them into crazy 'staches for Movember. Each is a furry way to raise awareness and show support for men affected by cancer.
I lost my own father this year to cancer, and my father-in-law is also currently undergoing cancer treatments. Since I can't grow out my facial hair to show support, I'll instead be growing a Carstache.
If you live in a major metropolitan area, you may have seen the bright pink hipster Carstaches exclusively on Lyft car service vehicles cruising your hood. You can buy your own Carstache in Classic Black, Grizzly Brown, Firestache Orange, Wisdom Grey, Legendary Blond, Purple Pleasure, Devilish Red or Money Green. They install on the front of your vehicle's grill with rubber-coated twist ties, and all Carstaches are "weather resistant, road tested and mother approved," according to the website.
The Carstache isn't only good for No Shave November, but as a year-round way "for people to represent a host of causes and interests in the same way bumper stickers and flags do today," according to Rick Davis of Carstache. For example, if you purchase the rainbow colored Pridestache from www.pridestache.com, $5 from each sale goes to the organization's efforts in the LGBT community.
If you can't grow your own 'stache this month, twist one on to the front of your car for a few extra looks, smiles and fingers pointed at you (I can't wait to drive through the carpool lane). And if someone asks why your car has a mustache, be sure to have a pitch prepared for your favorite men's cancer organization. Although no portion of Carstache sales go to cancer research, the product is definitely raising awareness … along with a few eyebrows.
Related
Ford's Warriors in Pink Fights On
Handy Features Can Aid Limited-Mobility Passengers
More Family News